We celebrated Beau's 8th Birthday on August 10. He planned out the day: donuts with dad, swimming with friends (and he requested we buy tubes which were so much fun), lunch at Chick-Fil-A, picked out new legos at The Lego Store, picked out a new hockey stick at Dick's, played legos with Bennett all afternoon, and then we had pizza and played hockey that night. It was the best day!
Sami turned 3! She was so excited about her birthday! We went to FLIPnOUT with cousins and friends and it was the first time we had been there all year! We had a blast and it was fun celebrating our sweet Sami. She loved playing with her new toys all day too. That night we played outside with neighbors-one of her favorite things to do! She did talk all day about how she wished Paigey was still here to come to her birthday. She misses her friend!
The kids started school…virtually which we have not been excited about but are doing the best we can. We have amazing teachers and can't complain that they aren't doing their very best but the situation really stinks. The first few weeks I had to sit right next to Trey. He needs help finding his work, getting to different Google Meets, and I have to monitor what he wants to say and when. Haha. The last week or so I have been able to be in ear shot but not necessarily right by him. He can navigate the computer well and he pays attention most of the time. We are surviving but it's definitely not ideal. It's getting better. I am pretty exhausted by the end of the day. Someone always needs my help-sometimes they all do at the same time, Sami needs attention, we can't leave the house during the day, and sometimes we all struggle with the distance ed. We are really hoping the kids go back sooner rather than later. They need their teachers! I will say, I have loved listening to Mrs. Buell teach! I have always loved her and thought she was an amazing teacher from what I would observe in the classroom but I've never spent a whole school day with her! I've loved observing her even if it's online and am wondering if maybe one day when I go back to the classroom if I'll want to teach Kindergarten! I've also been able to see my kids' strengths and weaknesses. I spend a lot of time making little games or trying to help them with what they need-which I might not notice if they were all actually in school.
I am so sad for Trey who should be at school loving Kindergarten. He does love getting on early to talk to Mrs. Buell (who he has know for years and we saw over the summer a few times). He just would be the cutest little Kindergartener and the teachers would love him. I'm sad they don't get to experience him in person and that he doesn't get to be at school with friends and the fun school experience he should be having. He is pretty cute and funny though. Kinder is a lot more engaging than the older grades since they sing and dance and play with play dough and other manipulatives a lot but we've also lucked out with a teacher working her butt off. Still, this stinks! On his breaks we like to go ride bikes at Madden's house or go on a quick walk. Sometime Trey and Madden do school together and they love that.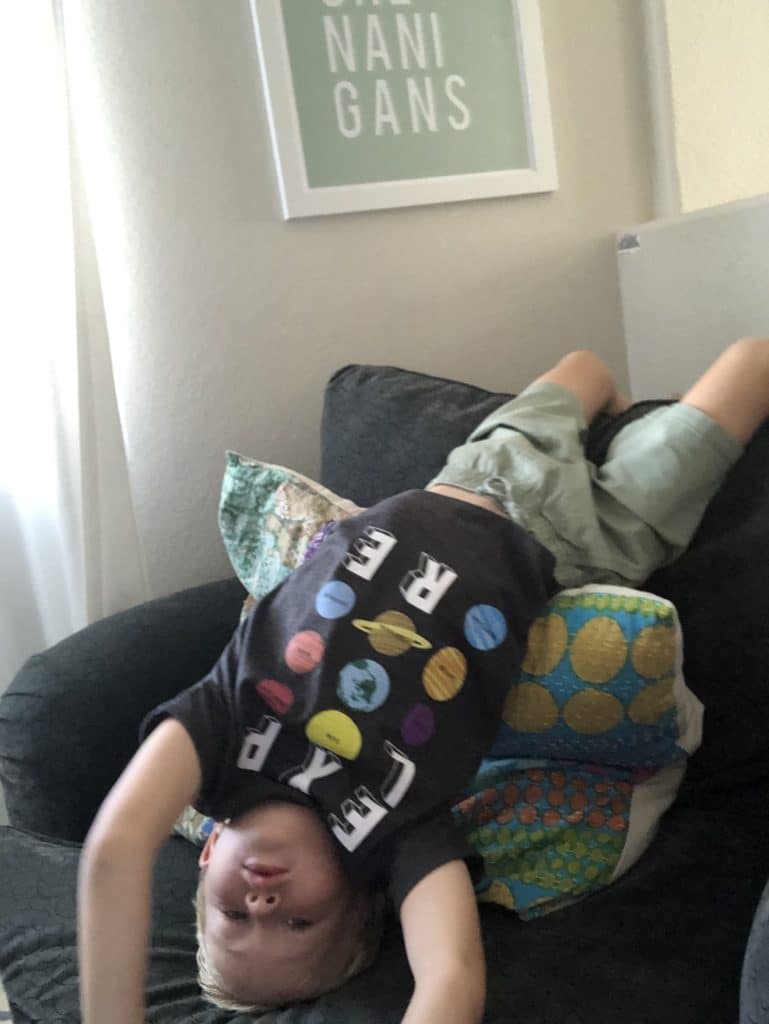 Beau has been pretty bored with distance education. He's doing fine but he hates it. He has always liked school so it makes me sad to watch him hate it now. I've debated a lot of different options with him and am very torn about what to do right now but he needs something to change.
Kayli is a go-getter so she does really well with this and I don't have to get on her to get her work done. She would much rather be at school though. She really misses it!
And Sami is just doing whatever she wants (and fighting naps most days) while mom helps everyone else! I should be taking her to cute little classes and spending lots of one-on-one time with her but that's not the way things go these days!
Michele came to Vegas before her mission! It was so good to see her and she is so fun with the kids.
Went up to the mountains one Sunday afternoon…
Over Labor Day weekend we had the opportunity to go to Duck Creek with Kenny's entire extended Taylor family to help work on Keli's cabin since Jay passed away before it was finished. It was so cool that everyone came and could help and they got it all done! The guys did most of the work but the kids got to help a little bit too. The kids had a blast running around, ziplining, riding 4 wheelers, swinging, singing, doing crafts, and playing with cousins. They were sooooo dirty all weekend!
Kayli started a tumbling class with some friends. She hasn't wanted to do a lot of classes or sports so I was shocked when she said she'd try it out. I think going with some friends helped. We dropped them off but because of COVID couldn't stay and watch. When I picked her up I was shocked when she came out yelling that she loved it and wanted to do it! She has worked really hard since then and practices a lot. She's still doing piano lessons and her and I even played a duet at Beau's baptism. I was so proud of her for practicing a lot and doing it! She also just got to start Activity Days back up so she's doing some fun things.
Kenny went on a Grand Canyon day trip for work and took his parents with him!
Sami got her ears pierced! She woke up one morning asking if she could get her ears pierced like Audra and Emma. We kind of thought that if she's asking now then let's do it. Kayli's never wanted to and probably never will! We made an appointment for that afternoon and went down and got it done! She was so funny dancing around in the chair before (she had no idea what was coming for her and it was better that way!) When they pierced them, it startled her of course, and she said "mama" and reached for me and cried for maybe thirty seconds. Then she was happy and picked out another pair of earrings! She is pretty excited about them and reminds me every morning and night that we need to clean her ears.
Kenny just experienced Appendicitis. Late one Saturday night he had a bad stomachache and couldn't sleep. Sunday it was still hurting and about 6:00 that night I took him to the hospital because we were pretty sure it was Appendicitis. Sure enough, it was, and he had to stay the night and they operated at 6:00 the next morning. I picked him up at 2:30 that afternoon and he came home and had to rest the next week. It hurt to move and he had to sleep in a recliner. We were a little worried because he had his surgery on Monday and he was supposed to baptize Beau on Saturday. And we were having everyone over that night for dinner that I needed his help for. We weren't really sure what his recovery would look like! By Friday he felt like he would probably be ok the next day but he still couldn't lift or do a ton comfortably. This is where we really had friends and family come to the rescue. We had friends bring us meals that week (even though I was fine to make dinner-they insisted!) So many friends and family checked in all week to see how they could help while Kenny was down and we were trying to get ready for a baptism. Friday night, Kari came to our house to cut everyone's hair. Tracy and Taylor came and moved the trampoline, cleaned the backyard and mow so we could put tables out there for the dinner which was a lifesaver because Kenny couldn't do any of that. While Kenny was getting his hair cut, Chase called me to see if we were home. I was borrowing Haley's instant pot so I thought he was coming over with that. When he knocked, I opened the door and he said that Kenny needed to come outside. Taylor, Joel, and Josh were with him-and Kenny's jeep was in the driveway!! Here's the backstory-Kenny's jeep has needed a new transmission. He worked on it all day the day we were supposed to go to Duck Creek to help with the cabin. He got it done and then it didn't reverse. He had put so many hours into it and it wasn't working. He left it at Chase's dad's shop and we went to Duck Creek. (Kenny was borrowing Mike's jeep the whole time his jeep was at the shop so we were so grateful for that!) The next week he figured out he needed a new transmission. He had to wait for that to come and then he got Appendicitis 🙁 he wasn't sure when he'd be able to work on it after that. It was a little discouraging! Well, since the jeep was at Chase's dad's shop where he works-Chase and the other guys fixed it up for him without us even knowing! They just showed up Friday night with the jeep! I was holding back tears! We were so grateful! It had been a crazy week so to have so many people helping us out was so cool. We're surrounded by so many good people! And by the way, the guys loved working on the jeep so it was fun for them!
Beau was baptized that next day, on September 19th. He had a Coronavirus Baptism. We were limited on how many people could come, had to wear masks, couldn't sing, and had to keep it short. However, because of the restrictions, we were able to choose whatever day and time we wanted and Zoom out the baptism, which was super cool. We had lots of family out of state who were able to get on as well as the Sagers family! Beau was so happy and the whole day was very special. It was fun to celebrate our Beau Beau! We had everyone over for dinner afterwards and loved spending time with friends and family.
We've had some really nice days lately and by late afternoon it's shady and nice in front of our house so we've had tons of hockey and neighborhood gatherings out front and we love it! Our street is so awesome and everyone comes out to play and chat.
We saw Josh and Mandy for a few hours when they drove through Vegas. We always love to see them even if it's short!
After many of months of waiting on an insurance appeal for a corrective ACL surgery (and then denial) and eventually a new insurance plan, I FINALLY have an appointment with the doctor I want to see on October 5th and I can't wait. This has been a long time coming. I saw him back in June for a second opinion after my ACL recovery was nowhere near where it should have been. My physical therapists were confused at why even after a knee manipulation I wasn't improving much. They said they have 80 year old knee replacement patients who recover quicker than I was. So that had me feeling great. Haha. My first surgeon basically told me that he did everything he could and that the rough recovery was my fault because I wasn't pushing through the pain. I decided I didn't want to go back to him if he was going to make me cry at appointments and if he couldn't do anything else to help me anyway. I paid cash to see a doctor we kind of know and trust, who I would have gone to for the surgery in the first place, if he took my insurance, and he was worried about the placement of the metal button. He had me get an MRI to be sure but he thought the metal was hitting my knee cap-and that wouldn't be good. He wasn't sure why the button would have been placed where it was. Then he said, even though it's not ideal to go back in within a year, I should probably get the metal moved and a corrective surgery asap, before it destroys my knee more-and that was over 3 months ago. My insurance denied my appeal to see this doctor so then we had to get new insurance. All of that has taken since June but finally, I should be set to go in October. So that's where I'm at. I don't want to do all of this again (the recovery was rough the first time around) but I am ready to get back to normal-whatever it takes. I haven't been able to run, walk up and down the stairs without hurting, bend my knee very far, kneel, chase kids around, play sports, sit cross-legged, ride a bike, and so much more since I hurt my knee at the end of January. I am almost 7 months post surgery and should be mostly back to normal by now.
More pictures…
A few funny things: Trey has really liked picking out presents for people for their birthday. The night before Beau's birthday he told Kenny he needed to go to the store to pick something out for Beau! He was really worried about it! So Kenny took him and they looked around and he picked out really thoughtful, perfect gifts from Trey to Beau. When they were walking to check out he said to Kenny, "I hope you know you're paying for this. I don't want to waste all of my money." Kenny laughed and bought it. Later that night I guess Trey felt bad because he came in with $1 to pay Kenny back for getting the presents. Haha.
Sami always gets in Kayli's bed in the morning and says to her, "Do you wanna build a snowman?!"
And a few videos Kenny has made: