Beau was blessed on Sunday, September 2, 2012 by his daddy. Beau's cousin, Emma, was blessed on the same day. Most of my mom's side of the family were able to be here for the blessings so that made the weekend even more special for us. We spent the morning out at Rachel's ward for Emma's blessing and then had lunch at her house. Then the family went to our house for Beau's blessing and dessert. We had lots of Kenny's family at our home for Beau's blessing too.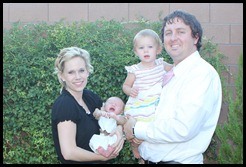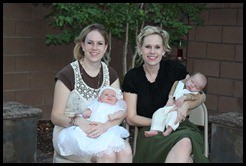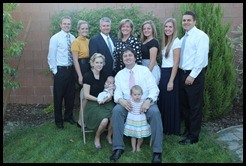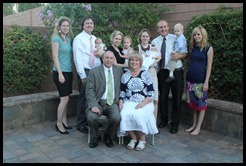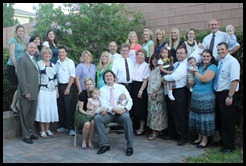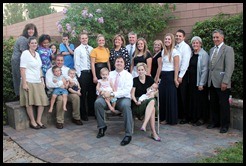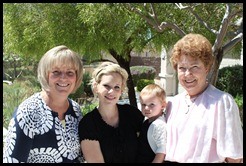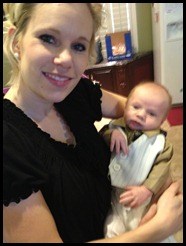 The day before the blessings, my family threw me a baby shower. It was nice because I had my grandma, aunts, and cousins in town who don't always get to be here for our special events! It was a nice gathering of family and close friends. Jill was even able to be here from St. George. I always LOVE catching up with my favorite girlfriends and so it was nice that Heather and Jill could be there. We all had babies within 3 months of each other. At Heather's shower we took a picture with our pregnant bellies and here we are WITH the babies…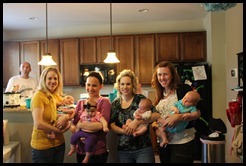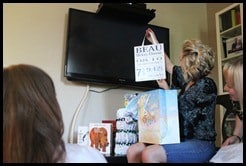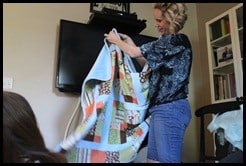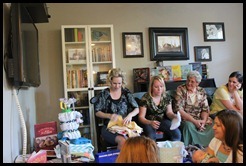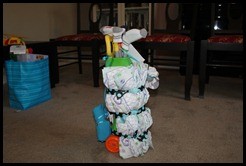 Mandy and Josh were able to be here with us the next weekend to meet baby Beau. Kenny and Josh actually went up to Brianhead that Saturday to mountain bike with a bunch of people. They had a blast and Kenny thinks he's found a new hobby!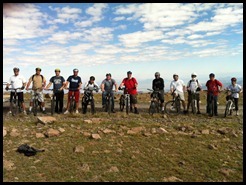 Mandy actually spent the Saturday taking pictures of Emma and Beau. She does great work. You can check her out at https://www.mandypoulsenphotography.com. Beau wasn't very cooperative so we only got a few shots of him…but they're good ones!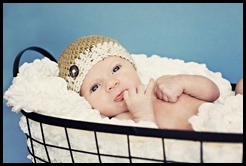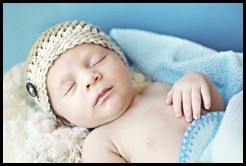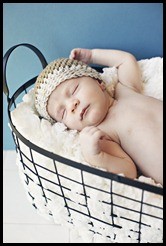 Here's some of Kayli from about 2 months ago.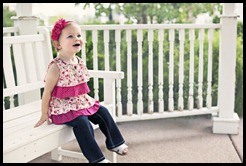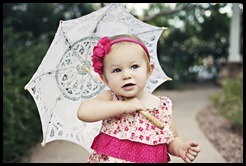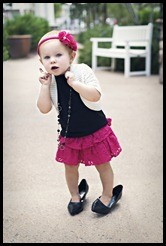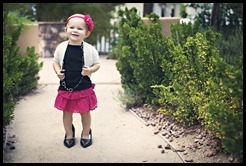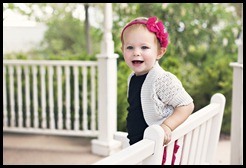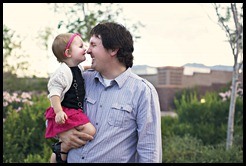 Here's a few maternity pictures…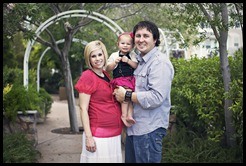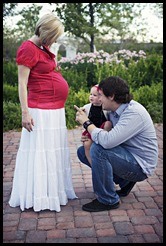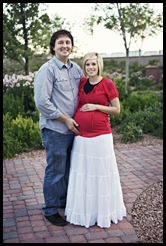 Josh was a good sport all weekend playing with Kayli and letting her brush his hair-these pictures are too cute. He's getting some good practice before his own little girl is born next month!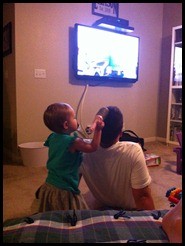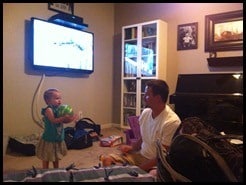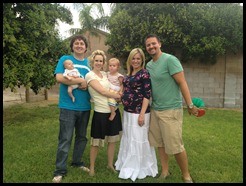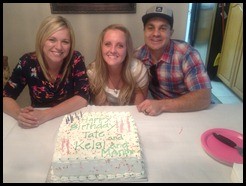 Wicked, the musical, was here in Las Vegas playing at the brand new Smith Center. My family all went. I LOVED it! I loved the songs, the acting, the story, and the Smith Center was gorgeous! It was definitely a great experience-can't wait to see it again someday! We left the kids with Emily. She definitely kept things under control-probably because she had Adam's help…he rocked Beau to sleep. Too cute!
This past month we also took a last minute trip up to Utah with Kenny's parents for Conference weekend.
Beau's ready for his first road trip…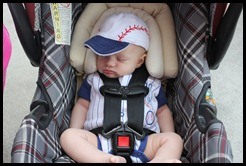 I love Utah and I especially love Utah this time of year. We stayed at a hotel and Kayli did good sleeping in her closet "room".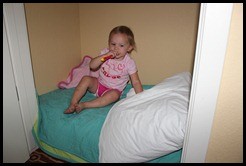 We also went to Thanksgiving Point which I love! I think we are making Thanksgiving Point a family tradition every October-which is fine with me! There was so much to do!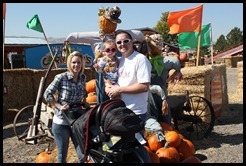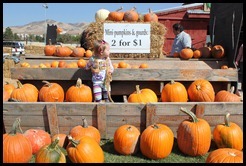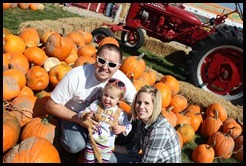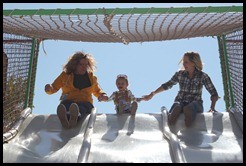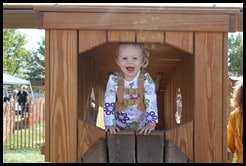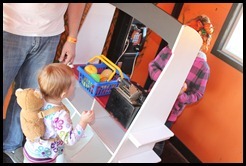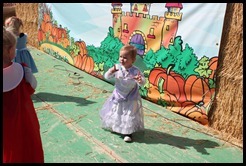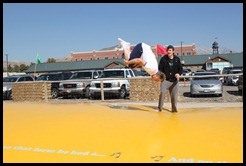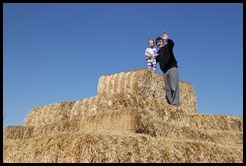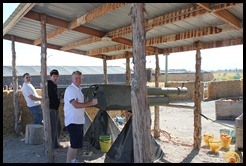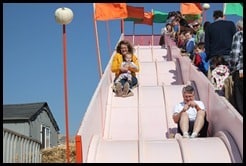 We were also able to go see my Grandma and Grandpa and eat Grandpa's famous bread!
We also drove up to Sundance where Kenny's family likes to visit their Uncle Hank's swing. I have been up there a few times before but had never actually rode on the swing so Kayli and I both rode for the first time. It was super fun!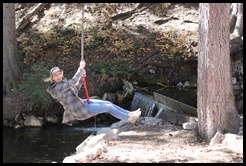 Gettin' ready…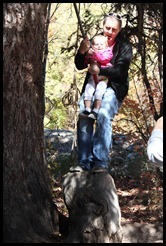 They're off! Kayli loved it!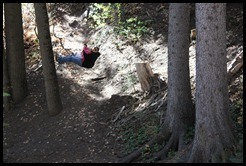 And then this happened! Haha!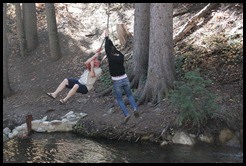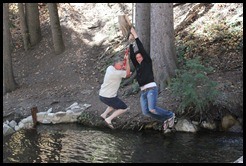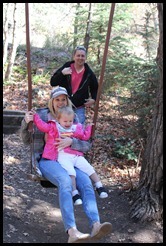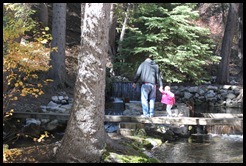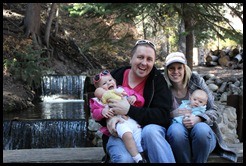 Kayli is a trampoline pro. She gets lots of practice at Grandma and Grandpa Eliason's house and then at FLIPnOUT. She is currently working on "down-up"-jumping on to her bum and right back up on to her feet and she's mastered jumping off the walls at FLIPnOUT..
Kayli had tons of fun at Kyan's birthday party. Heather threw the cutest Toy Story party. The best part was when Emperor Zurg came walking up to the party. The kids were all excited until he got closer and then one by one they all started crying. It was pretty funny for the parents to watch.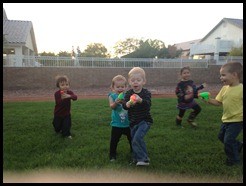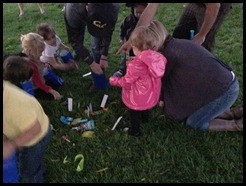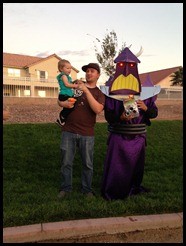 There's a cute little Pumpkin Patch out by our house that we went to with Kenny's family for FHE. It's seriously so much fun for me to watch Kayli have so much fun.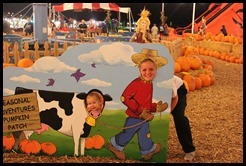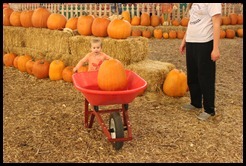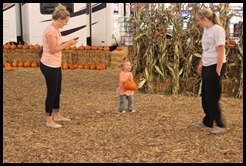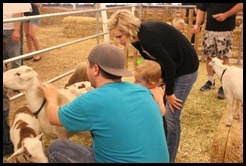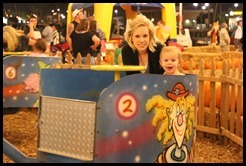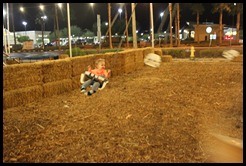 Last weekend we went Trick-or-Treating at the Springs Preserve! We had never been before. This place was awesome! It's really cute and there's tons to do. We went with the Mongas and the kids had a great time. Heather and I will be visiting there often with the kiddos!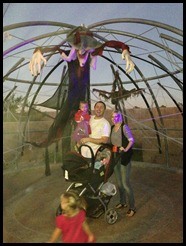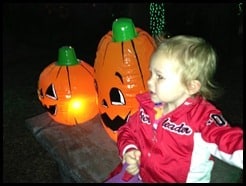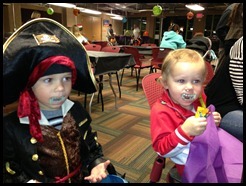 The next morning Kenny and I got to go to the Madame Tussauds Wax Museum at the Venetian. We've also never been there before! They were having a special breast cancer day so breast cancer survivors (my mom) and their families got in free. We did a fun scavenger hunt and they had pink donuts for us. This place is also very cool! Can't believe we've never been!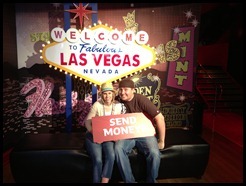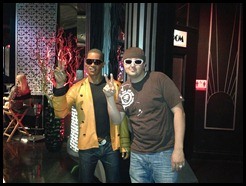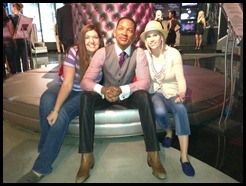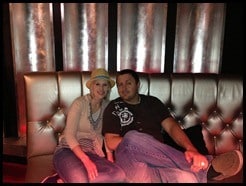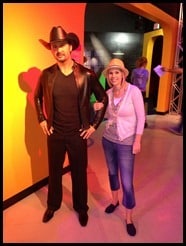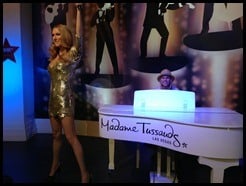 I never post anything political…but this is too good not to share…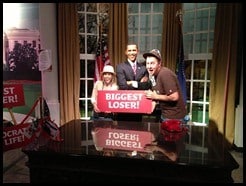 I can't believe Kayli is almost 2! She is a ball full of energy. She LOVES school buses right now and spots them from a mile away. She has also recently become obsessed with pumpkins. Daddy took her to pick out her own little pumpkin and she loves it so much she sleeps with it at night. She also likes walking around our neighborhood and looking at all the houses decorated for Halloween-and seriously, this neighborhood has gone crazy with the decorating! It's super fun! She likes to make Beau laugh and whenever he starts crying she runs to him to see how she can help out. She is also starting to speak in 2 or 3 word phrases. Her favorite thing to say is, "Where'd daddy (or whoever) go?" She can pretty much mimic anything we say now. And…Kenny's favorite thing (that he can take credit for) is that she can almost spell her name without help and she can say her full name, Kayli Ryan Eliason! She loves singing and her favorite songs right now are "The Wheel's on the Bus" and "The Itsy Bitsy Spider".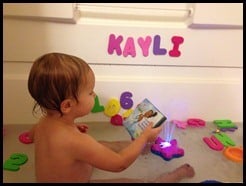 Beau at 2 months…he's just a sweet boy. He's had some stomach issues that cause him pain but when he isn't in pain he is so chill and cute. He "talks" to me and smiles at me all the time and it's the sweetest thing. He likes to be held and is easily soothed.