Where to begin…a lot happened in July…a lot of fun, a lot of visits with family, a lot of goodbyes, a lot of special memories with friends. The biggest news of the month is that we moved back to Las Vegas. This was both exciting and hard for us. We LOVED San Diego-not just for the beautiful weather, the beaches, and the fun things we were able to do there, but mostly because we met some amazing people who we weren't ready to say goodbye to-and yet I don't think that we ever really will say goodbye to any of them. Still, our day-to-day life in San Diego was so much fun because people made it so much fun-and that was hard to leave behind. We have been welcomed back in Vegas though-by our wonderful families and the good friends that we have here-who a year ago I cried to leave to move to San Diego! Funny, how things work out and there are blessings waiting for us in places and at times that we never expect or know are in store for us. Well, I'll get started with our story from the beginning of the month until now…
Kayaking in La Jolla
A few months ago, we decided to plan a kayaking trip in La Jolla with Josh and Mandy when we saw it on Groupon. Well the day finally came and it was such a fun adventure! I'd recommend it to anyone going to vacation in San Diego. The company we went with sends out a professional photographer with your group so that you get pictures of your outing. We had a blast…we saw dolphins, sea lions, and thankfully no sharks! The water was super warm and the kayaking part was easy enough.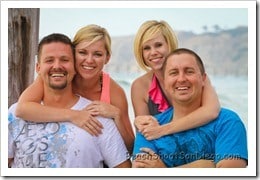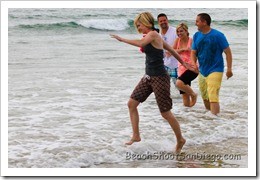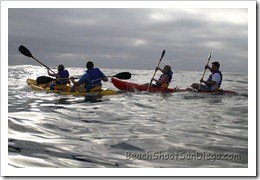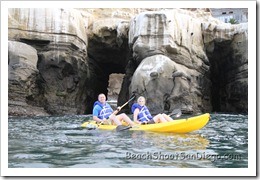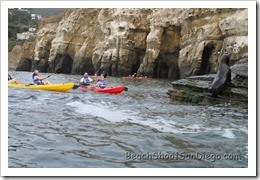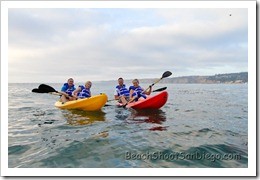 This would be us tipping over on our way in…we have really bad luck when it comes to falling out of boats.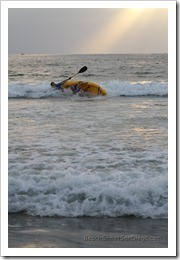 But Josh got our kayak and rode it in himself…
Definitely a fun adventure!
San Diego Zoo
My family came down to visit for a few days and they wanted to go to the zoo. We had zoo passes while we were down there and loved going down and walking around for an hour or two. Kayli was just starting to realize that there were animals to look at and she was pretty mesmerized by some of the animals-especially the monkeys. My dad's brother and his wife and granddaughter, Kinsley were down and came with us too.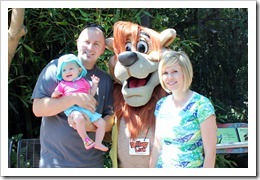 Kayli loved Kinsley!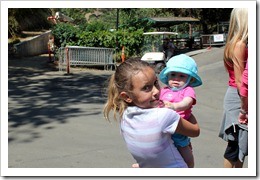 The aerial tram is the coolest part of the zoo!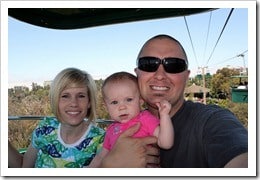 Kim was the scariest animal there…hehe…sounds like something Kenny would say anyway.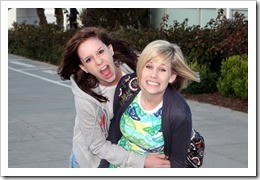 Dad and Uncle Kenneth. They look a lot a like and they are soooooo funny together. Dad cries laughing when he's with him-it's pretty funny.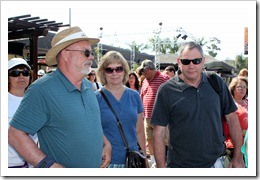 Steamboat Cruise
Another Groupon we bought was a Steamboat Cruise around Mission Bay. We went when my family was down and Josh and Mandy came with us too. The bay is really pretty and the boat was beautiful! We went at sunset so it was even more beautiful outside. You ride around the bay for about 50 minutes. Another fun thing to do in San Diego!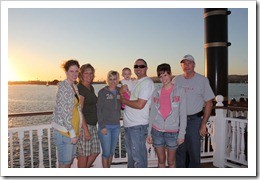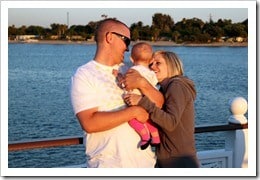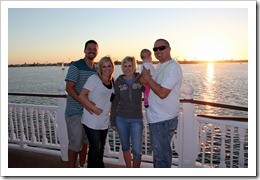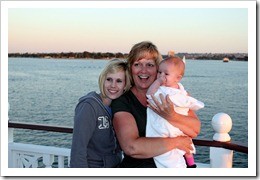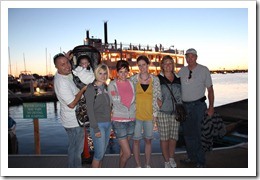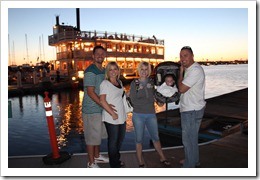 San Diego Fourth of July
We decided to fight the crowds on the Fourth of July in the number 1 vacation spot for the Fourth. The beach was packed but we went anyway. We headed up to La Jolla with our neighbors, Josh and Courtney, and Josh and Mandy. There were so many people there but we were still able to boogie board! Monday we went to Mission Beach and the only reason we were even able to get there was that Josh had a school friend who let us park at his beach house. There was no parking anywhere that day! We met up with a bunch of our ward friends and hung out at the beach all day. We couldn't decide what to do that night and where to see fireworks. We didn't really want to fight the crowds and with Kayli we didn't want to be out too late. Finally we decided we didn't really care and that while we lived in San Diego we might as well make the best of it! So we headed down to Coronado with Josh, Courtney, Josh and Mandy (too many Josh's, hehe). We sat right on the water and watched the San Diego Bay fireworks. They were awesome and we got right in and out of Coronado just fine!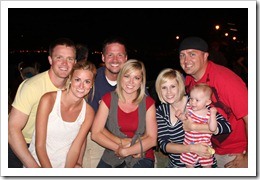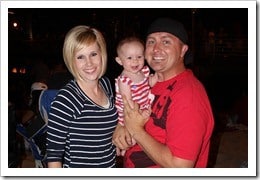 I love these girls!!!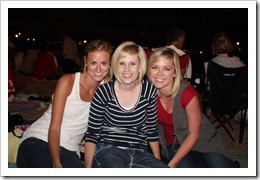 Just watching….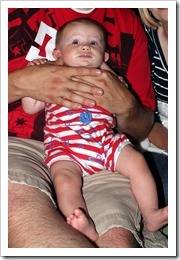 The finale was a bit too much…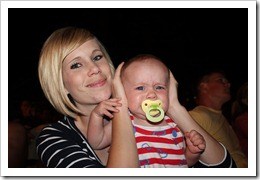 Last Week and the Big Move
We tried to make the best of our last week in San Diego. I think we saw our friends every single day that week. Kenny's family came down to help us pack and drive back home. It seemed pretty unreal that we were leaving.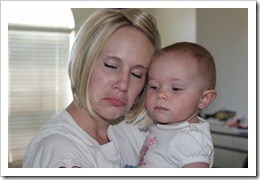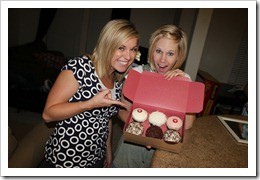 Eating at our favorite restaurant one last time…Casa Guadalajara at Old Town.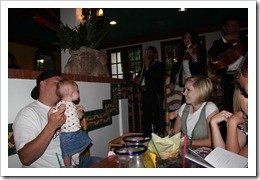 Kayli playing on the rocking horse before dinner.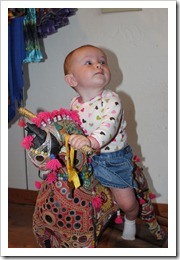 Utah!
One thing about being back in Vegas is that we can go to Utah easier. We hadn't been up there in over a year. It just so happened that Josh and Mandy were heading up to Salt Lake the first weekend that we were back in Vegas. Kenny's family had a reunion up in Logan that weekend and it was my birthday and I wanted to go see all my Utah family (they hadn't even met Kayli yet). My mom and sisters were also up there. It seemed like a perfect weekend to head up to Utah. We road tripped with Josh and Mandy which meant we only went 5 days without seeing them. It made it a little easier to say goodbye to them. Boston came along too and Kayli loves him!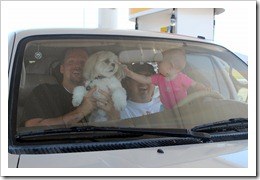 The first day we were there, my cousin, Kyle, went through the temple! He is headed to the Argentina mission in November. It was so much fun getting to go to the temple with "little Kyle". He'll be a great missionary!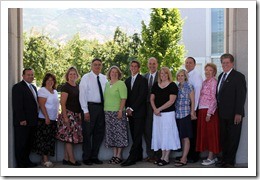 I just love this picture…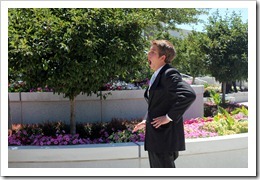 That afternoon we went to see Casey and Jayson and their baby, Eli. He is 4 1/2 months. I have been friends with Casey and Jayson since our Freshmen year of high school and it was fun to get together now as parents. The kids were funny…Kayli was a spaz the entire time and Eli just stared at her, either mesmerized by her or scared of her…haha. I wish we lived closer to them so the kids could play all the time! Maybe one day when we all live in San Diego…right Casey?
Yep…Kayli is smaller than him…she's finally gaining some weight though!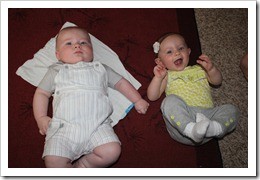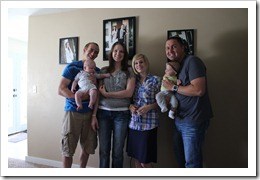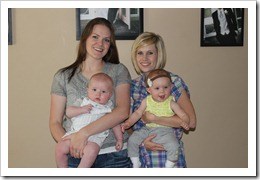 That night Kenny took me to Tucano's for my birthday. I love that place! It's a delicious Brazilian steakhouse at the River Woods mall in Provo. He even went shopping with me afterwards!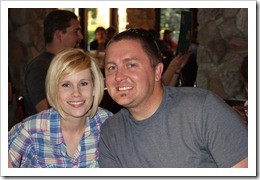 The next morning we drove up to Logan for Kenny's family reunion. Kayli was pretty funny and social with everyone. She also finally did patty-cake with Grandma Eliason (she's been teaching Kayli since birth). We had a fun time!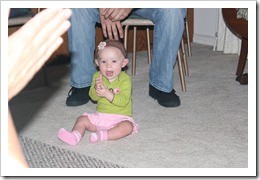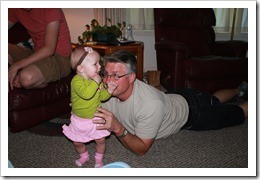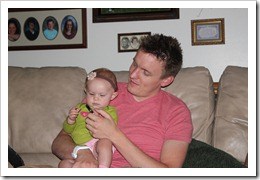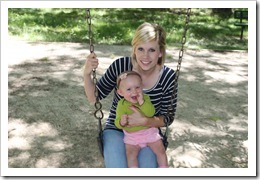 She sure loves the volleyball…yes!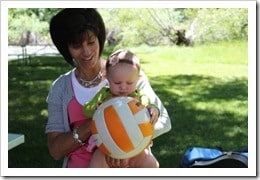 Sister-in-laws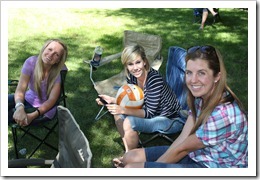 Kayli is pretty happy most the time…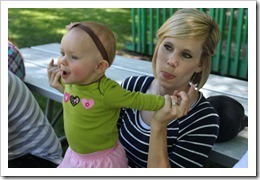 Dancing with daddy…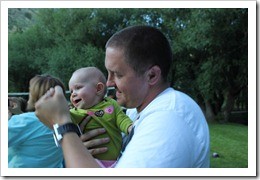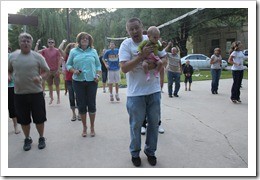 Tired…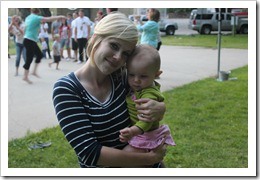 Sunday was my 26th birthday! We stayed at Grandma and Grandpa Varney's house. I love their house. I have many special memories there. My Aunt Cathy's birthday is the day after mine so most of the family came over for Sunday dinner and our birthday party! The younger cousins made me laugh all night. We played games and we took Kayli down to the park. I had a great birthday spending time with my Utah family!
Kayli helping me open presents…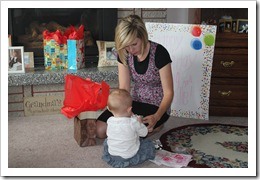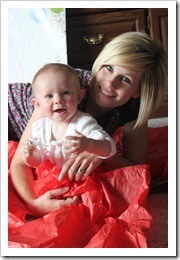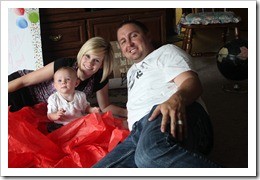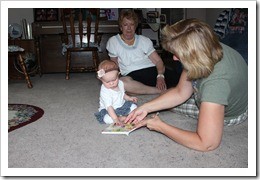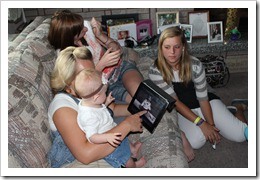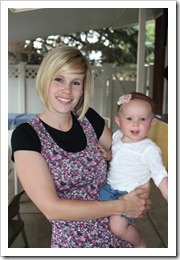 My Uncle David has this really cool, big dog…and Kayli of course loved him…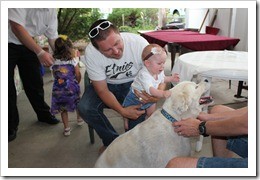 My cousin, David, bench pressed me…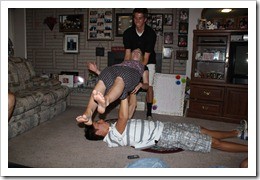 Some of the cool cousins…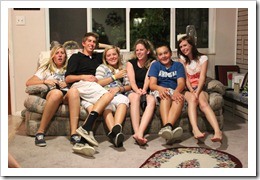 Kayli's first time swinging by herself…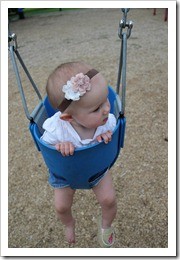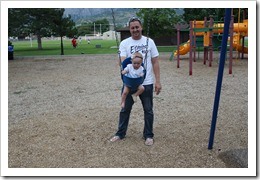 Haha…she looks likes she's bored but she really was ok. I think she had fun.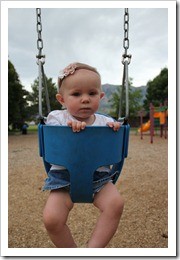 She had more fun walking the dog though…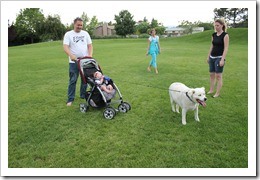 And I still love running around playing sports…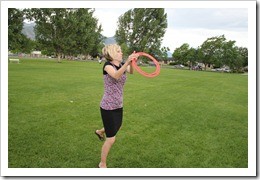 When we got home the next day, Kenny had some presents for me…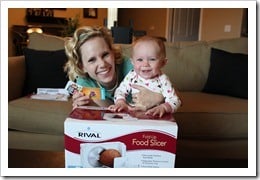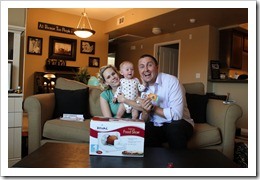 and the he surprised me with dinner…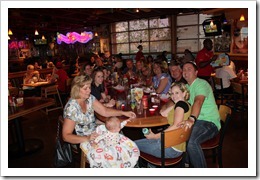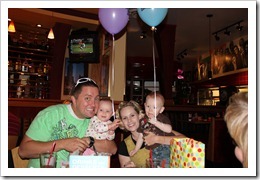 Splash Pad Fun!
Since we have been back, I have been getting together with Heather and her boy, Kyan, and Rachel and her boy, Adam. This past week we went to a splash pad by Heather's house. It was so much fun and the only way to be outside in Vegas right now, unless you are swimming. I don't have great pictures and none of Heather and Kyan but here are a few…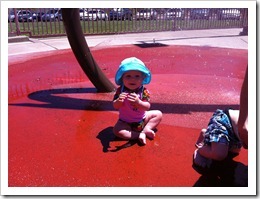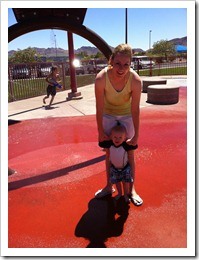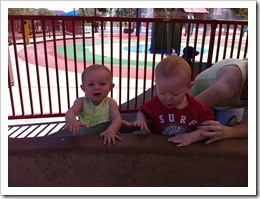 Kayli at 8 Months
1. She loves dogs and little kids.
2. She has 2 bottom teeth.
3. She weighs 16 pounds.
4. She is very social-not afraid to smile or "talk" to anyone.
5. She is a super fast crawler and stands up against anything and everything.
6. She's very active…which keeps me very active…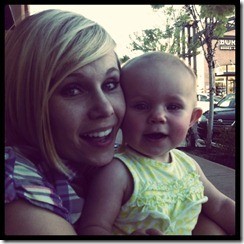 Kenny caught this scene at my Grandma's house and got it…isn't it so sweet?