May was quite the busy, fun month for our little family. I have lots to update (because I don't want to forget anything) so here goes…
We Love Barbequing!
We have been pretty spoiled to have a super nice pool and BBQ area right outside our patio. We BBQ a lot and it's even better when the friends come over. We have been SO blessed to have awesome friends out here. Here are some fun shots…
My First Mother's Day!
Well Mother's Day is sure fun when you ARE a mom…hehe…and my first Mother's Day was the BEST! I loved everything about it. Kenny made me a yummy breakfast and I even got to eat in bed! Kenny and Kayli had some fun presents for me too…tulips, a new book I wanted, a cookie cookbook, and a piano lullabies CD.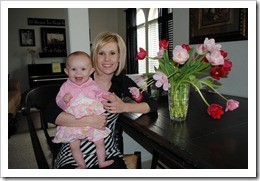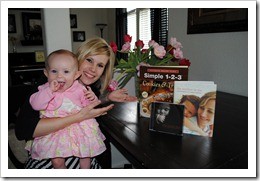 The best present though??? Kisses from Kayli.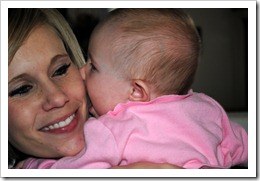 After church I got to take a nap while Kenny made dinner. We had dinner with our friends, Clark and Jennifer, and their baby, Addie. Kenny and Clark made all the dinner plans and cooked up a tasty meal-Outback style! (our favorite restaurant) Kenny made delicious steaks, salads with homemade ranch dressing seasoned the way Outback does it, and veggies with cheese sauce. Clark made the baked potatoes loaded with all kinds of yummy toppings and peach cobbler! The guys did a great job and it was the best Sunday dinner!
Kenny's a great chef! It must be the apron…(he'll love that I posted this…)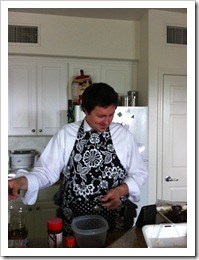 Graduation!
On May 14 I graduated from UNLV with my Master's Degree in Curriculum and Instruction. I actually LOVED going to school for this and it definitely helped me to become a better teacher. I'm kind of sad that it's all over! Although it will be years before I go back to teaching, the education I gained was incredible and I was able to put it to good use the last few years and will hopefully never forget the amazing things I learned. Kenny and my mom insisted that I walk at graduation since I didn't for my undergraduate graduation. I didn't really care to, but it was actually fun!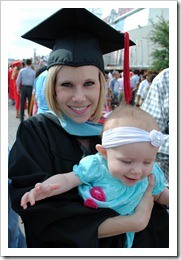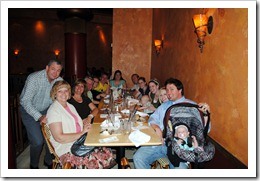 Friends! (And FLIPnOUT!)
Well one thing I miss about Las Vegas is my best girlfriends! We are all scattered around now and only Heather actually lives there these days. We hadn't been able to get together for awhile and so hanging out and catching up was so much fun! It was just like the good 'ol days…except now we have kids! We decided to go to FLIPnOUT so that her little one, Kyan, could jump around.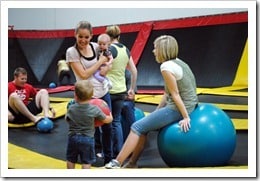 I think Kyan had a good time…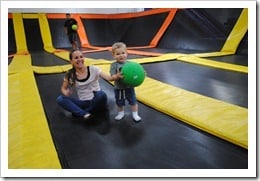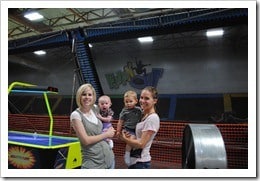 Rachel, Russ and Adam and Jordan, Ross, and Ryan came too! It was a party! Adam crawled all over…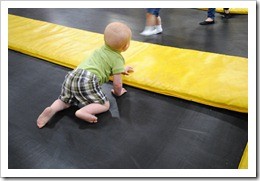 and wore himself right out!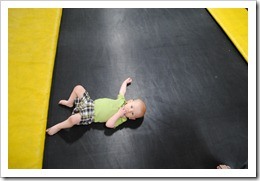 but I think he still had fun.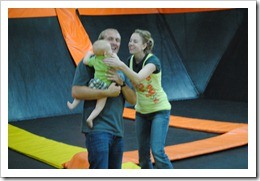 Soon Ryan and Kayli will be able to crawl and jump around there!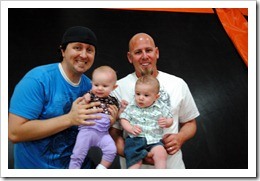 Cousins!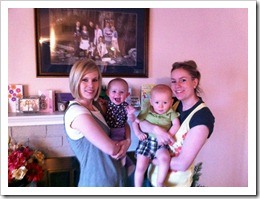 Photo Shoot by Aunt Kaci…(I love these!)
"I'm a model"…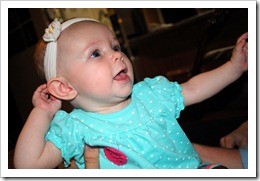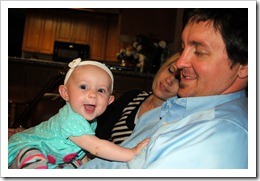 "Ah!"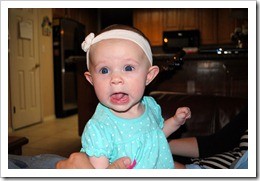 and my personal favorite… "AAAAHHH!"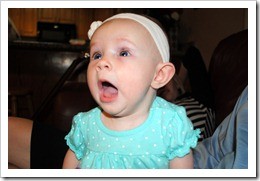 Sunday Dinners Continue to be Great in San Diego
One thing I miss about home is the big family Sunday dinners. I just love being with family. Well since all of our friends here have no family here, we have our own "family" dinners with our San Diego family! We take turns being in charge of the dinner each week and we all share our family favorites and we eat pretty dang good. I love these pictures from dinner…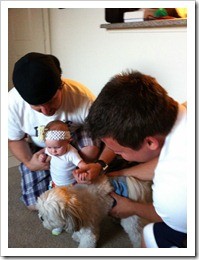 The guys and their kids…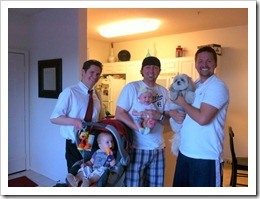 Picnic at the Beach!
So the other day we realized we have a picnic basket that we have never used…so we decided to go have a picnic! We went up to La Jolla and had a picnic on the beach with the Collings'… good times!
It was a little colder than I expected so we had to bundle up Kayli!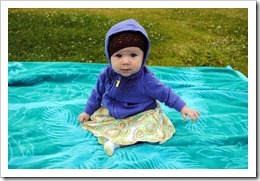 Addie and Kayli are good friends…Addie is such a good older friend to Kayli. She is gentle with her and shows her how to use toys. It is too cute!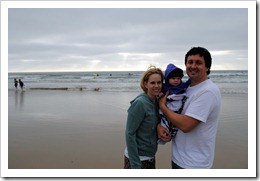 Kayli is 6 Months!
May 24, 2011 was Kayli's half birthday. She's growing so quickly! At 6 months Kayli:
1. Sits
2. Gets on all fours, and scoots…so close to crawling!
3. Growls
4. Talks/Sings
5. Loves going on walks around our complex, looking at fountains, laughing at mommy dance, laughing at daddy being a monkey, and using all her energy 24-7!
Here's a few pictures on her half birthday: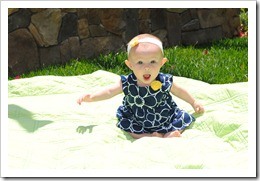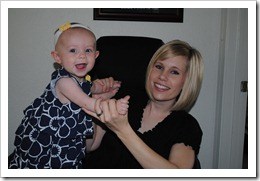 BOOMERS!
When Josh and Mandy and us were trying to find something fun to do last night we decided to go miniature golfing. I haven't been in forever! We had a great time…although the five of us always have fun doing anything!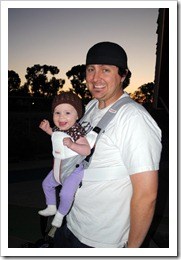 This morning we went and played sand volleyball with Josh and Mandy and some of Josh's school friends. I LOVED IT! Playing sand volleyball is one of my favorite things to do. We had some great games going and Kayli loved sitting on the beach, watching the games…one day she'll be playing with us!
Randoms From the Past Month