Kayli started Kindergarten! She is at Bozarth Elementary which is right by our house. She was so excited leading up to the first day but she didn't know anyone in her class until we went to the Meet and Greet. She was so happy when she saw a little boy from her preschool class! It was also fun to see that Tracy Gifford (who I played volleyball with in high school and lives pretty close to us) had a boy in Kayli's class as well. We also met a cute little boy named Allister and we already love him and his family too! Kayli was so brave the first day and I could tell she was nervous but she went in without tears. When we were leaving, Beau was the one to make us so sad when he asked who he was going to play with all day now! Luckily, Kayli loved her first day! Her teacher is Mrs. Buell who everyone says is amazing and so far we have felt the same way! It has been so fun to take her and pick her up from school! I like seeing all of our friends and hearing what her teacher says at the end of the day to all of the parents and I love watching Kayli run out the door to give me a big hug! We started a carpool today though and she loved that too! I love hearing about her day and asking her lots of questions. She is really good at remembering the details of the day and she loves filling me in on everything. From the fourth day on she started crying as she went into school. One day she had a really bad breakdown and ended up with the counselor who called us to tell she was fine but that she was in the counselor's office. Since then she's had a hard time going without crying but she stops as soon as she's inside and loves school! I'm not sure why she cries every morning when the bell rings but she has been like this since she was really young. She loves going to music, art, and library and is so excited to buy a school t-shirt. She loves meeting up with her best friend, Madi, at lunch recess and plays with all the boys from the ward too. I am so very much enjoying this time! She starts school at 8 am so we are down to bed early and up early but we are home by 2:30 so that is nice. I love my girly and that she is working hard to be brave at school. She tells me that she raises her hand to say things which is huge for her and she got a great Progress Report today. She works so hard on homework and sight words and loves to play school when she gets home.
For Labor Day Weekend we headed to Park City for Grandma and Grandpa's 60th Wedding Anniversary! The entire Varney family was able to make it. We had 55 people there! We were so lucky to stay in an amazing house thanks to some very generous people. It was incredible! We actually had two houses but the bigger home is where we got to stay and where most everyone hung out during the day. Our little family had our own super nice bedroom and bathroom and the house was so huge that you had plenty of space and it was never too loud. It was such a good time hanging out with relatives, especially since we don't all live close. My kids had a blast playing with Adam and Emma but also with my cousins' kids who they don't see quite as often. Beau loved playing with Ammon and Kayli had a lot of fun with Charlotte. And of course they love my sisters and cousins who give them lots of attention and play with them. We spent the weekend relaxing (and chasing Trey and trying to get him to stop squealing). Saturday we went to the Olympic Park but didn't stay long since there were tons of people. The kids rode bikes around, we chatted, ate great food, and then that night we had an Anniversary party and feast that was prepared by the personal chef! It was amazing! Grandma's sisters were able to come and we showered Grandma and Grandpa with presents! The grandkids all wrote letters to them that we had bound in a book with pictures and Rachel made a cool Family Tree sign where we all put our fingerprints. They also got a photo blanket, cute shirts, and more! It was so fun to see my grandparents soooo happy! Then, Lindsey put together a slideshow of old pictures of all of us that we all watched together. Lots of people cried! Me, Emily, Dawn, and Joe got in the hot tub until we realized it smelled weird and our swimsuits still smell! That night we watched the first BYU football game of the season together because there are a lot of fans in this family! Sunday we all went to church together. We went to a visitor's ward that had 1,200 people there that day! It was also only a 45 minute sacrament meeting. We spent the rest of the day just doing puzzles, going for walks, walking down Main Street, and playing games (Emily and I were so excited to play Compatability because that's what we remember always playing in Ely!) That night we knew we had to play Football with Grandma because it is the grandkids' favorite memory of Grandma! It's a silent game of passing an imaginary football around. If you smile or make a sound people can tell the judge, who you have to address by their ridiculously funny name, and then if they agree that you broke a rule, you get a point. The first person to get three points has to do the punishment (which is usually signing your name in the air with your bum). We've played it with Grandma for years but we haven't all been together in so long so we HAD to do it and she was such a good sport and played right along! We got most of it on video and in the last round Grandma ended up losing! She got right up though and signed her name with her bum! We were all dying of laughter and enjoying that time together so much! I didn't want that night to end! Catherine and Christina gave the girls pedicures and facials and we hung out chatting on our last night. We stayed up so late every night because it was just so enjoyable when the kids were all in bed and all the adults could just hang out. Monday I went for a run with David, David, and Kyle but only lasted about 2 miles because of all the hills so Scott came and saved me. It was the most beautiful run though! Joe's family had to leave that morning to get back to Sacramento and it was so sad having to say bye! Throughout the day cousins had to start leaving and every time it was so sad. It was so sad to watch my kids say bye to their second cousins that they don't get to see all the time but who they had had a great weekend playing with. Kenny took Kayli and Beau to ride the Alpine Slides with everyone and they loved that. It was hard Monday because we didn't want to leave the amazing house or Park City or leave all of our family! Some people were staying until Tuesday but we knew we wanted to be back for Beau to start preschool Tuesday but we sure had a hard time leaving! When we did finally leave at 4:00 we decided to go home thru Salt Lake so that we could stop and see Josh and Mandy who were up for the weekend. It was fun to see them even for just a few minutes. Then we went by the Up house from the movie because it was right around the corner in Herriman. Then, we went by Piper and Scoot which just opened and I've been wanting to go to, Swig, and then ate at Cubby's in Provo. We finally left Provo about 7:00 that night but the kids slept most of the way home. We were so tired by time we got home but it was such a good weekend and one we were so lucky to enjoy and we will always remember!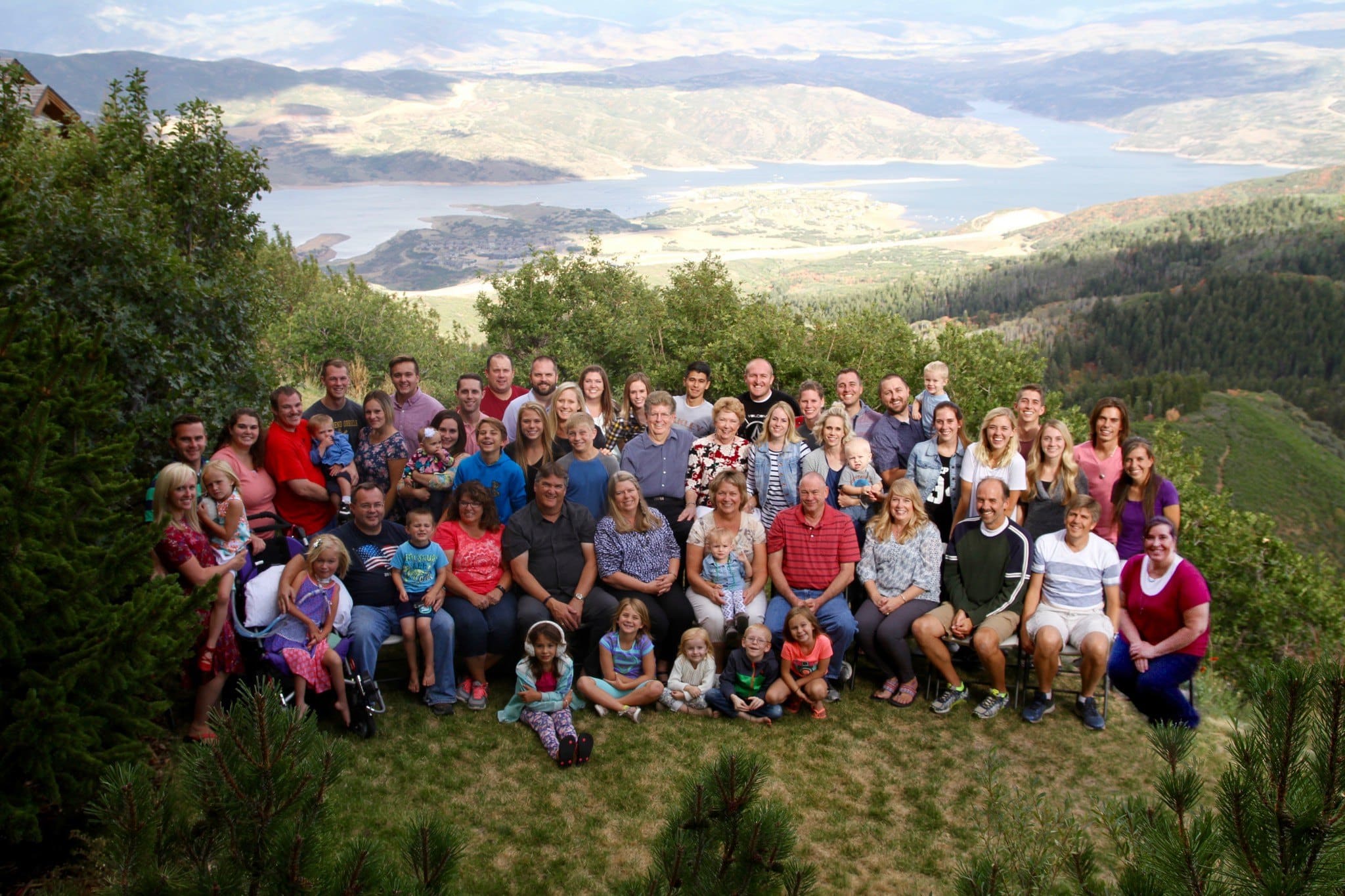 Beau started preschool! He is going to Mrs. Kim and there are 6 boys in the class-no girls! He loves going with Carter and he has loved everything about preschool! He loved picking out a Blaze backpack and he likes to come home and do homework and if he doesn't have homework to do he makes some up to do while Kayli works on hers. He runs right up to the door for school and does fine there. I hope he's good!
Beau also started T-Ball and his first game was on his first day of school! He is on a team of 12 kids and 9 are in our ward so it's a lot of fun to go hang out with all of our friends! Mike is the head coach but Kenny and some of the other dads help coach. That has seemed to really help Beau. We weren't sure if he would like it since he didn't really like the soccer games even though he likes to play soccer. But he says he loves baseball! He has done a good job hitting and runs the bases so fast! It is so much fun to me to watch his games! It's really, really cute to watch these little friends out there playing together and they look adorable in their uniforms!
Kenny and Kurt went to Alaska for a few days for work. Kenny used the drone a ton up there and they had lots of time to explore! He loved it up there!
Trey finally started walking-at 13.5 months! He was killing us not walking and crawling everywhere and getting so dirty all the time. He took off one day and just walked like a champ. The exact day was August 31st! He is a crazy kiddo. He is very high-strung and squeals and screams constantly. He doesn't sit still and he won't cuddle although when it's time to lay down he lays his head on our shoulder while we bounce him for a minute by his crib. I love those moments so much because they are so rare! But I can always count on that at nap time and bedtime. He is always climbing on the table and eating everyone's food or he climbs on the barstools or to the very top of the piano! If we leave a bathroom door open he's in there in 2 seconds playing in the toilet. He likes to undo any cleaning I do and he's a busy body! He loved trying the strider bike and loves to eat. He still dances like crazy whenever he hears music and loves animals. He likes to look at books and we can't take him anywhere without rushing out because he's too crazy and loud. I really wonder what his personality will be like!