We've been busy and have done lots of fun things for the holidays! On Nevada Day, since the kids were out of school, we headed to Staheli Farms in St. George with my family. It was a great time! We went to the farm and did the games and hung out in the morning, then went into downtown St. George and went to the candy store, rode the carousel, got pizza for dad's birthday dinner, and then went back for the corn maze when it was dark. We stopped by Swig of course and had a super fun day!
Me, Haley, Erin and Cami took the kids to Gilcrease Orchard. It was the only time I went all Fall. Kayli got to go on a field trip and Kenny and Beau never got to go. We love the apple cider donuts and the kids had fun just running around!
On Halloween, the kids had a costume parade at their school and then mom and dad came over on their way back into town to see the kids and so we got to see dad on his birthday. It was fun for them to be at our house when Kayli and Beau got home from school. That night we went to the McCormicks' for hot dogs before we went trick-or-treating with friends around the neighborhood. We have such a fun neighborhood because there are so many kids and Halloween night is always so much fun. There are so many people out! Kenny's family met up with us a little later so we did some more trick-or-treating with them. Kayli was so excited to go to Ms. Cutler's house since she lives around the corner from us now! Kayli wanted to be Dorothy this year and Trey wanted to be a lion since he loves lions (he's also wearing the lion costume that Kenny wore when he was 2!) so we went with the Wizard of Oz theme. Beau didn't know what he wanted to be so when I suggested he be the scarecrow and he was totally cool with it, I figured we might actually pull off family costumes this year! I had so many plans but when it came down to it, it just didn't happen. I don't know how people do it! I did make a crown for Sami and she was Glenda for 2 seconds while we took a picture. Halloween is one my favorite nights of the year. I love watching the kids trick-or-treat!
The kids had their baseball awards banquet. It was so much fun to watch them play baseball with lots of their friends, and we made lots of new friends too. Kayli got the Rookie of the Year Award. Coach Mike talked about how he's tried to get her to play sports before and she's never wanted to but when she finally did she did a great job! She doesn't want to play baseball again but I'm proud of her for trying and sticking with it! Beau got Fastest Runner-and he really is a fast runner. It was fun to watch him when he was last to bat and would race around the bases so fast. He has loved baseball!
We went with a big group of friends to the BYU vs. UNLV football game- too bad both teams were awful this year! It was still lots of fun and Sami even got to come!
Wesley took some cool pictures of Sami down at the office when she was 3 months old since we never took newborn photos!
We had a fun time at Kenny's cousin, Elyssa's wedding. It was a party! We got to spend time over at mom and dad's between the luncheon and reception and mom took Kayli shopping, dad watched the kids and Kenny and I ran and did some Christmas shopping. It was a fun reception seeing lots of people from my home stake! The kids loved dancing with Kaci and Taylor!
We did Thanksgiving with the Eliason side a week early while Taylor was in town. We had lots of fun with Taylor-he is constantly making us laugh! We loved when Tate handed him a baby and then caught him singing, "Jakey, Jakey, Jakey" and Tate said "that's Sami". She was dressed in pink clothes and everything but Taylor just assumed Tate handing him the baby meant the baby was Jake. Anyway, we laughed about that for a long time- so fun to have him back for awhile!
We had Thanksgiving with my family on real Thanksgiving and we did it at our house this year. We went to the park before we ate and it was hot out! That night Kenny took all the guys out off-roading in the desert by our house. When he came back we made mom go with him too! Me, mom, Kelli, and Trey went on that ride and we were sure mom would be scared and funny about it all-but she loved it! Kayli opened some presents since her birthday was the next day and we rode bikes outside all night.
Kayli turned 7 on November 24th. I'm not sure how she's already 7! Kayli wanted to go Black Friday shopping too but since her birthday was that day she didn't really want to do that on her birthday. So her and I went to Target at 7:30 Thanksgiving night and we had a blast shopping around! She even picked out some of her own birthday presents. She was so much fun! On her birthday we had her favorite breakfast- buttermilk pancakes with buttermilk syrup and opened presents. Then we went and saw Wonder which we all loved. We had started reading the book together but didn't finish in time for the movie. After that we went to Panda Express for lunch (she loves it but only for the Orange Chicken-that's all she orders). We took her in to Nothing Bundt Cakes to pick out her own little cake. Then we went to Crystal Palace to skate. Grandma and Grandpa Eliason and Kaci came and the Cahills. The kids had a hard time at first but by the end were loving it. After that we went to Downtown Summerlin to watch the Christmas Parade and then to Cafe Rio for dinner. We had such a fun, busy day celebrating her. We sure love her. I need her to stop growing up! I also don't know why we have no pictures of her skating or blowing out the candles on her cake!
Beau got the Citizenship Award at school for Honesty. I'm glad he's honest at school because he's not always honest at home! Haha.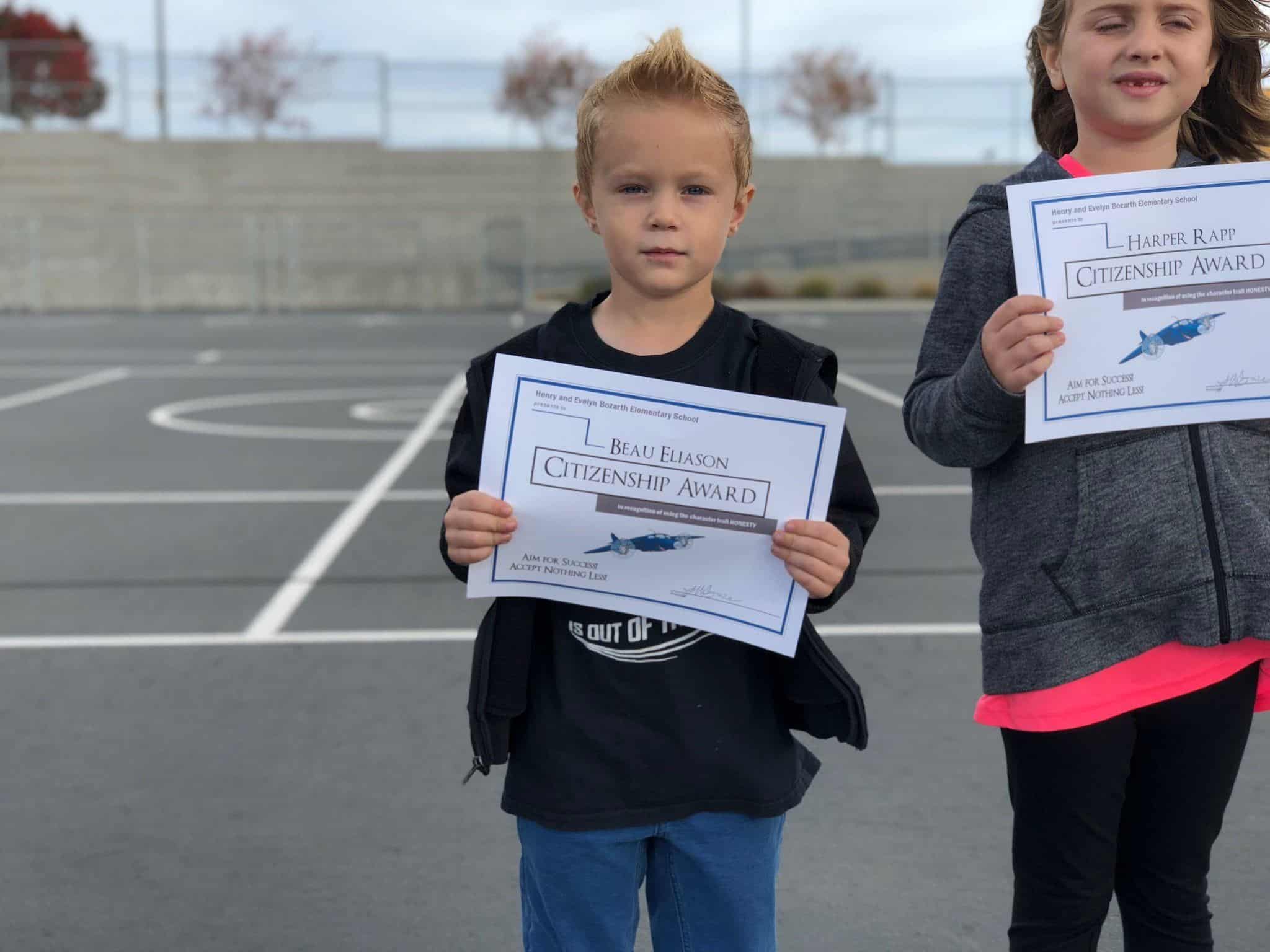 Kenny's sweet Grandpa Taylor passed away on November 26th. He had Alzheimers for the past 9 years. The funeral was very special and there were some great stories told-some that I had never heard before. Kaci put together an amazing mashup of songs that he had loved and sang with the grandkids and all the grandkids sang that at the funeral. My kids have loved singing that since then. The little kids all learned a song called, "Where is Heaven" that Taylor taught them the night before-which was amazing and funny to watch. Kayli and Kate were all about it and practiced so hard and sang so pretty and loud. Beau eventually decided he'd sing if he could have the words and even though he had his paper the whole time, he really did read the words and sang. Trey loved being up there with them and tried to sing even though he didn't really know too many words. About halfway thru the song he started waving and yelling, "Hi Grandpa! Hi Grandma! Hi Kaci! Hi daddy!" He just kept going down the row! And then a few minutes later he was sitting up front with the little kids between the first pew and the stand and he knocked over a big picture of Grandma and Grandpa that was on an easel. It fell and shattered. Glass everywhere. Kenny was in the hall with Sami and I was in the middle of the pew surrounded by people, but luckily Grandpa and Taylor got it all cleaned up without making a big scene. So embarrassing. It's amazing all the trouble he causes! Between the Friday night viewing, the funeral on Saturday, and the burial on Monday, we got to spend lots of time with Kenny's Taylor family. We sure love Grandma Taylor and it was so good to be with her and all of the family those days. I will always remember Kenny's grandpa saying to me, "you know what I like about you? Everything!" Haha, I know he said it to lots of people but he always made my day! Kenny has lots of fun memories with Grandpa too. After the burial we went to Dairy Queen so that everyone could get banana splits in honor of grandpa. Then we went to Fox's BBQ for lunch.
Our friend, Eric, had planned an Amazing Race. We ended up being with Kelly and her brother (the first year we did this we were with her and her husband and won!) and we did really well on all the games! We came in second on both the laser tag and Pole Position racing. We ended the race at Fox's BBQ out in Boulder City and it was the best BBQ food we'd had in a long time! We were saying we'd have to find reasons to drive out to Boulder City so we could eat out there lots. Then we realized we'd actually be out there Monday for the burial! So we got to eat there Saturday and then Monday-both times with a big group-and it was perfect!
After the burial when everyone headed home, we decided since we were close that we should go see Hoover Dam. We had to give Kari and Taylor a ride home but they were down for the adventure too. Our kids were actually pretty into it too! They loved standing in two places at once- Nevada and Arizona.
We decorated the Christmas tree… twice! Trey pulled over our Christmas tree and broke it last year so this year we had to get a new one. We just got a cheap one and put it up and decorated it but I didn't love it. I was at Deseret Book one day with mom and dad and we were loving the tree they had there. We asked them about it and turns out they'd sell the tree to us but they only had one left and it was in storage. I decided not to do it but told Kenny about how pretty it was and one night he basically just went and bought the tree without me really knowing and we even got it 30% off and we can return the one we had already bought. He's much better about just buying the nice thing the first time without worrying about it. I try to go the cheapest route and sometimes that's not the best plan. Anyway, I love our new tree and we'll use it for years to come as long as a 2 year old doesn't knock it over and break it again!
We took Kayli and Beau to the Wet 'n Wild Christmas Town with the Cahills. The sledding hill was awesome but Kayli thought it was too scary. They had lot of bounce houses and a train, and yummy treats and we just kept talking about how nice it was to not have to chase little ones around!
The next night we went to Alamo for the Christmas Express. Dad was able to get us tickets and him and mom had been helping out there a few nights so they were pretty excited to take us. Kenny's family was also going the same night so we had lots of family there! It is soooo well done and the kids have a blast. It wasn't too cold and Sami was so snuggly warm and did great. They do all of it for free! They even serve you dinner!
We made a Gingerbread house (that Trey has already ruined). Holli was even over and got to join in on the fun!
We took the kids to drop off their letters to Santa in the Santa mailbox.
A few friends have been playing on a women's indoor soccer league again. It's a lot of fun and the kids have fun coming and playing together while we play!
It's been perfect off-roading weather and the kids and Kenny go with their friends most Saturdays right now. Kayli has decided she likes staying home with the girls and going shopping (and sometimes breakfast) more than off-roading. The boys have a blast and it's such a fun hobby for them to do with dad and friends.
With only three small bedrooms and four kids, we've had a hard time figuring out where to put everyone. Sami is still in our room but Kayli says she wants to share with her. We've been to Ikea so many times trying to get bedrooms set up and we still aren't done. Our bedrooms are tiny so that doesn't help-it's hard to fit everything! We moved Trey into a bunk bed with Beau and he has done awesome! He always has a ton of toys on his bed and there's barely room left for him-but he loves it that way. He naps and sleeps at night so well-which has really surprised me! Kayli is in her own room for now, but we need to put Sam in a crib in a room asap. The poor fourth child… her naps are so inconsistent with running kids everywhere, running errands, and school pickup but I'm shooting for more consistent naps after the New Year! Luckily, she sleeps so well in the car but she has been sleeping awful at night and I think she's ready for a good schedule. We bought a second bunk bed that we spent a whole Saturday painting. We put it together in Kayli's room and the next day Trey took a hammer to the ladder and dented it! He saw Kenny hammering I guess and wanted to do it too. That kid!
Doctor visits are the worst!
A few more of kids…
Oh Trey… where do I start? There are so many stories I want to get down because I'm sure we'll laugh about them eventually but man, he is hard so much of the time. When he's not causing trouble or being mischievous or curious, he's the most loving kid. He is really hard to take places. He runs, doesn't care if he doesn't see us and he's so friendly he'd probably take off with anyone. At stores, he climbs out of the cart or stroller so there's really no way to contain him. I do try to avoid places with him but sometimes I have to get things done! He is obsessed with frozen waffles. He doesn't care if they are frozen are not. He can open our fridge and freezer now so he's constantly in there. He gets out the frozen waffles and just starts eating them. He's also taken chunks out of frozen corn dogs, and had his friend eat them too! He is always on our counters too and gets stuff out of the cupboards. He's totally ready to potty train, I'm just not ready to do it, but he takes off his pants and diaper a lot and then goes to the bathroom on his own-so maybe he'll potty train himself? But sometimes he plays with his poop and today he smeared it all over his bedroom door. He also had a friend over today and while I thought they were drawing on the wipe off board they were actually drawing on each other with marker. They had it all over their heads, chest, and even on their clothes! He does weird, random stuff all the time, like takes a handful of veggie straws, throws them on the ground, and then stomps on them. I wrapped some presents and put them under the tree the other day-knowing it probably wasn't a good idea but we had a talk with Trey about not touching them and I figured we try it. The next day he unwrapped half of them, and it was the kids who saw, and came up stairs with unopened gifts in their hand that they say they didn't look at. Hmmmm… so we won't be putting any more presents under the tree for now! He is also our first kids to draw on everything! He has taken marker to our kitchen cabinets, wall, our computer screen, and likes to color all over the kids' stuff… and they get so frustrated. It's funny because I know he does this kind of stuff so I try to be proactive and keep my eye on him, keep doors closed, etc. but the other kids leave the doors open, or he disappears while I'm feeding Sam, or sometimes I'm just too tired to chase after him! Another story… I do attempt Target with him because I feel like I can be quick and if I get him some popcorn he'll usually be good and eat that for a few minutes. Well the other day I was in there with a friend. She was ahead of me checking out and then I checked out. When I got to the car I saw Trey eating a candy bar so I asked her if she had bought it for Trey!? She said no and so I guess he just picked it up during check out and started eating and nobody saw! Well then the next time I was there, he did it again! This time I saw him before I checked out so I was able to have the cashier scan the wrapper when I checked out. We've been meeting Emily at Costco since she's a stay-at-home mom now. It's a fun thing to do with her and Trey loves to see her. He always yells, "Emleeee, where are yooooouuu?" So if I do go without her, he yells it the whole time because he thinks she is there. I also went to Amber's Umbrella with her and Stephanie the other day. It's a vintage craft fair thing that is definitely not an ideal place for a 2 year old but we attempted anyway. He kept screaming "Emleeee, Stephnie, where are you?" I love you he says both of their names! We also got some Waffle Luv while we were there! But for every crazy thing he does, he does something so perfect for someone else. He has a good heart, and loves everyone. He absolutely loves his nursery teachers so we took them flowers and a homemade card that he colored the other night. He was the cutest thing walking up to the door with flowers in hand. And he loved it! We tried to catch one of his teachers three times before we finally just left the flowers for her-and every time we went to try again he was so excited to run up to the door all by himself. He loves to hug everyone he knows at church.
Beau is doing well in school. I get to help in his classroom sometimes and he sure is cute! He pays attention and answers questions. He is a good friend to everyone. He loves P.E. and is super wild after school but soooo tired by bedtime. Him and his friend decided to play Grinch the other day so I found them with a net stealing all the ornaments off my tree. Crazy boys. He loves to go to friends' houses or have friends over here and he has really good friends.
Kayli is such a blessing in my life. She's extremely helpful, responsible, and dependent which comes in very handy when I really need her help with things. She loves to craft, shop for clothes and accessories, write, read, play school for hours, organize, and play with friends. She is a fun girl and is a great neighbor. She is very friendly to everyone on our street and invites people to play. She has a really hard time going to school and some days she goes kicking and screaming (literally). She hates P.E. and those days are the worst. She loves her teacher, likes school, and does well in school, but for some reason she gets really worked up about going most days. Some days it makes them late for school. I really wish I could help her but we've been at such a loss about what to do. Nothing has seemed to help her. Today I talked to the counselor who wants to pull her out of class and get to know her and see what she can do. I hope that maybe she has some tricks so I don't have to see my girl go to school so sad every day! Grandma England took her to Lakeshore Learning to pick out some teacher stuff for her birthday and Kayli was in heaven!
Sam will be 4 months next week and she is a joy to have around. She is such a little light in my life. It gets pretty crazy around here with 4 young, loud, crazy kids but she is usually just smiling through it all. She's started waking up 3 or 4 times a night though and Kenny and I haven't slept much the past few weeks! We're pretty exhausted but life goes on and with so much to do every day we somehow function because we have to. She has been by far our best baby and we love her so much. I think this is the first time I have really wanted the baby phase to just slow down!