This is a really long post! It's been a headache to finish but I can't give up on this! We've had a great couple of months celebrating the holidays and we've been busy so here we go…
We went on our annual Halloween date. Chase still has us going to Haunted Houses after all of these years!
Off-roading with friends and Kenny took Trey and Talon with them too!
We also had a fun Cami's Birthday/Halloween Party with friends. Kory went ALL OUT.
For costumes, we kind of went with a scary family theme. The Addams Family movie came out and Kayli was really into it. She wanted to be Wednesday and she played the part perfectly. Beau wanted to be something scary and we found the perfect vampire zombie costume for him. Sami would have been a princess but she also likes Vampirina from Disney channel that worked for her. And Trey was excited to be a mummy! Kenny and I decided to go with Kayli's Addam's Family idea and we were Gomez and Morticia.
We went to the kids' Fall Festival which is always so well done. Kayli and Beau got their face painted but Kayli's was so awful it was pretty funny the rest of the night when nobody knew what hers was. She just said it was a blob of something. Kayli loved seeing Mrs. Darland since she had been on maternity leave.
We had our ward Trunk-or-Treat that was so much fun! Kayli invited Mrs. Darland and her family to come and they did! Her daughter is friends with Collyns and we all love Mrs. Darland so it was great to see them. She knew lots of kids from school too. We didn't see Beau at all that night since he was running around with his buddies. The Trunk-or-Treat was so great and we even had a dance party at the end. And Trey won scariest costume!
We painted and carved pumpkins and decorated sugar cookies.
We went to Gilcrease Orchard to pick out our pumpkins.
We also went to our neighborhood's Huckleberry Harvest Day. We ran into our fun neighbors there and had to get a picture of Kennedy and Sami as the Vampirinas. Mom and dad came with us and the boys loved the animal show they had.
We always love trick-or-treating in our neighborhood because there are so many kids out! The whole neighborhood decorates houses and there are block parties going on and so many nice people out. We went around with lots of friends and neighbors and even got a picture of all the kids in our group.
We went to the kids' multicultural night at school. They were excited to show me their artwork and see their country research hung up. They also love going to the book fair and seeing their teachers.
We finished up soccer season! Kenny had a blast coaching Beau's team and we had a fun little team. It was so much fun to watch his team play. They ended up in second place out of like nine teams! Beau scored some goals and was a great midfielder. He also loved playing goalie the last game and he is crazy. Made some amazing saves! He loves to slide tackle which isn't allowed on the field so goalie was perfect for him! Haha. Trey also had a fun season with all of his buddies! He scored lots of goals but mostly loves just being there with his friends. He won the Most Goals Scored award!
Kenny and I celebrated our 11th Anniversary on November 24th. We don't usually do much for Anniversary since it's always around Kayli's birthday and Thanksgiving and we've always had babies or too many little kids to try and sneak away for a trip. After scoring some free flights and when my family was willing to watch the kids for a few days- we decided this was our year to do something! I wanted to go somewhere we've never been and when Kenny asked if I wanted to go to Waco I was like YES!!! We are Fixer Upper Fans and I've always thought it'd be so fun to visit. We could fly into Austin, Texas and then drive to Waco so we decided Texas it was! We decided we wanted our friends to come with and even though this whole trip was planned a week before we'd leave, Mike and Erin were in too! The kids were so excited we were leaving and they'd get to spend all weekend with Grandma and Grandpa. Haha. They kept asking every morning if it was the day we were leaving. We left Thursday afternoon and flew into Austin. We did all of our research pretty much the night before we flew out. We picked some of the best rated food and things to do and did as much as we could. Our first stop was a Mexican Restaurant called Cisco's and it was delicious! We ate at Kirby Lane Cafe for breakfast the next morning and it too, was delicious! We went down to the University of Texas and rode scooters all around the campus. They had the most amazing athletics center and it was fun to look around at all the famous athletes that have played there. We saw the football team out practicing and it was fun just to explore a big-name college. We rode scooters down to the capitol building and the Governor's Mansion. People in Texas were so nice! Nobody seemed grumpy! We went out to a really pretty outdoor mall called The Domain and shopped around for a bit and then went on a Sunset River Tour where we saw the famous Austin bats! (Although there were only about 15,000 bats out compared to the usual 1 million in the summertime!) The cruise was awesome. We rode up the river right along downtown Austin as the sun was setting and learned lots of Austin history, all about the buildings, and tons of bat information which was actually very interesting! After that we picked up Mike and Erin from the airport and began our weekend with them! We went to one of the most highly rated BBQ restaurants in Austin- and it was soooo good. Seriously, we ate so good on this trip.
The next day was Waco day! Me and Erin were so excited. We got there early to put in our name at Magnolia Table which is Chip and Jo's restaurant. While we waited for our name to be called we went to Junky Monkey which is where Jo gets some of her antiques and decor for houses. It was adorable. Then we drove around and saw some of the houses they've done. They were adorable of course but so was the whole neighborhood we looked at! They had huge yards, beautiful, big, houses and windy roads. Funny though, this one neighborhood was pretty much the only nice neighborhood in the town. We went to Clint's store- Harp Design Company and it was adorable too, of course. Magnolia Table was adorable and the food was so good-especially the strawberry butter on biscuits. Erin and I even got a picture with Joanna's mom! She works at the restaurant sometimes. We thought that was pretty cool!
After eating we headed over to the silos and they are BEAUTIFUL! The silos, the bakery, Magnolia Market, the food trucks, the grounds, the Seed Supply store, and even the restrooms are so cute. Everywhere we turned we needed a picture! Erin and I were in heaven but the boys ditched us to go check out Baylor, haha. I kept feeling like a kid at Disneyland. Everything was so magical. And the workers are so wonderful like Disneyland employees. They ask if you need help or tell you where to line up before you even have time to wonder those things. They all ask where you are from and everyone thought coming from Vegas was so cool. Add to that all the friendly Texans and happy-to-be-in-Waco visitors and it just made for such a good atmosphere. It was also cool to be at the market when they had so many Christmas decorations up. Seriously, I was in heaven. We waited in line to get into the bakery (it wasn't that long and totally worth it anyway) and without kids to fight in line we just chit-chatted and talked to everyone. The cupcakes and cookies were delicious just as we knew they would be. We took so many pictures and just drooled over all of the cuteness.
We went to the Dr. Pepper Museum. It was ok. The free Dr. Pepper was the worst Dr. Pepper we've ever tasted. Haha. It was right by the silos so we went but definitely not anything like all the Chip and Jo stuff!
We went and saw the Waco Suspension bridge that is in the show.
Then we headed out to see Chip and Jo's farmhouse. It's about a 20 minute drive out of Waco but it's such a pretty drive! We crossed the river and drove thru rolling, green hills. I had heard you could see their farmhouse from the road-but you can't. You can see that it's out there and get a tiny glimpse of the roof back there thru the trees but… no. We were kind of disappointed but it was still cool to see where they live and nice to know that people can't bother them!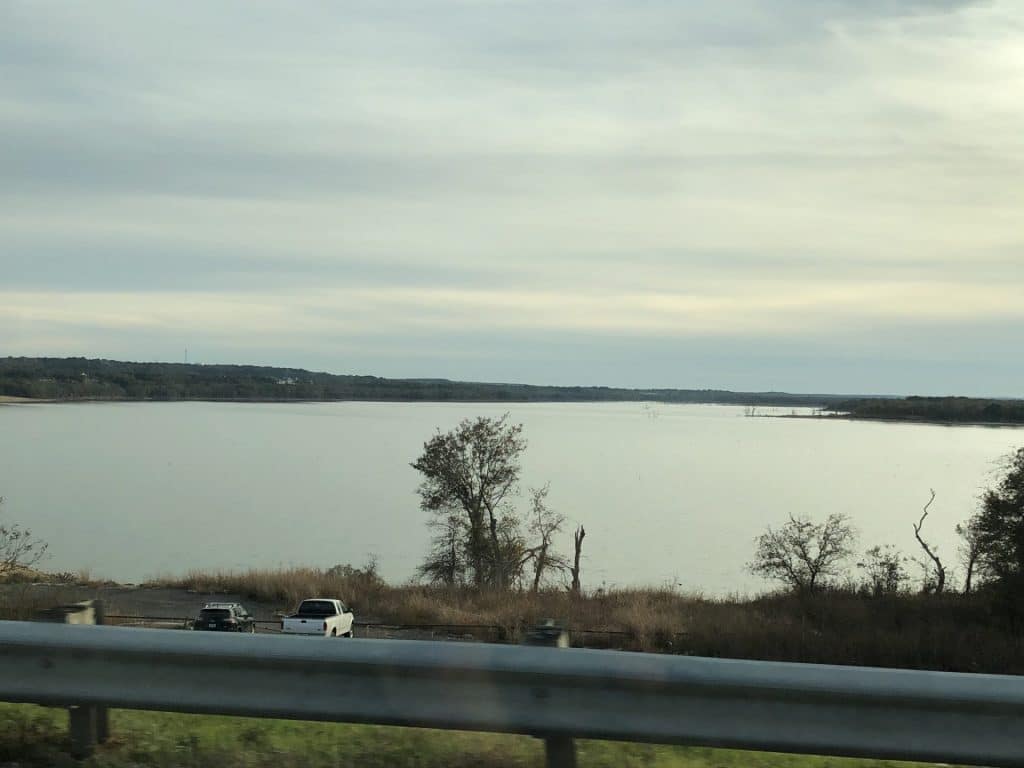 We went to Jo's first store on Bosque street, Magnolia. It was so cute! I have read all about her first little store so it was so cool to actually be there!
We headed to the Spice Market which is a ton of little boutique style things. We had read it's a must do while in Waco. We were running out of time because we had to get back to the silos for dinner before they closed and Erin and I ran around there so fast, so stressed out and mostly looking for socks so we wouldn't freeze at the football game (that we hadn't planned on going to). It was a cute place, I wish we had had more time!
We went back to the silos for dinner to eat at The Cheddar Box food truck. It was delicious and since it was dark by then the silos were all lit up and so pretty.
We knew there was a big college football game in Waco that day we were there and we debated if we should go or not. We hadn't hadn't really thought about it until we were there in Waco and everyone had Baylor or Oklahoma gear on. Everyone was ready for the game. It sounded fun to go to a really good college football game! We bought tickets right before the game so we got a good deal and we had good seats too. It was quite the game too! We loved it! It came down to the final seconds even- I'm so glad we decided to go!
The next day we had breakfast in downtown Austin and then went back to the campus to ride scooters around and show Mike and Erin the amazing athletics center which was closed. We went to the University of Texas gift shop and even went inside some of the buildings on campus. It's a cool campus! Then we scooted around downtown and went to the library which is supposed to be one of the coolest libraries in the United States (it was pretty cool). We found lots of cool backgrounds for pictures and then rode down South Congress Street for shopping and Torchy's which was highly recommended and delicious! After that we had to catch our flight home. It was such a fun and memorable trip! When dad came to get us from the airport with the kids-they were all asleep and didn't see us until the next morning. We were so excited to see them and then they were all out, haha. It was so nice that they had had such a fun weekend so we didn't have to worry about them. We are so grateful for my parents, Kim, and Kari who helped us out!
Kayli turned 9! She wanted to plan out her birthday weekend since she wasn't having a party and her birthday was on Sunday. She chose to go to Downtown Summerlin and do all of the Christmas things: ice-skate, watch the parade and go to the Giving Machine. Grandma and Grandpa Eliason and Kaci and Braeden came with us. The Giving Machine was so fun! The kids each chose out one thing to buy to donate. Trey of course picked chickens for a family and he was so excited about that. It was pretty awesome to have a Giving Machine in Las Vegas this year! Kayli has always wanted to ice-skate at Christmas. It's pretty cute with the huge Christmas tree and pretty lights. She did awesome too! Her, Beau, and Kenny skated while the rest of us watched them and rode the train around.
Saturday she wanted to get her nails done. She got gel nails for the first time. Then she wanted Panda Express for lunch and then we went shopping at Target and she picked out a new dress. It's so much fun to hang out with her and I love when she tags along on my errands. Even though she's getting older- I love it! She is fun to talk to and just fun to be around! That night we went to see Frozen 2 with all of my family that are in town. We loved it of course! Then for dinner she chose Cafe Rio.
On her actual birthday she requested french toast casserole for breakfast and she got some fun presents (mostly crafty things) but she got an Instax camera which she was really excited about! We went to church and then she wanted to put up the Christmas tree so that's what we did and it was perfect. I love setting up for Christmas and so do the kids!
That night we had dinner at the Eliason's house and everyone was there to celebrate with Kayli. She had a great birthday weekend!
This was the first Thanksgiving that we didn't go to anyone's house for dinner! We made our own Thanksgiving dinner and stayed home with just our little family. The kids played football outside all morning with the neighbor kids and we made dinner lated that afternoon. We watched the Macy's Thanksgiving Day Parade and just hung out at home and it was so nice and relaxing! Kenny's parents stopped by after their dinner and played some games with the kids and we had pumpkin pie. Later that night Kayli and I went to Target for some Black Friday shopping (we hardly bought anything but we had lots of fun!) We got up at 6:00 am the next morning and went to Downtown Summerlin to shop some more and the mall was empty! We love it though and I'm so glad she loves to do it with me every year!
After we shopped for a bit we met the Pickett's at FLIPnOUT. I'm so glad Andrea is so good about getting everyone together when she's town. We love to see her and the rest of the Pickett family. We all ended up going to the new Macayo's restaurant for lunch and even though we were there for hours it was worth it. It was fun to hang out with everyone and the food was delicious (and the kids did great surprisingly!)
Kenny and the kids put up Christmas lights. Kenny got this big lift and then all weekend it went around the neighborhood while others used it. It was funny because you could hear it beeping all weekend long but people were loving it!
We went off-roading up to a great sledding spot with friends that Saturday.
We got to go to the Christmas Express again! The Cahills came with us and we were sure to be on the right train 🙂 The kids could all tell that Santa and Mrs. Claus were Grandma and Grandpa but they thought it was so cool that they help Santa out every year! The weather was great, they had even more things out this year, and we had a blast. It's one of our favorite Christmas traditions.
Our ward Christmas breakfast was awesome. The elf, I mean Kenny, was the MC and he did great. We had a cute hot chocolate bar, fun games for the kids, the best free Santa pictures, a cute program and the best dutch oven scrambled eggs and potatoes. We love our ward!
We did Christmas cookies at Grandma and Grandpa's again. Most of the kids loved decorating cookies but there are no pictures of the oldest boys because they wouldn't stop playing soccer to come in and decorate! I think they did eventually decorate some but no cameras were out. Boys will be boys!
We went to our neighborhood's Christmas party mostly because they had a horse drawn carriage to ride on! That was awesome. They had Christmas carolers who rode with you too. We had hot chocolate and cookies and saw Santa. We took Talon, Trey, Ethan, and Kennedy with us and it was so fun to have them there. So fun to be there with the Sagers and McCormicks too.
Our soccer team won the championship last night! We were so excited. We've worked really hard to get to this point and we even won by a lot. We played so well and it was such a fun game to win. The game was late but Mike and Kenny (and lots of Erin's family) came so we had a huge cheering squad! We have a great, fun team!! We finally won Champions shirts!! We celebrated at BJ's after. Such a fun team!!
Kenny shaved his head for Kason (Kenny's 16 year old cousin). Trey eventually did too. And also, NeONBRAND designed the coolest shirts that say KasonKicksKancer. We've all got a shirt and the back is way cool!
Trey had the cutest preschool Christmas program. He sang his little heart out and was so into it. He sure loves his class and his teacher.
Today was dress up like a holiday character day at school. The kids went all out. We'll see if Beau keeps it on all day. I couldn't tell if he'd embrace it and be funny or if he was embarrassed.
Kayli… she's awesome. She's a great helper, so reliable, and does so good in school. Mrs. Darland had the best things to say about her at her parent-teacher conference. (And she has been the greatest teacher to Kayli). She comes up with her own crafts, is very creative, plays well with Sami, and has really fun ideas.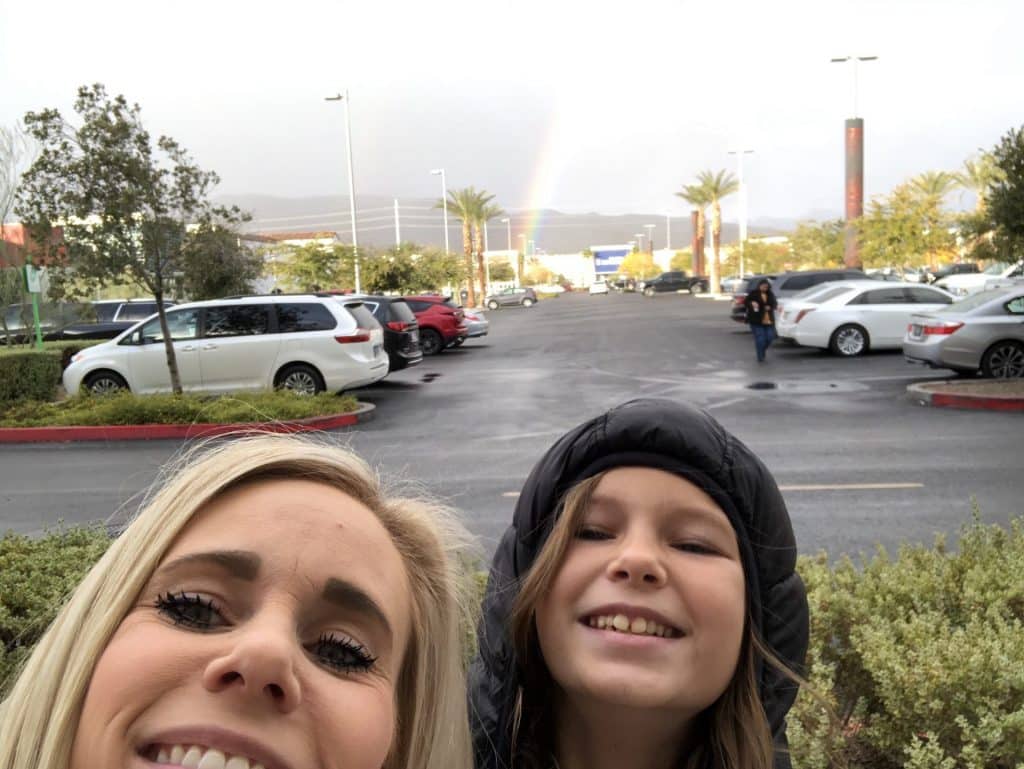 Beau is wild. He spends most of his time at home on the ground flipping and sliding with a hockey ball and stick. He kicked a ball at my mantle and broke some of things on it but we still love him. After he did it he came upstairs and told me I might want to go look downstairs and then put himself in his room. He plays hard and I'm afraid I can't hand down very many of his clothes to Trey anymore! His teacher also had (mostly) good things to say about him. He does well in school but sometimes is a little sneaky (she surprised him when she brought up that he played games during his IReady time on the computer, haha). She loves him and encouraged him to work even harder and he already has. I get to help in his classroom every other week and he still gives me a hug when I come in.
Lots of Trey stories because I just don't want to forget! His preschool teacher text me one day to tell me that at school that day one of the girls was feeling sad and embarrassed about her hat (it was hat day). She was worried about what the other kids thought. Trey heard Mrs. Kim talking to her about it and he came over and said he liked her hat and she should wear it! She smiled and put it on and asked him if he thought it was cute and he said yes! She said he made her so happy and was just the sweetest to her. Trey is working so hard in speech and is starting to talk better! (or am I sad about that? I don't know!) He has worked hard to say Grrrrrrandma and Trrrrrrey and it's so cute when he really emphasizes those first blends so that he can say it correctly. One day in the car he was telling me all about a train but he kept saying hain and so I said let's say Trrrrain. He started emphasizing the tr but he could do it and he had never been able to do that before. It was a huge step for him. He started telling everyone that he could say grrrr and trrrr words. He told me he was going to give his preschool teacher her present today and would say, "here you go Miss K-K-Kim" and she'd be so surprised she wasn't Miss Him anymore. He is always thinking about his lady friends, Sis. Vance, Sis. Pollock, and Sis. Hunt and always wants to buy them flowers. The other day Sis. Pollock gave a talk in sacrament about being grateful. She brought up going thru a terrible trial and how coming to church was hard but she did it for her kids. She said she got put in nursery and she was so grateful because she could just kind of hide in there. But then she met this little blonde haired, blued eyed boy… (Kenny and I both started tearing up!) who made her feel so happy and special. He'd run in for a hug and she said "I don't know if you all notice every Sunday when he runs up to sit with me during sacrament meeting" (he really does every week) but it makes her so happy. She said, "in fact you probably all saw him right before the meeting started today that he ran up on the stand to give me a hug!" He truly loves people and he especially has a gift for loving those who need a little extra love. He was helping me put presents under the tree yesterday when I hit my head on the mantle. It hurt so bad that I was trying to hold it and not cry. I kind of laid on the ground and he came over and laid with me and put his arm around me until I was ok. He has recently said some funny things (these are at least the ones I remembered to write down!) "Will I still like animals when I'm 16? And when I'm 16 I won't fit in this car anymore". "That wasn't the real Santa because he didn't say ho ho ho and I didn't see his reindeer." "They're decorating the world!" (when he saw neighborhood decorations up). He is curious and asked me "Why are buildings tall?" and "Why does the sun follow us?" Today he must have been wanting to earn some last minute Santa points because I caught him taking out the trash which is hard and heavy and high for him. He took it out, moved a playhouse over so he could stand on it, then got on top of the recycle bin so he could lift up the trash can lid and threw the garbage out. But he also jumped into the recycle bin so he could grab out Beau's soccer ball he threw in there. Why? I don't know. When we left for Texas, Kenny's mom came up to our house to take us to the airport and stay with the kids after school until my dad could get there. Trey knew she was coming. I went upstairs to vacuum for 5 minutes and when I came down the front door was open. I went out and saw Trey and Sami clear down at the end of the street! Trey said they were just watching for grandma!
Sami is the hard and cute all at the same time. She loves nursery and tells us all about it after church. She sings the songs and names all of her friends. She needs to be potty trained and prefers to be naked all day. If she pees in her diaper she wants it off so she undresses, takes it off, and thinks she needs a shower. OR she takes everything off before she pees and poops and then does it all over the house. We're going to potty train as soon as the the craziness of Christmas is over! She always says "I want my mommy" and tells us "NO! NEVAH!" It makes us mad and laugh at at the same time. Or she'll tell me, "you made me cry" if she gets in trouble, or "Beau made me cry" if she gets upset with him or anyone else. She's a friendly little one, following in Trey's footsteps. She is always into things…toothpaste, markers, makeup. She draws on walls, desks, chairs… anything. We have permanent marker on cubbies in the boys room, walls, clothes, her, and our couch! I try to keep them out of reach but three older siblings getting to them and leaving them out makes it easy for Sami! She's also squeezed toothpaste out onto our stairs.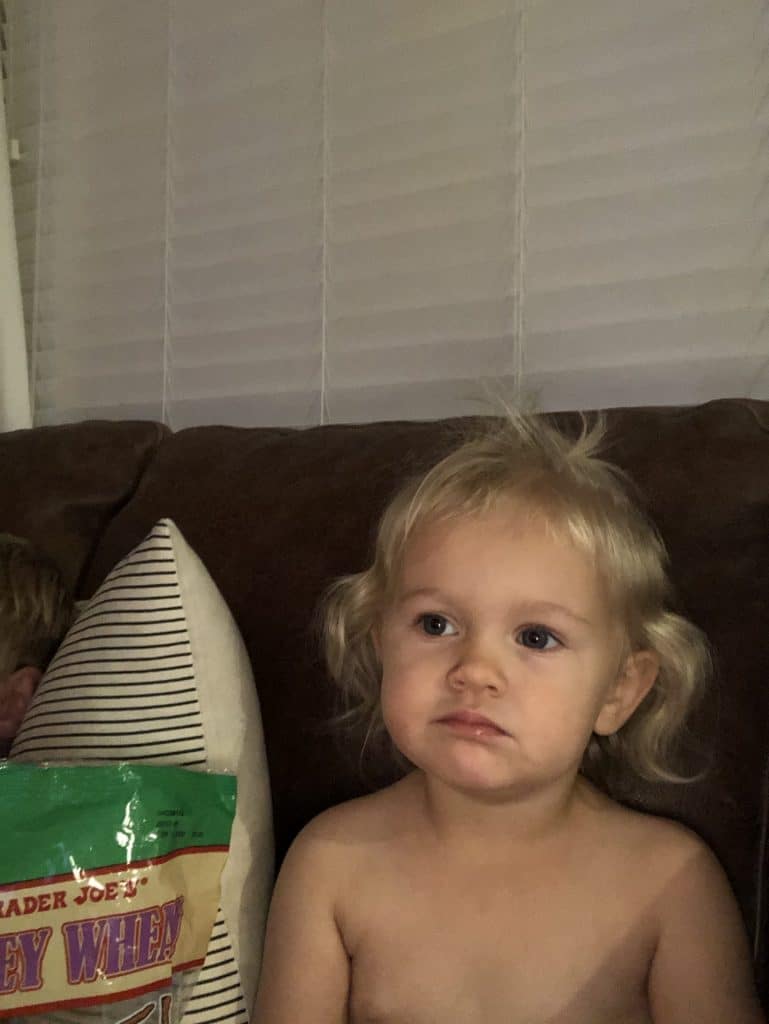 And a few more pictures…