San Diego Scavenger Hunt!
We have this friend, Ari, who is an amazing planner. She plans craft nights for a bunch of us girls and she loves planning group dates. The other night she planned a scavenger hunt that took us all around San Diego and was absolutely amazing and fun. I felt like a little competitive kid again running all around the city! We started at Mission Bay Park. Her clues were just challenging enough that we really had to think and of course, use the iPhone to research and find our way around. Kenny, Kayli and I were on a team with our new neighbors, Courtney and Josh, who we have been spending a lot of time with. Josh and Mandy were on a team with another couple, Shannon and Merril. We ended up at Old Town, a topiary garden, a suspension bridge built in 1912, the San Diego zoo, the USS Midway, a rose garden at Balboa Park, and Coronado Island. We had to take pictures at each stop and some stops required a challenge (see pictures below). Ari and her husband would show up at some of the places and the teams were pretty even-the lead kept changing! It was seriously so much fun!
Our first clue…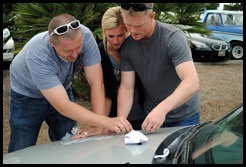 Challenge at the topiary garden…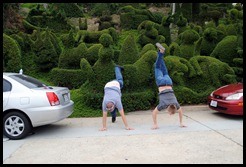 Old suspension bridge…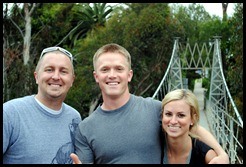 We really had to dig in the sand to find the last clue…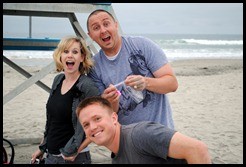 We were the WINNERS!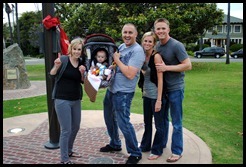 We ate at a pizza place in Coronado that was right on the bay. Here we all are with downtown San Diego behind us.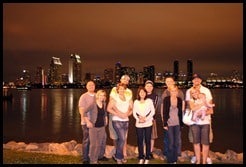 Coronado Island Bike Ride!
I have wanted to ride bikes on the beach for a long time and last Saturday we finally rode! Mandy's family was in town and so we all went to Coronado Island to ride around. The island is so cute and riding around the streets is so much fun. We needed a bike with a trailer for Kayli. The only ones still available were tandems…so Kenny and I rode tandem. I had a great view of the back of Kenny! Kayli was NOT happy in the trailer alone, though. We checked the weight limit and decided that her and I together wouldn't be TOO much over the limit…so I rode with her in the trailer! We definitely got a few laughs and stares…Kenny got a workout…and Kayli was happy! Luckily Mandy, the photographer, was right behind us so we got some good pictures.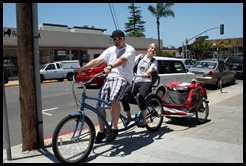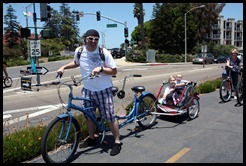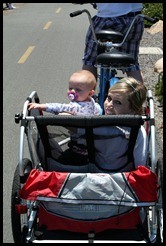 We sure do love Josh and Mandy. They have been awesome friends (and family) down here!
Father's Day!
For Kenny's first Father's Day, Kayli and I took him to his favorite restaurant, Outback, on Saturday night. We drove to Vegas Sunday afternoon so we wasn't going to get a homemade meal from me. He deserved the best day because he is such a good Daddy to Kayli. He takes such good care of her, is funny with her, teaches her, and loves her. I love watching him with her and I know she loves her daddy! I love her daddy too!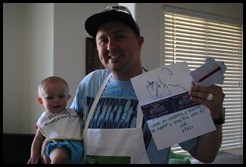 I couldn't resist the bib…she's definitely Kenny's child.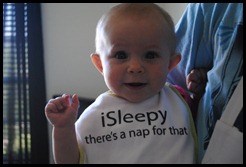 On Mother's Day we realized that Kenny needed a manly apron…so I found one that says iFlip…perfect for Kenny because he is Mr. Apple and FlipNout is his family's business! (And he can flip some good burgers too!)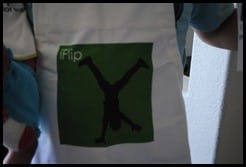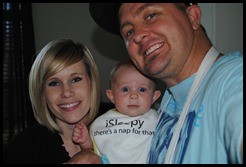 Tingey & Tingey Soccer Game!
While we were in Las Vegas for Kim's graduation, we were able to play in the first ever Tingey & Tingey soccer game against Harris Law Firm. It was so much fun but I am definitely not as in shape as I used to be. I was hoping I could play the whole game…and I lasted a whole maybe 2 minutes before I needed a sub! Haha…we were up 3-1 at half so the other team decided to play their manliest men the rest of the game (even though it was supposed to be a friendly co-ed game) and we ended up losing 4-3. Oh well, it was way fun! And I think we have a rematch coming up…
I love Mari and only get to see her at Tingey events these days because we both work from home!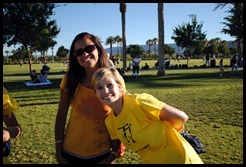 There were a ton of good pictures of Kelli…here's one…she's still got skill!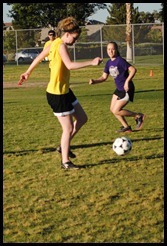 Here's proof I played…but I am obviously losing the ball…or never had it to begin with.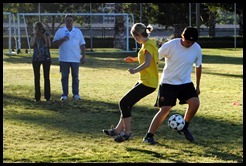 Kenny was good too!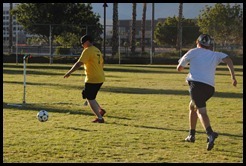 The Tingey Team!
Kim's Graduation and Birthday!
Yep, Kim graduated and turned 18 on the same day! It was a fun week staying with the family. Grandma and Grandpa Varney were there and they finally got to meet Kayli! It had been almost a year since I had seen them too so it was so much fun to see them again. Rachel and Adam stayed the week at mom's too because Russ was at scout camp…so it was a big sleepover all week! Here are some cute pictures…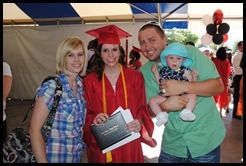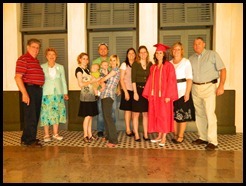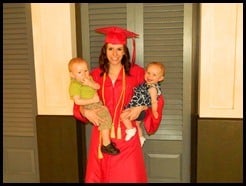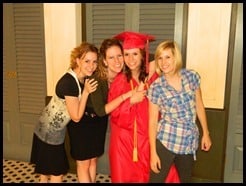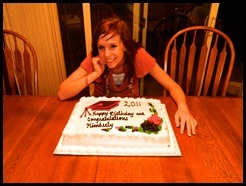 More Graduations!
We were in Vegas when Kim graduated from seminary too. Kayli got to meet two of my favorite people: Sis. Horton and Sis. Mitchell!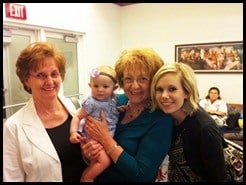 The baby cousins playing in their church clothes…love this picture!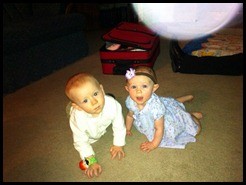 I was also there to see my first group of third graders graduate from elementary school! I loved that group of kids and so it so much fun to be able to be there for 5th grade Promotion. I got a picture with a few of them and my teacher friend, Jaimee…Ms. Pop! Check out how dressed up they all are!
Cousins!
Kayli loves to follow Adam around now that she can crawl too. I don't know if he likes it that much though…
Sea World with the Cunninghams!
Kenny's cousin, Andrea, invited us to go with them to Sea World last Saturday. She had VIP passes to the opening of the turtle exhibit so we got to go early to the park and have a nice breakfast. It was great hanging out with them. Josh and Mandy met us there too! Kayli actually liked looking at the aquariums with all of the colorful fish!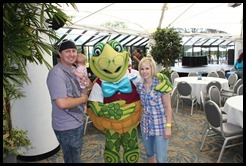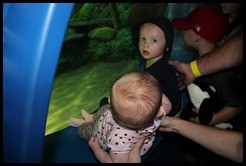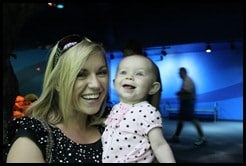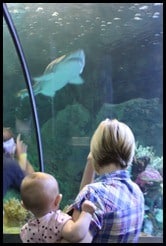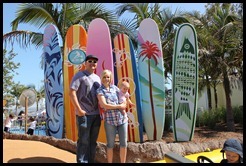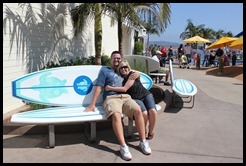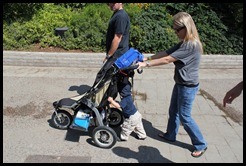 Kayli Finally Loves the Piano!
I was playing the piano the other day and Kayli sat right next to me. She finally has enough strength to bang on the keys and she can "sing" too. She even touches the music every now and again as if she's telling me she's ready for the next page…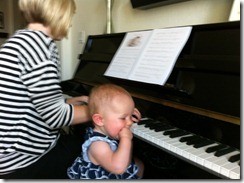 She Loves Dogs Too!
She sure had fun chasing the dogs in Las Vegas and she gets all giddy when she sees them. She laughs when they bark and always wants to pet them. I don't have pictures with her and the Vegas dogs, Charlie and Lily, but she loved Josh and Mandy's dog, Boston, the other night too!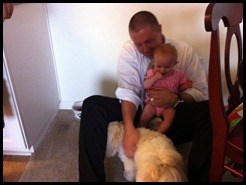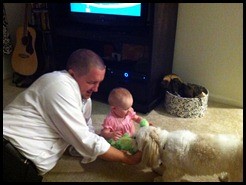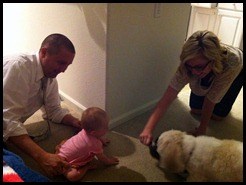 Random Latest Pictures of Kayli at 7 Months!
I definitely approve of playing with the volleyball!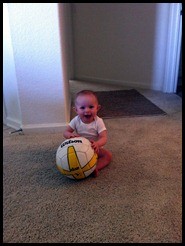 She climbs up to standing position all the time now.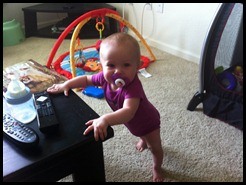 Bonfire at the beach…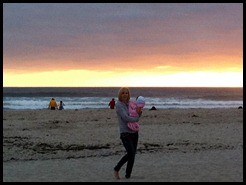 Playing in the driver's seat…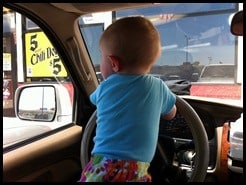 Getting ready with mom…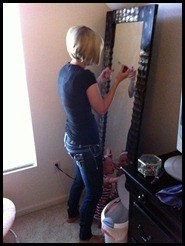 Random Latest Pictures of Kenny at 339 Months!