This is a long post because we had a really busy November and December!
We surprised dad with a little adults only outing for his 60th birthday! We went to dinner and then did an Escape Room and then some of us went to get dessert at Sprinkles at the Linq. We sure love dad!
Kayli received the Citizenship Award for Honesty.
The kids had Parent-Teacher Conferences and Trey was cracking us up pretending to be the teacher.
Sami had her first haircut by Grandma Eliason.
For Veteran's Day Weekend, we headed down to San Diego to hang out with Josh and Mandy and their family. Mandy took family photos for us and baptism pictures of Kayli since her baptism was only a few weeks away! It's crazy that Mandy first took our pictures at this same beach in La Jolla 8 years ago when she took maternity pictures of Kayli!
We got to San Diego Friday night and went right out for a date night! We put the babies down and Mandy got some babysitters to come watch the kids so we could have a kid-free night and we had a blast of course. We miss these guys but when we get together it's like no time has passed and we laugh and have so much fun. We went to dinner and then to a fun gelato place in downtown San Diego called Salt and Straw where they have normal flavors but also weird flavors like Thanksgiving Dinner… no thank you. Josh did order that though and thought it was delicious. Saturday we went to Lexi's soccer game, went swimming, and then did family pictures and Phil's BBQ- a must for us when we are down there! Sunday we went to their ward and Kayli and Beau surprised us when they said they wanted to be the visitors at primary! We had a picnic at La Jolla Shores that night and watched the sunset. Beau loved throwing the football and Trey and Avery kept chasing birds! On Monday, Andrea had us all over for breakfast! It was so great to see her and the boys. We all went to the beach together after that and poor Avery was terrified of the wind and that everything would blow away! She was so sweet and let me hold her and hide her from everything under a towel but it was so sad and sweet all at the same time. The kids loved the water and building things in the sand and Beau loved wearing a wetsuit! He thought he was pretty cool! Kayli ran up and down the beach collecting seashells. We always have the best time in San Diego!
Kayli and I got to go on a super fun Eliason Girls Trip. Kaci is obsessed with Tori Kelly and so when she found out she was doing a concert in a cathedral in Los Angeles, she asked if we wanted to make a girls' trip out of it and go down to the concert. All the girls in the family (minus Sami) and Kaci's friends Kristen and Carson got to go. We rented a van and off we went! We got an AirBNB in LA and had the quite the funny night trying to park the van, figure out food and whether or not we were in a safe area and trying to Uber over to the concert. The concert was awesome but Kayli thought it was too loud! She finally knew the last two songs and sang her little heart out during those so she left the concert loving it. The next day we went and walked around the LA Temple, drove around Beverly Hills, went to the beach and then walked around the Santa Monica pier. It was a short but super fun trip!
Lindsay and I took the kids to Mini Gran Prix. I still have a nice scar on my arm from getting cut by the barbed wire fence but I'm glad it was me and not a kid's head getting cut! The kids were too cute driving the race cars around!
Our 10th Anniversary landed on Thanksgiving this year and so we didn't even do anything to celebrate! Between 4 kids, Kayli's birthday, baptism, girls' trip and holidays we just didn't find a time to even go to dinner by ourselves! We had a great Thanksgiving though. We had dinner with Kenny's family and then went to see my family for dessert. Rob and Leslie were in town so we got to see them and Scott and Emily who usually leave town for Thanksgiving. We love to see them and baby Colton! Kayli and I went Black Friday shopping late that night. I love that she loves to do that with me!
Kenny took the kids to this awesome park on Black Friday while I did some shopping.
Kayli turned 8 on November 24! Since her birthday fell on Thanksgiving weekend and Milani would be out of town, we celebrated a few days early by taking her and her friends to Crystal Palace to skate. Milani and Skylar came with us and they had the best time. Afterwards, she just wanted to have them over for dessert and to play as late as they could. We are so lucky that our kids have such good friends! They had a good time.
On her actual birthday, we had donuts and opened presents then went to see Ralph Breaks the Internet. Kayli chose Panda Express for lunch and then wanted to go home and put up our Christmas tree. That night, Kenny and I took her out for her birthday. We decided on California Pizza Kitchen and then she just wanted to walk around Downtown Summerlin. She loves the alone time with mom and dad. She gets so giddy and silly and she's so fun to spend time with!
still a little girl with her dolls!
Kayli was baptized on December 1, 2018! It was an incredible day! I absolutely loved everything about the whole day. Kayli was excited and ready to be baptized by her dad. She invited her Kindergarten teacher, Mrs. Buell, her 1st grade teacher Ms. Cutler, her teacher this year, Mrs. Mazur, and lots of neighbors. Ms. Cutler was out of town but came by a few days later (they live around the corner from us) and Mrs. Mazur couldn't make it but got Kayli the sweetest gifts. Mrs. Buell showed up to the baptism! She is like family to us and everyone there already knew who she was because she's been to sports games before (Beau had her last year). She was pretty popular there and Trey sat on her lap thru most of the baptism. We had lots of family and friends there so it was just such a special experience. She was excited to be baptized with Skylar and it was fun planning the baptism with them. Afterwards, we had everyone over for lunch and Kayli was so excited to have a soda shop, "Splash" where her, Milani, and Parker served everyone specialty soda drinks. It was so great to be surround by so many friends and family members. Trey and Talon from across the street were over for most of the day and everyone loves them! They gave Kayli pink roses and she got so many special gifts from other people too. She loved filling out her baptism memories book and she seemed so happy! I loved this day so much!
back of invite

front of invite
We went to the Christmas Express out in Alamo again this year. It is so well done and one of my favorite things we do at Christmastime. We went with McCormicks and Cahills but Kenny's parents and Tate and Lindsay went the same night so we got to see all of them too. We were all able to be on the train together and seeing Santa and Mrs. Claus was so magical! (Do they look familiar?!) It wasn't too cold and we stayed super late because the kids were having a blast! We love it!
Lindsay and I took the younger kids to the Discovery Museum. Trey loves that place! He asks every day if we can go to the Discovery Museum (in the way that Trey tries to say Discovery).
We went to Ethel M.'s with my family to see all of the lights!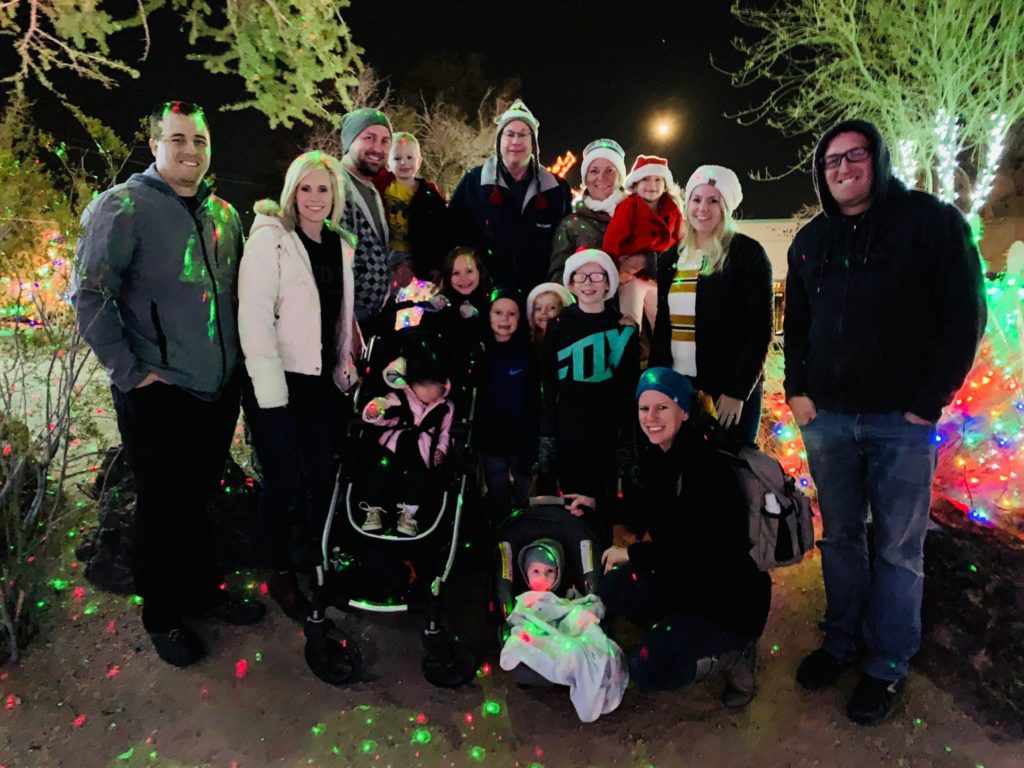 Trey has been loving Playgroup days (Thursday mornings). He asks every day if it's time for Playgroup. He goes with the cutest group of friends!
sometimes it gets a little crazy!
Our Ward parties are always so much fun! It was a Feliz Navidad theme and we wore our PJ's. They took the cutest photos of us with Santa too!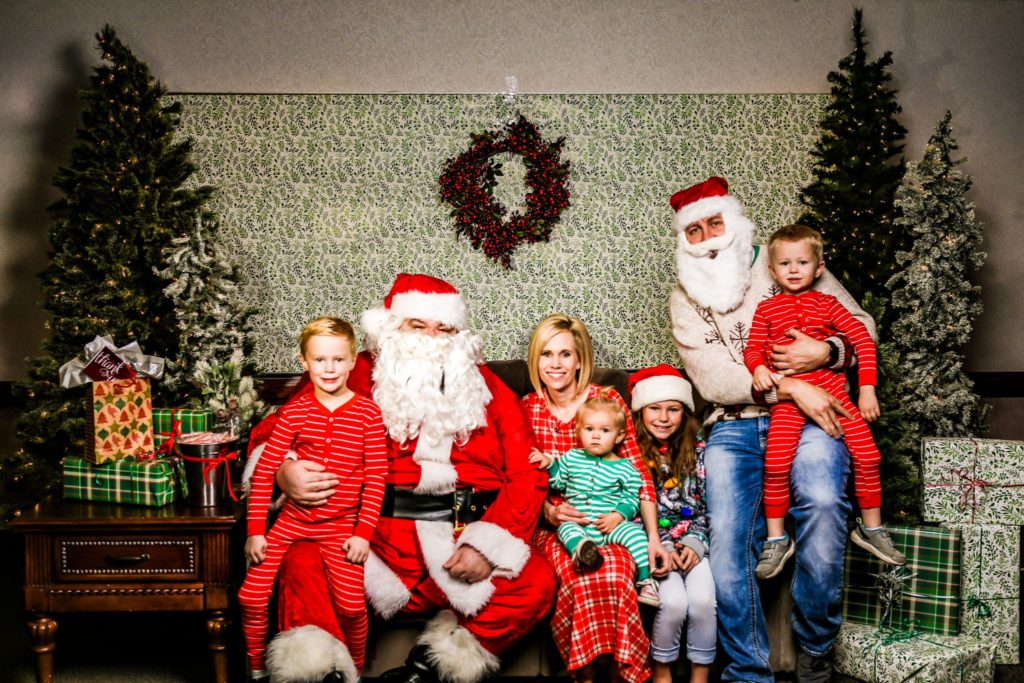 After the ward party, we hurried to mom and dad's for their annual Christmas Cookies Party. They make a ton of cookies and the kids decorate and make a big mess! They love it! Even Sami loved it this year!
We celebrated Erin's birthday at Lucille's! Afterwards, we did a White Elephant and played The Fun Game. My stomach hurt from laughing so hard! It got pretty ridiculous!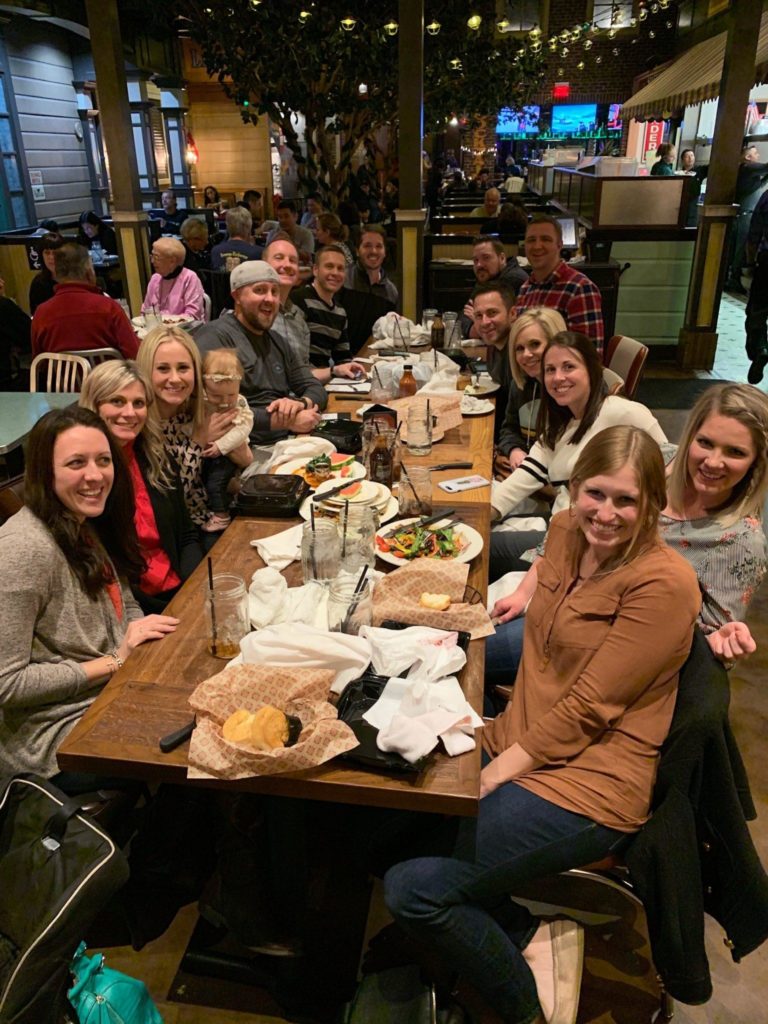 I met mom and dad and took the kids to the Springs Preserve. We didn't have a ton of time there and decided we need to go back without kids to go through the Nevada State Museum and read everything! We loved the lights and the big Christmas tree. Trey's favorite part was the animals and the kids loved the Mirror Maze and the playground.
I got to go to the NeONBRAND Christmas shopping/lunch and it's always a lot of fun. Kenny and Kurt have created such a great thing and have a good group working for them!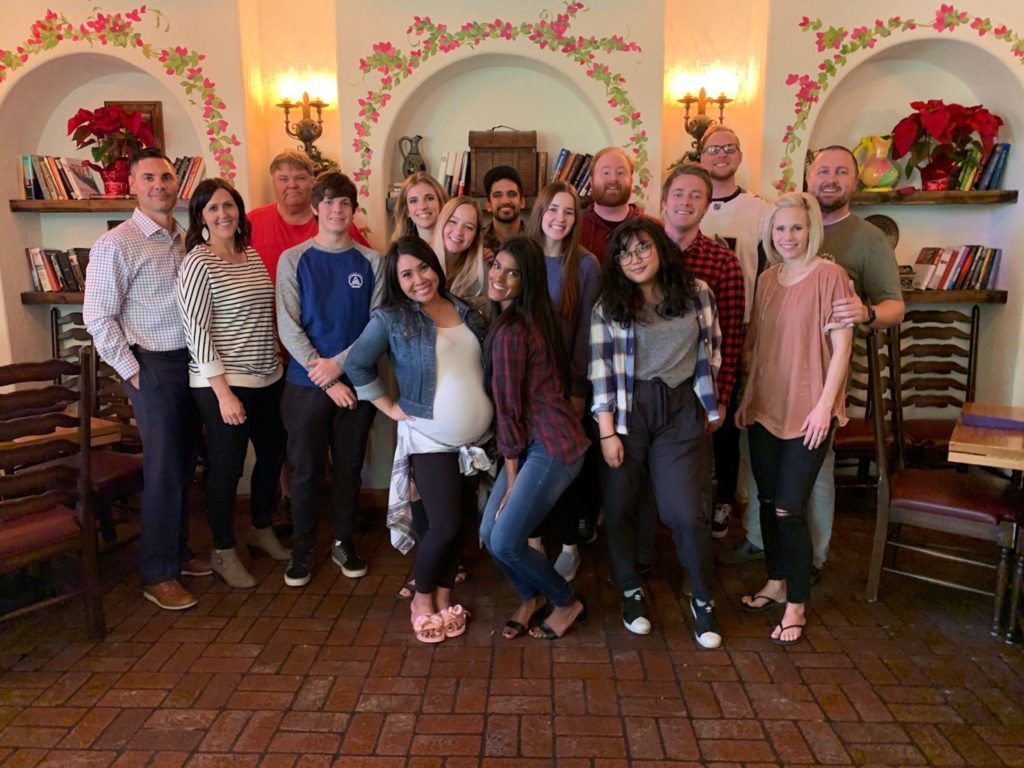 Josh and Mandy stopped at our house on their way up to Utah. We decided to make a date night out of it. We got babysitters for the babies and the big kids went to Grandma's house for Christmas crafts with her and Uncle Taylor! We took J&M to Cornish Pasty which is downtown and super yummy. Then we showed them Kenny's office and rode around on trike's and played ping pong. It makes for a good party down at his office! We stopped at Crumbl on our way home which is a new delicious cookie place by our house. Luckily there's no drive-thru so I won't be stopping there toooo much. We ate our cookies and off-roaded behind our house until we had to be home. We had the best night!
We went to the Downtown Summerlin Christmas parade with friends. It lasts about 5 minutes but it "snows" at the end so that is fun!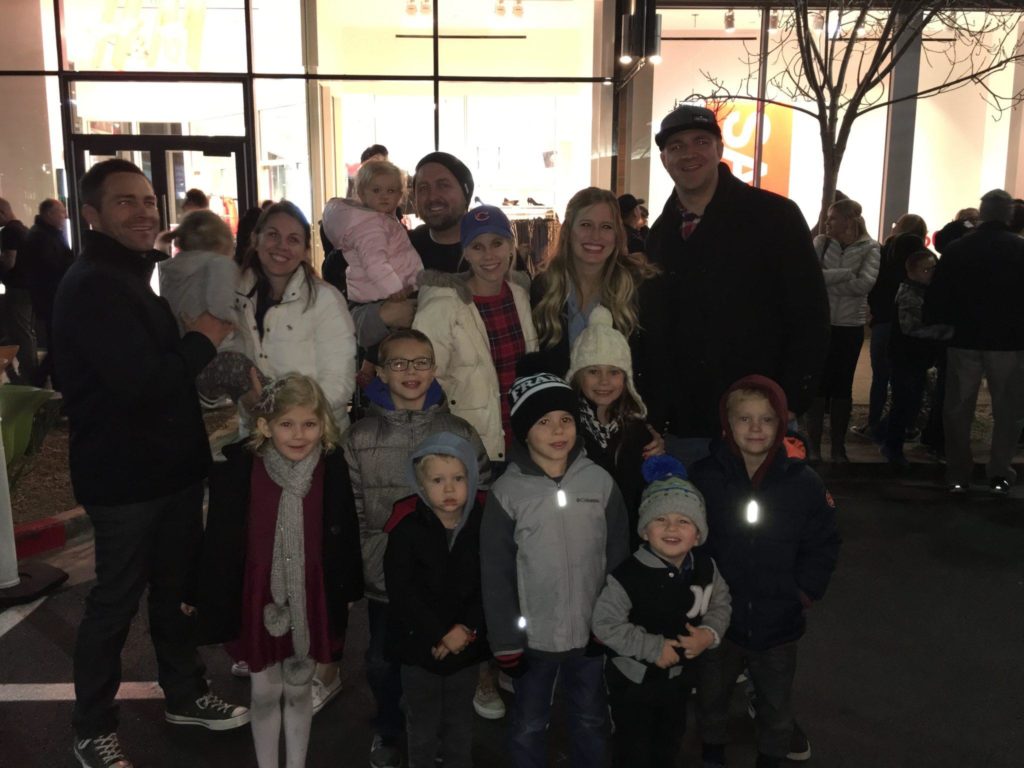 Christmas Sunday!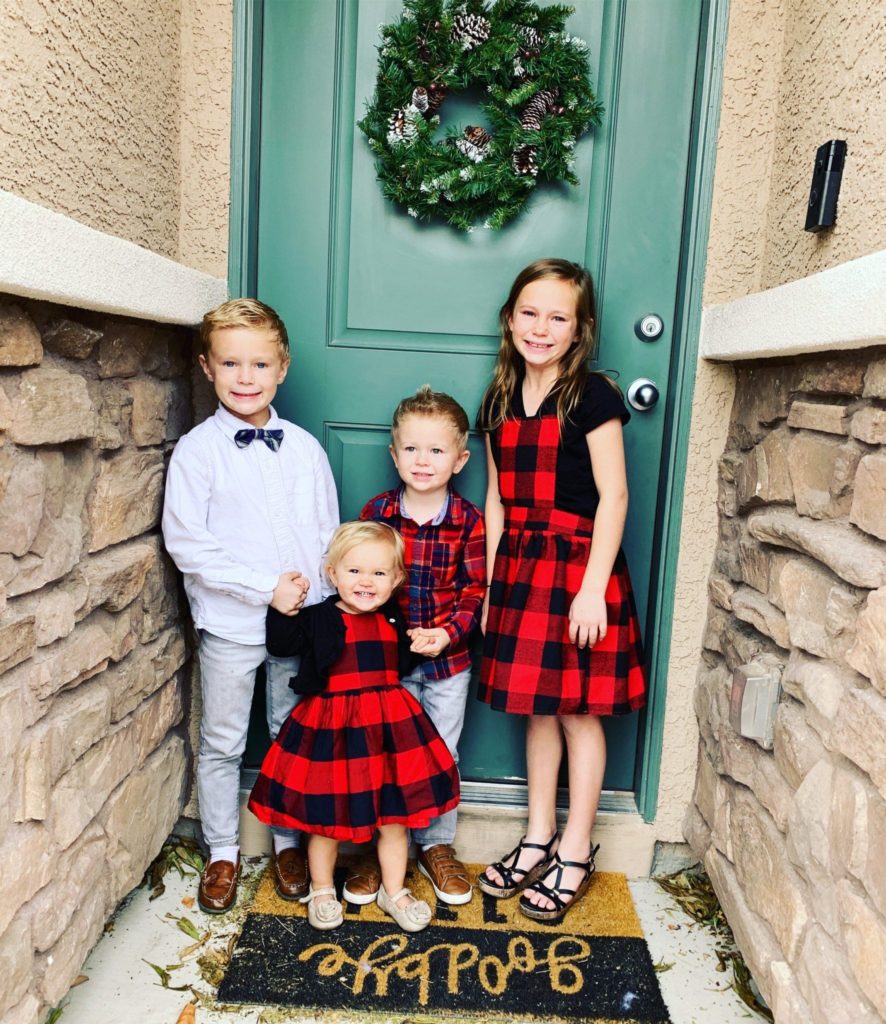 We went caroling on a trailer with the Eliason family and Grandpa even put lights on the trailer! It was tons of fun and Santa even drove the truck! We did the Nativity with the Eliason grandkids and Taylor!
More Christmas…
putting the tree up

silly kid

silly kid

Beau reading us a Christmas story

Sami was obsessed with the lights especially when there were characters she recognized!
We spent Christmas Eve with my family. Scott and Emily and their kids were able to come too. Grandma always gets the kids new pajamas. Beau was so excited about his Golden Knights Pjs and Trey loved his animal Pjs! The kids always put on a cute Nativity too.
We had such a good Christmas. It was magical! We tried to do lots of Light the World and service for others to teach kids the real meaning of Christmas but of course the Santa part was so fun too. The kids are all at super fun ages and they were so excited and surprised on Christmas morning. They didn't ask for much. Beau didn't really know what he wanted and Trey only asked for a "stable barn" which Santa brought him. Kayli only asked for double-sided tape! I was excited to surprise them with things I knew they'd love though. Sami loves her big chair and hasn't put her baby down. Kayli needed a new bike so she loved that surprise! It's been too cold to ride much though! Beau loved getting legos and a BYU jersey and football helmet (he's recently really into BYU football). Trey got his stable and some animals and is one happy boy. Their smiles that morning were the best thing ever! It was a great Christmas season and I hate to see it go but I am grateful for this little family and all the fun we were able to have! We spent Christmas afternoon with the Eliasons and it was great to have Taylor in town for a week. We went to see Aunt Kayli's tree at the elementary school. We ended the night at FLIPnOUT with the extended families. Sami loved running around there!
Josh and Mandy stopped at our house on their way back home from Utah. We decided we'd do our traditional Santa Pancakes for dinner since they didn't stay the night on their way up. So we did breakfast for dinner and kept the tradition alive of Santa Pancakes with the Poulsen's! It was a short visit but we'll take it!
We spent New Year's Eve with friends!
We went up the mountain on New Years Day to play in the snow! We went with McCormicks up to a great little spot and the kids loooooved sledding. Even Sami! I went down the sled with her and she kept saying "whooo" over and over again. Kayli and Beau loved everything about the snow: making snow angels, throwing snowballs, sledding, and they didn't get cold at all. It was so great to see them have so much fun! I love that we have snow only 20-30 minutes from our house!
Up until Christmas break, the weather had been awesome and the kids were always outside with friends and neighbors. Since school has been out it's been way too cold!
getting creative on our walk
Kenny has been using his Traeger lots to smoke meats. He's had a few lessons from experts. We've done some for large gatherings and they've been delicious!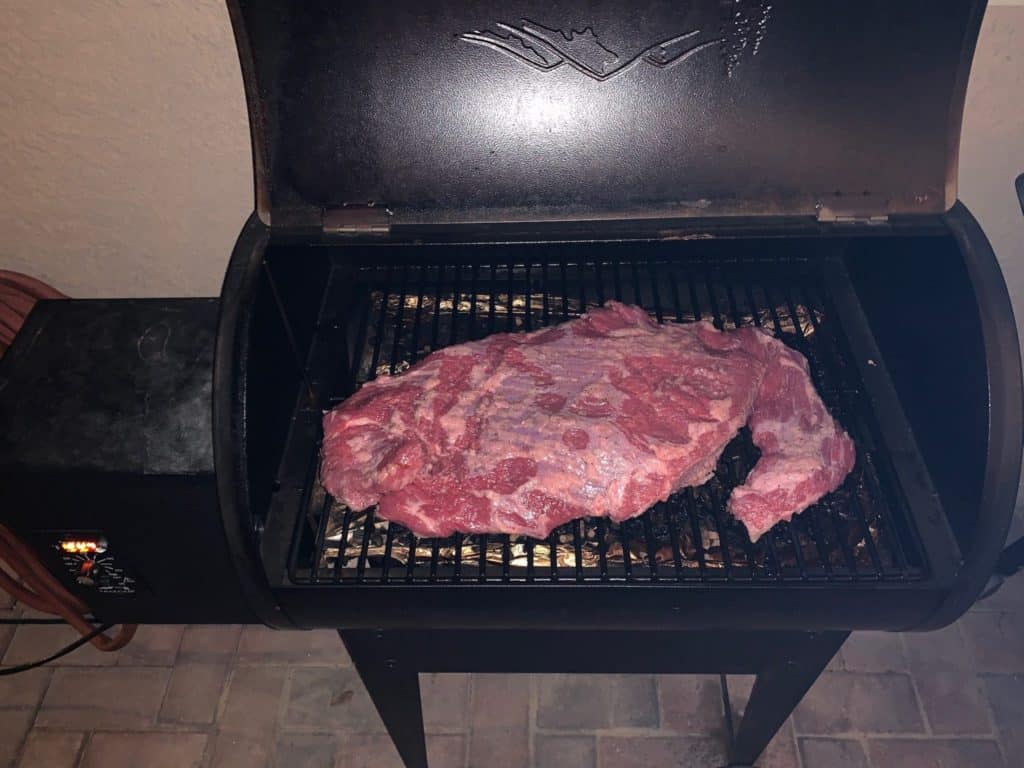 Kayli… she went to her first Activity Days! She has really fun leaders and a big group of girls to go with and she loved it! It's perfect for her and she's looking forward to the next one. She has been practicing the piano on her own a lot lately. She still loves to read and play school and is still very helpful and is usually at the Allred's house!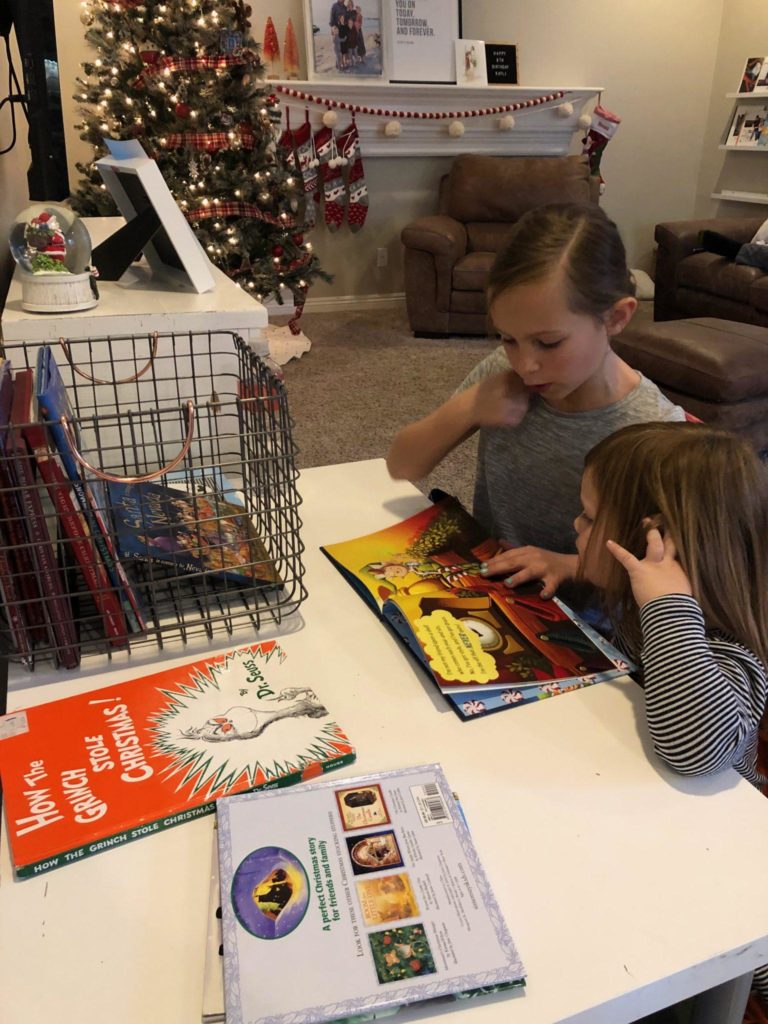 Beau has also been reading a lot and loves sports. He hates that it's been too cold to play outside! He is sensitive, and sweet and gets his feelings hurt easily. He also likes to sit and write stories. This is a Santa letter he wrote at school…
Trey loves to play with friends and is very sweet to his old nursery teachers, Sis. Hunt and Sis. Pollock. He loves to deliver treats to them and give them bug hugs. Since Sis. Pollock is still in our ward, he always runs to her as soon as Sacrament Meeting is over and she walks him to nursery. They both love it. He reminded us for a long time that he only had one more day of nursery and then he'd go to primary with Beau. I can't even believe he is a Sunbeam now! He always says, " what the…" and has the cutest and funniest way of talking. I have to translate for most people!
Sami is just a big kid now and I love it and hate it all at the same time! We think she's the cutest but it's so sad that she's not a little baby anymore! (She's also by far our easiest kid right now! Sh!) She is always on the table. She is talking so much! She just babbles away and knows exactly what we say and obeys right away. The other day Kelli asked her where something was and Sami took her right to the bag she had put it in. She throws her garbage away and squeals when she hears Kenny's jeep outside. She says cookie, milk, cheese, drink, jeep, baby, mommy, daddy, Beau Beau, Ho Ho Ho Merry Christmas, Anna and Elsa, Minnie, Paw Patrol and so much more. She loves Minnie and likes to read her Minnie book. If you ask her what her baby says she will say, "wah, wah, wah". She's a huge momma's girl but I will take it! She is very social and the smiliest little thing there ever was! She doesn't just smile, she like has this beaming, huge cheese smile… about everything! She is definitely a blessing in our life and an example to all of us of positivity, being hopeful and happy! I am so grateful for her sweet little spirit!
all 4 of our kids wore this shirt from Aunt Kaci
More pictures…
Building bikes for a service project

Learning how to fold paper airplanes

holding Colton

they love Friday night movie night in the loft

They had this whole set up in the loft and then asked Kenny to put the projector up there and they slept there a few nights over break!