Even with COVID still around-it's been a busy and fun couple of months around here! We are still hoping and praying the kids can go back to school soon. We survived (barely) a whole semester completely virtual. They reluctantly got back on the computers this past week after a very enjoyable winter break.
In November Sami started a tumbling class. We were so excited when Ms. Christine (she's in our ward) decided to start a class in her home. The rec centers are all still closed and with kids home doing school during the day I can't take Sami to a class anyway. She has been wanting to do dance or tumbling, especially since Kayli started a class a few months ago. The best part about Christine's class is that she lives down the street so we can walk and Sami loves going to her class! She's so little and cute in her gymnastics leotard that I can't even stand it.
Trey was so cute learning about Veteran's Day in school.
Trey got to finish his soccer season (with lots of restrictions). By the end of the season, only one parent was allowed to come to the games so we didn't get to see him play every week. Mrs. Buell even came to a few games!
We celebrated our 12th Anniversary! It was on a Sunday and it's always during the week of Thanksgiving and Kayli's birthday so it's sometimes hard to do anything plus we had just done a trip last month for it. The next day Kenny's mom told us to bring the kids over so we could do something so I ended up picking up Chick-Fil-A on my way home from the doctor and just met Kenny at home. We did things that needed to get done for Kayli's birthday and ate in our quiet house haha! It's never just the two of us at home!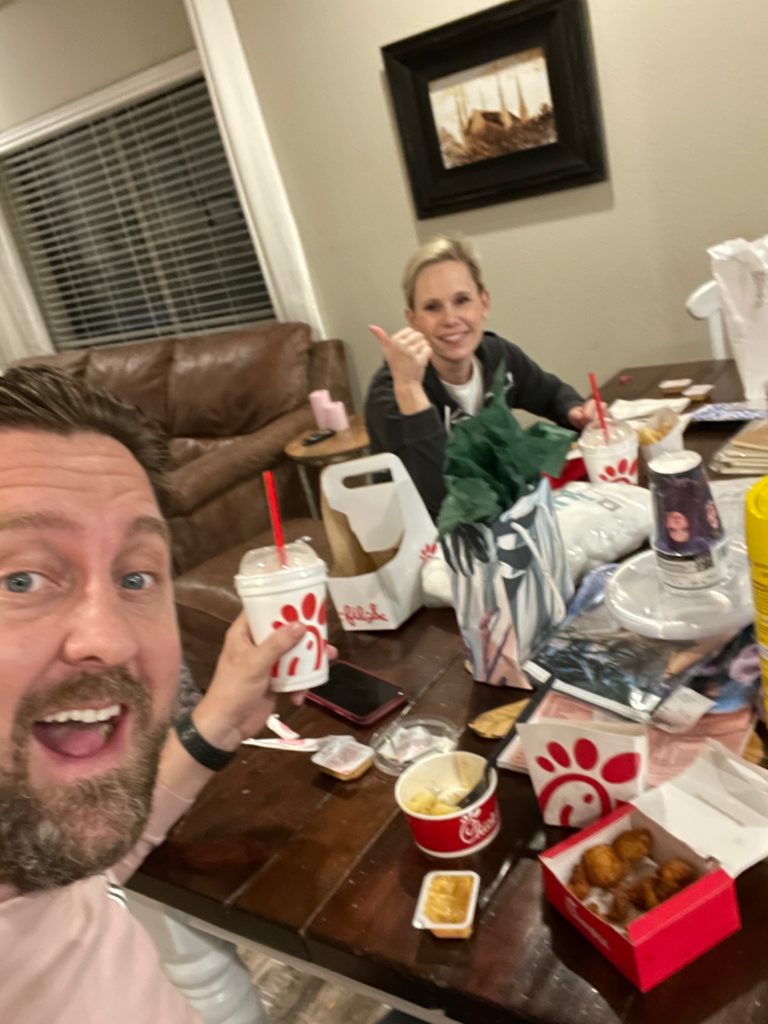 Kayli turned 10! She wanted to have a Descendents party and to only log on to school in the morning for her class to sing Happy Birthday to her. She did all her work early so she didn't have to get on the rest of the day. She wanted In-N-Out for lunch and that night we had her friends and cousins over for a party. She was a hoot that night! She was in heaven and made everyone laugh all night. She loved planning her party and I think it turned out great!
Thanksgiving!
Emily's family all came to town for Thanksgiving and although we missed Thanksgiving with them we got together the next day for breakfast at Emily's house. Joe and Dawn's kids taught everyone how to wrestle and we had some pretty funny wrestling matches. The kids also loved playing with Joe. After that the girls went shopping at Downtown Summerlin and it was just so fun to hang out with extended family who we don't get to see that often!
We went to the movies with Kenny's family and saw Croods 2. It was the first movie we'd been to since at least February! We were the only ones in the theater and it was awesome.
It's a happy day when we decorate for Christmas!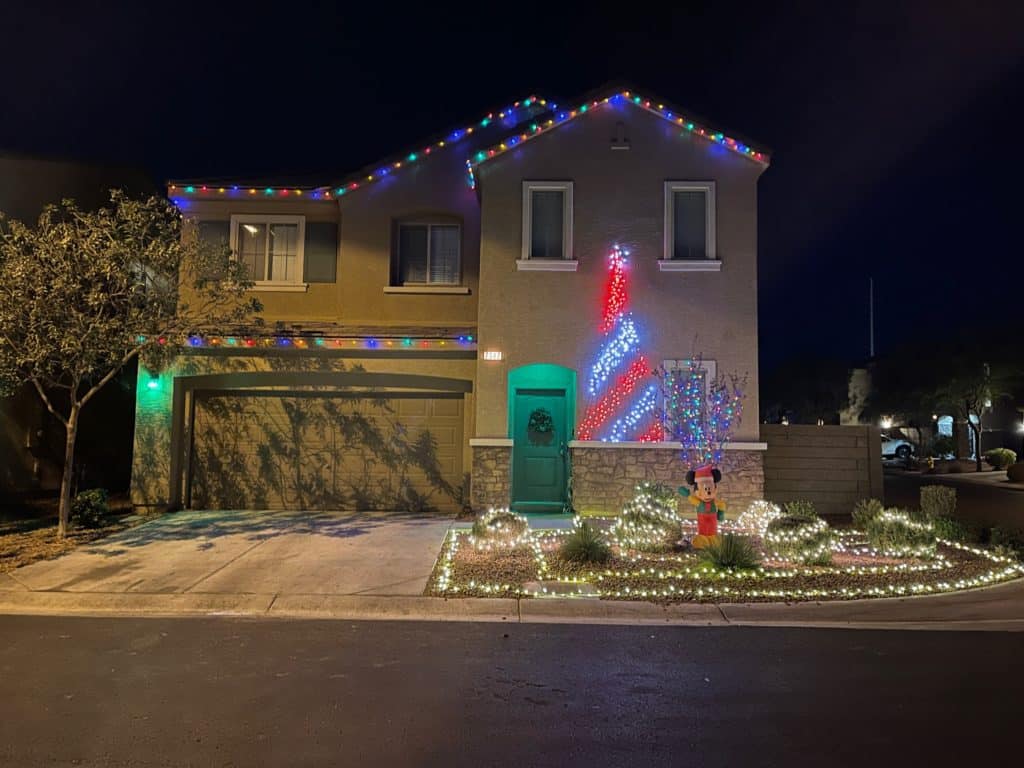 Gingerbread houses:
Off-roading at the sand dunes:
Beau finished up his Learn to Skate class and started Learn to Play (hockey) this week. He got all of his gear for Christmas and it's the cutest thing ever to see him all decked out in hockey gear. He thought the hockey class the other night was so awesome!
Mailing letters to Santa…
I had my third and hopefully final surgery for my whole ACL Reconstruction nightmare! I went under anesthesia not knowing which plan Dr. Tingey would go with once he was in there looking at everything but I also very much trusted him and that he would do whatever was best. I remember waking up trying to feel my leg to see if I had a leg brace on and being so out of it I couldn't tell! I asked the nurse when she came in if I had a brace on and when she said no I was so relieved! That meant he didn't have to redo the ACL surgery and I wasn't starting that recovery all over again! He was able to just take out the metal button that had been in the wrong place this whole time (he didn't do the first surgery so this wasn't his fault). That night I felt pretty good for just having a surgery but the next couple of weeks were discouraging when I didn't really feel any different than I had for the past year. I had to keep reminding myself that I had just had surgery and it would take some time. My physical therapists were so excited for me to have this surgery and were thrilled with my progress even right after this surgery. With their optimism and seeing Dr. Tingey at a post-op visit who said things looked great and that I was on the right track, I finally started feeling better. And then I started seeing obvious progress! It's so exciting! I am finally able to bend my knee 132 degrees. 140 is the goal. I had never even hit 120 before. I also can finally walk down the stairs (not quite perfectly yet)! And I've been able to stop thinking about my knee all the time and bend it more and I'm feeling like I'm going to get better (something I wasn't too sure of most of 2020 haha!) I am still at physical therapy three times a week and at the gym the other days determined to get back to the things I love. I also had so much help (again) with recovery. Friends and family took my kids to do school or babysit during appointments. I had lots of meals and treats dropped off. We are very lucky to have so many great people in our life! Sorry for the gross pictures!
Santa and Mrs. Claus came to visit us! It was a great time and we had some friends over to see them since it was hard to find Santa this year! We even walked down the street to see some other friends and neighbors who came out were in awe and so excited that Santa was right there. They were even more surprised when he knew their names!
I saw this cute idea and decided to have the kids make their own ugly sweaters on cardboard. They love crafts and painting and I think they turned out so cute!
Mrs. Buell had a fun Flannel and Bingo night (virtual of course) for her Kindergarteners and families. McCormicks came over and we made a night of it with pizza, cookies, and Mrs. Buell's party. The principals and other specialists were on and so it was actually pretty fun to see everyone. We made giant paper snowflakes and Trey won a Bingo game (so Mrs. Buell him a Coldstone gift card!) We sure love her! We are so lucky we've seen her a handful of times when she drops things off at our house.
Here is our Christmas Sunday picture! We didn't think we'd be able to attend church that Sunday after our Governor put a pause on everything in November but then we got word a few days before that we could all go for sacrament meeting! There was some supreme court decision that said churches could not be excluded from meeting and that if we followed the same capacity limit mandates as everything else, we could meet so that was exciting to be able to meet again right before Christmas!
The Poulsen's stayed with us on their way to Utah. We love when they come and we did our traditional Santa pancakes with the kids.
The kids did their annual Christmas crafts with Taylor and Grandma and Lindsay and I were able to go shopping and to lunch which was a much needed break after doing so much homeschool! The kids love the Mad Hatter Tea Party and they always make the cutest crafts.
We did Christmas Adam with the Eliasons. We were supposed to go feed the homeless at the Salvation Army but when we got there the kids weren't allowed so the original Eliasons stayed to help and Lindsay and I brought the kids and Daisy home with us and worked on a hygiene kit service project that Lindsay had. They put together 100 kits and all helped! That night we had pizza and went caroling to Kari and Tracy's neighbors. It was a lot of fun and such a nice night! The kids and Taylor also did the Nativity for us!
We spent Christmas Eve with my family and had fun playing lots of games and eating so much food. We opened presents and the kids got the cutest pajamas. The kids are always so excited that night for Christmas!
Christmas morning was so great and I love seeing the kids' excitement!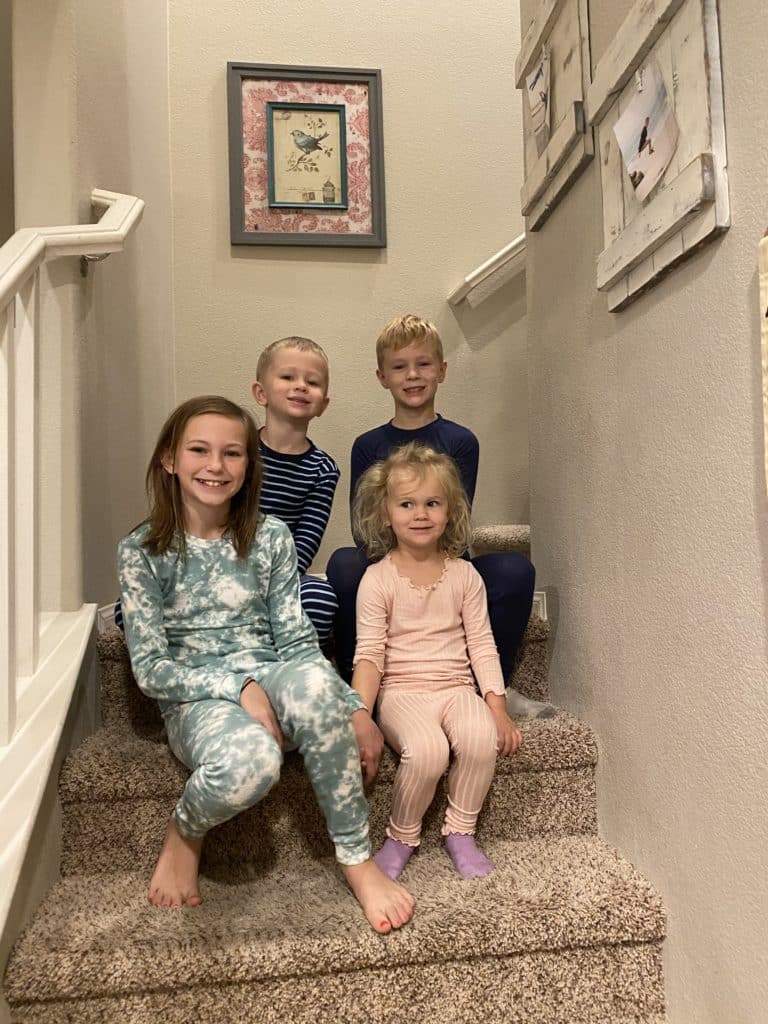 Kenny, Chase, and Mike took the kids off-roading to find some snow. They didn't find tons of snow but enough!
We didn't really make plans for New Years Eve until about 5:00 that night. We last minute decided to see what Taylor was doing and then ended up inviting Kenny's whole family over last minute and it turned out to be such a fun night!
Off-roading in Logandale:
Josh and Mandy stayed with us on their way home from San Diego. We were able to squeeze in a date night, took the kids to FLIPnOUT and had a picnic at the park. We sure love when they come to Vegas!
Kayli has become quite the videographer. I understand none of it but she is loving it. Kenny has taught her lots and she loves to get her own pictures and videos off-roading and then creates really cool videos. She is still loving tumbling. She can play a really cool version of Carol of the Bells on the piano. She is liking reading The Babysitters Club and Diary of a Wimpy Kid.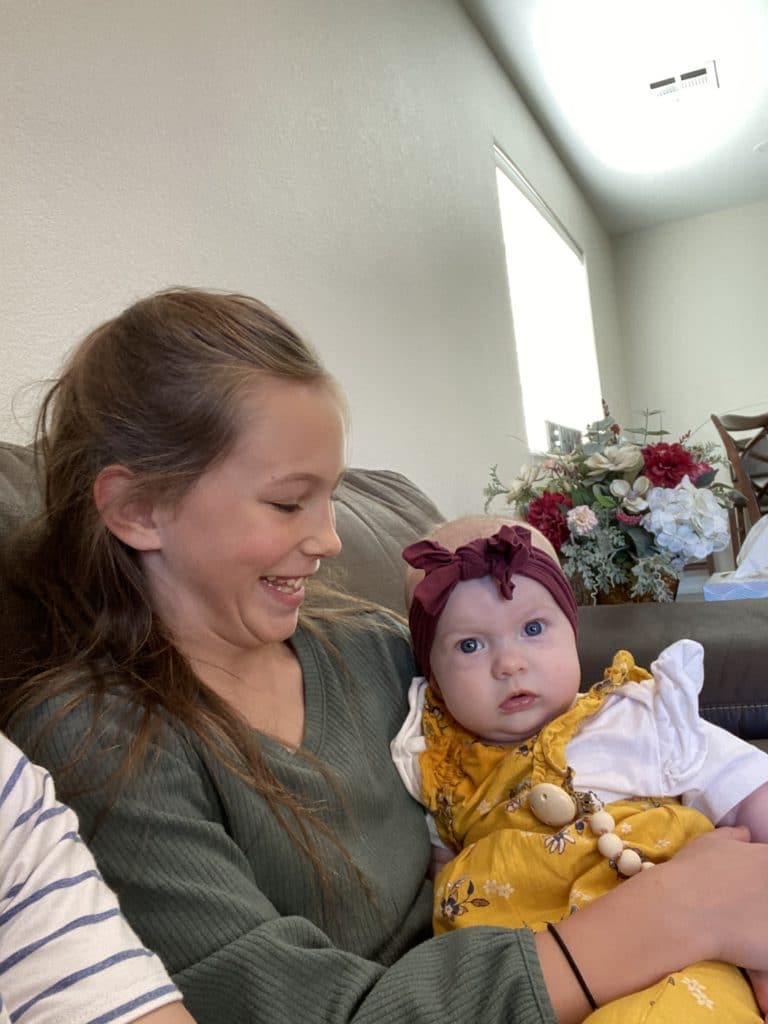 Beau is a tough street hockey player. I finally got out and played him this week and he is good! He is also really excelling at the piano and is loving working on hid heritage project for school! He likes getting on Family Search and researching about ancestors. It's fun to see him be excited about a school project. He also starts football this week so he is going to be busy! But he loves it.
Trey is getting so tall. He also loves doing perler beads still. He is learning lots despite virtual school. He wants to be at the school so bad though!
Sami loves her new scooter and she is the hardest at bedtime. She always talks about Paige in North Carolina and Ryder in South Carolina. She loves her friends and always says so-and-so is her best. Or things are her best. I love Paigey. She is my best. Or, I like barbies. They are my best. She sings every word to Take Me Home For Christmas by Dan and Shay and Tightrope by The Score right now. She also loves doing tumbling and dances with Kayli and older friends or cousins. She is so serious doing it.
A few more pics…