We've had a busy and super fun couple of months!
Kayli and Beau went to work with Kenny on Take Your Kid to Work Day which means they got to play all day and have yummy treats! Keaten, McClayn, and Dax were there to play with them too. They had a blast of course!
Beau and lots of his buddies played on a soccer team together. Kinsey and Alex were their coaches and we had such a fun team! They are all really good athletes! Beau loves playing soccer and he likes playing defense and anticipating where the ball will go but he also likes to score goals. I love watching them play!!
Like most of Las Vegas, we've had the Vegas Golden Knights fever! The hockey team story here has been pretty amazing. It's for sure something we will never forget. In their first season as a hockey team, the Vegas Golden Knights went all the way to the Stanley Cup Championship. We loved watching the playoff games almost every other day for 2 months and we had lots of watch parties (we even had a Golden Knight show up at our house!) and the kids played lots of street hockey. We even had to buy another goal and more hockey sticks because we had too many kids wanting to play and not enough sticks! The kids have gotten good on their skates and roller blades. Sometimes big Trey across the street would even show the kids some moves and they'd have hockey practice. They are obsessed I tell you. As soon as they were all home from school they'd be out there until it was dark. And now that school is out they want to play during the day too-they don't even care about the heat! They come in every night completely black from falling in the street, wiping the sweat of their face with their black hands… it's pretty funny and gross. It seems everyone was just as obsessed as us! When I'd pick up kids from school it seemed that every kid had a Golden Knights shirt on. It's been fun to have a team to cheer on!
We went to the kids' school carnival. Kayli loved running around with Milani the whole night. Sometimes she just seems too old!
Grandma took Kayli to the Dolphin Habitat at the Mirage because Kayli loves dolphins so much!
I had a great Mother's Day! The kids brought me breakfast in bed and had lots of goodies for me! I love the school crafts they make, the homemade cards, and coupon books. They all got me Spikeball too!
Kayli and Beau both received awards for finishing their Sight Word Soldiers testing! They mastered 1,000 words.
The last days of school are always so sad to me! I loved being able to help out so much in the kids' classes. We have grown so close to Mrs. Buell since both of the kids had her for Kindergarten and because I was in her class helping out a lot. She is always so sweet to our whole family and she even came to a couple of soccer games to watch Beau, Carter, and Corbin. I'm pretty sad that we won't have her next year! She says she really wants to teach Trey so fingers crossed she's able to stay around! Kayli also had a good year with Mrs. Cutler. She actually lives in our neighborhood and Kayli wants to go say hi and take her cookies all the time but we let her have her space after school! She was the sweetest to Kayli and so patient and loving with her too. I really can't believe how much both of these kids learned this year. I am very grateful for their teachers and they have made me want to teach Kinder or 1st grade when I go back one day!
Kindergarten Graduation is the cutest and saddest thing all at the same time! They put on the cutest program of songs and it's so fun to watch them perform. I get a little emotional! Beau wasn't much of a singer until he started learning all of the songs and then he was always practicing them at home and sang so seriously at the program! After the program they have a little reception with treats and diplomas and they get to take lots of pictures. Oh it makes me so sad to think of Beau and all of his friends leaving the Kindergarten playground for the huge playground next year. I am so grateful that Beau not only has lots of friends but that they are good friends to everyone. They let everyone play and they're all just friends! I love that so much!
The day after school got out we had planned to do a Beach Day trip with Cahills and McCormicks. I started getting sick the day before and wasn't feeling like going but our kids were so excited and I thought maybe the ocean air would help! So we headed out at 6 am and got to the beach to spend the day playing! My throat was killing by then and I probably should have stayed home. I pretty much just laid on the beach because it hurt to eat and talk and I didn't want to get anyone else sick. We met up with the Allreds too and so all of the kids had a blast. Beau even took like a 2 hour nap on the beach that he was pretty excited about. Everyone went to Ruby's on the pier but I decided to just sleep in the car with Trey. We headed back that night but got stuck in Memorial Day traffic and I was pretty uncomfortable. I went to the doctor as soon as they opened the next morning and I had Strep Throat! Antibiotics didn't really kick in for awhile so it was kind of a rough week! I'm glad the kids got to have a fun beach trip but I hope we can get back down there again before the summer is over!
Kelli had her baby so the kids have a new cousin on my side. Ryder is so cute! We went to her house to meet him and the kids all did good holding him. They had his blessing already too so that Alex's parents could be there. We've seen Ryder a few times since he was born and we are obsessed with him!
We went to Mini Grand Prix one night. Beau was fearless and would ride any ride. Kayli not so much!
It's always fun to get together with Kenny's extended family.
Trey can ride a bike! He'd gotten really good on the Strider bike and transferred to the pedal bike just fine! He's pretty funny to watch in his rain boots, big helmet, and sometimes no shirt.
We visited Aunt Kayli's grave…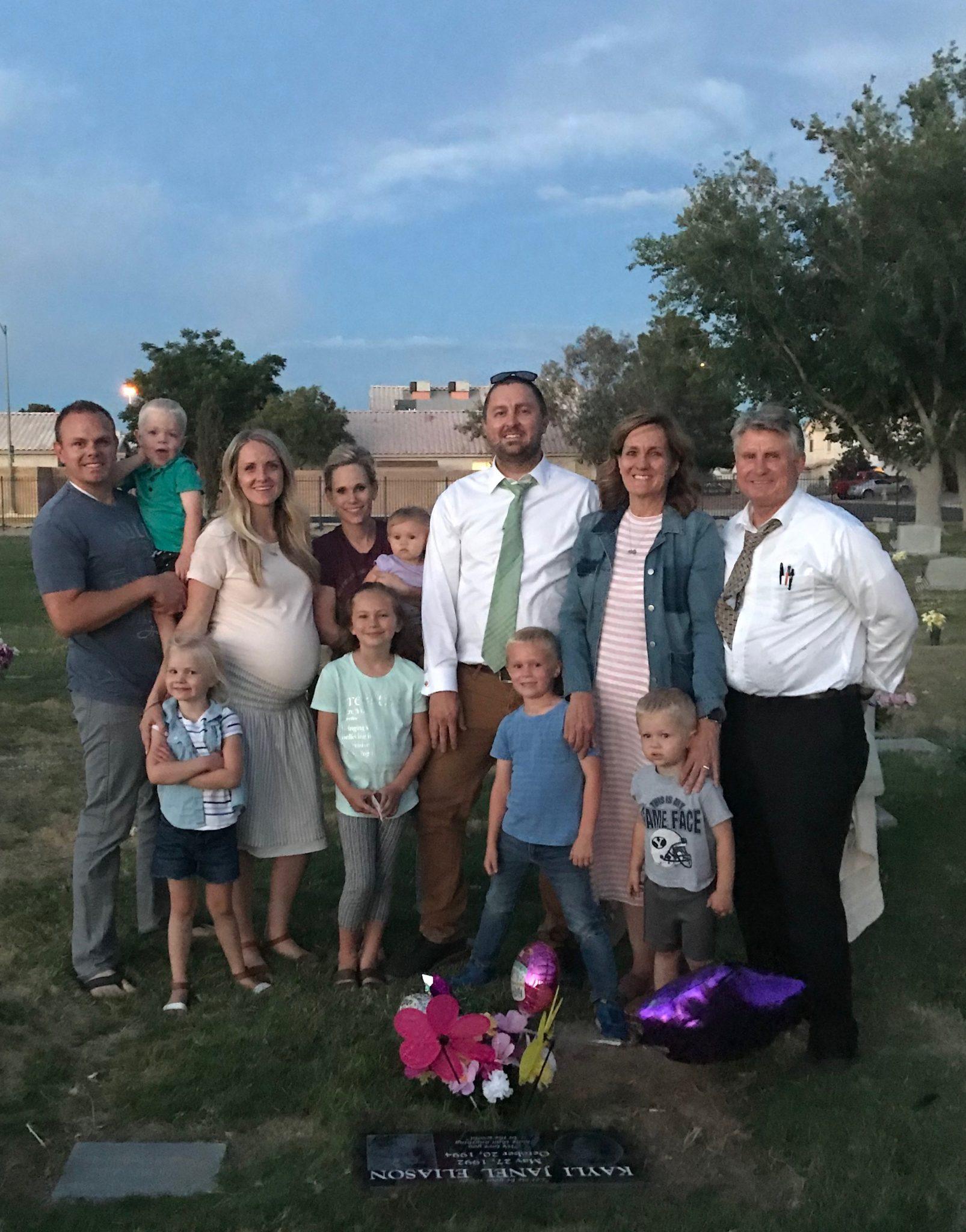 On Memorial Day we went off-roading at Lake Mead. It was fun to go with a big group but our jeep got stuck in the mud! It took two other jeeps and other tricks that I don't understand to pull us out. Then we ended up at a little "beach" to swim in the lake. It was pretty nasty though. Ha. Trey and Madden loved rolling and splashing around in the mud and Trey's swimsuit is still stained because of it!
We did the Home Depot kids' workshop and the kids built and painted cars.
We went to Gravady with friends before we left town for a week.
We headed up to Utah for a fun week! We stopped in Logandale to see Kelsi's new baby, Reese! The kids got 2 new cousins within 2 weeks! Reese was so cute too and it was so fun to hold a newborn again! Trey had a blast playing with Beck and all of his animals.
We took like 8 hours to get to Orem because we kept stopping. We weren't in a rush and just kept thinking of things to do on the way up. We stopped at the Virgin River in the gorge and Kenny and the boys went down to the river. They got in the water and saw frogs. Then we stopped in St. George and ate at the Pizza Factory. We got Swig on our way out of course. We decided to stop and go by the new Cedar City temple which was gorgeous. I was loving the cute little neighborhood that the temple is in and we knew that Kenny's cousin, Craig, had just build a nice house right around there. We stalked their pictures, found the house, and went to see if they were home. Craig wasn't there but Jen was and she gave us a tour of their house which was amazing. We stopped again in Beaver for squeaky cheese and saw a store called Beau's Auto Parts so we got out for a picture there. We got in to Orem pretty late but Cindy and Lindsey were at Grandma's house and everyone was still up so we stayed up late chatting with them-which is what we usually do every night we are in Utah!
We didn't have big plans the next day. Mom and Dad had gotten to Grandma's super late and Kenny went to work with an employee he has in Provo. The rest of us walked to the park and mom and I did a work out. The kids walked Charlie to the park and skated and played. That night the Chandlers came over and we sat outside lots and stayed up late again. We love Utah summer nights and that we can hang out at the park until 10:00 at night! It was fun to see Kyle's little girl, Lyla.
Thursday we went with Kaci and Braeden to hike Stewart Falls at Sundance. It was a beautiful hike! I'm so glad they were there to help entertain the kids! The kids love them! The kids did great on the way up but were pretty tired by the time we had to go back down the mountain (and we took the "short" way back that ended up not so short!) Kayli was afraid of bears the whole way back! Ha. We went by Uncle Hank's swing of course! Everyone came over to Grandma's that night too and we watched the Golden Knights game.
The next day we went to the lake with Mike, Mindy, and Charlotte. They just got a super nice boat and were so nice to take us out! We loved it! The kids were so dang happy the entire time. They loved tubing and Kayli especially couldn't stop smiling! We got to wakeboard too and it makes me miss boating so much! We took Mom and Dad out on the tube too and they were loving it! It was such a good time! When we got back Emily and Scott were there, had seen Leslie who surprised them, and Lori, our roommate from 10 years ago came over to visit. I didn't get any pictures the whole weekend with Emily!
The next day was the family reunion up at the Chalet in Midway. It's my Grandma Varney's side of the fmaily reunion so her and all of her sisters were there and lots of other people! It's the same place we've been going to since I was little so it was fun to take the kids there. We hadn't been in 5 years! The boys liked the slip 'n slide and all the kids loved squirting down the Dirty Dash runners! Beau and Trey played in the baseball game and it was pretty cute to watch! We played volleyball and spikeball with my cousins and Kayli loved helping Kayryn and Wendy with the silent auction.
We hurried after the reunion to make it back to Orem in time for the Summer Fest Parade. Kayli and Beau stood out in the street trying to catch all the freebies. Trey slept through most of it! After the parade we watched the fireworks. Trey was so funny because he hated how loud it was but instead of plugging his ears he was covering his eyes! Sami watched them and didn't even cry!
Sunday we went to church with Grandma and Grandpa and then went by the temples in the Salt Lake Valley. We went to the Timpanogas Temple, then Draper, South Jordan, Oquirrh Mountain, and Salt Lake. It was fun to do that! Christina came over with her girl, Olive, and she played with the kids and it makes me sad that all these second cousins don't live closer. They become friends while we are up there and then we don't see them for awhile again! That night we made dinner for Grandma and Grandpa and listened to lots of their life stories which is one of my favorite things to do! We had learned some cool things about Grandma's ancestors from the reunion so we were totally into learning more that night.
We love being able to spend time with everyone in Utah!
Kenny did a meetup in Provo the next day so I went to the Bean Museum with the kids and Cindy, McKenna, and Lindsay. Trey LOVED all the animals. It was so sad to say goodbye to everyone! We love it in Utah! My kids have such a blast with my cousins! We stopped in Fillmore to see a house that an ancestor built that we had learned about at the reunion. It was a great week, we did so much, and we were exhausted by the time we got home!
There was no rest for me though, I went straight to a 9:20 game that night we got home and then to play outdoor volleyball the next morning while Jen was in town. Kayli had a blast playing with Milani and Madi! She even went with Jen for the rest of the day to swim with them and then to Gravady! I headed up to Girls Camp that afternoon and didn't get home until after midnight. I went again on Thursday and it was such a great time! I was called to be the Beehive Advisor when the ward split last month (which was a really sad thing for us!) I already knew the girls pretty well from primary but it's been fun to get to know them better and I love all of the leaders who I have known well too.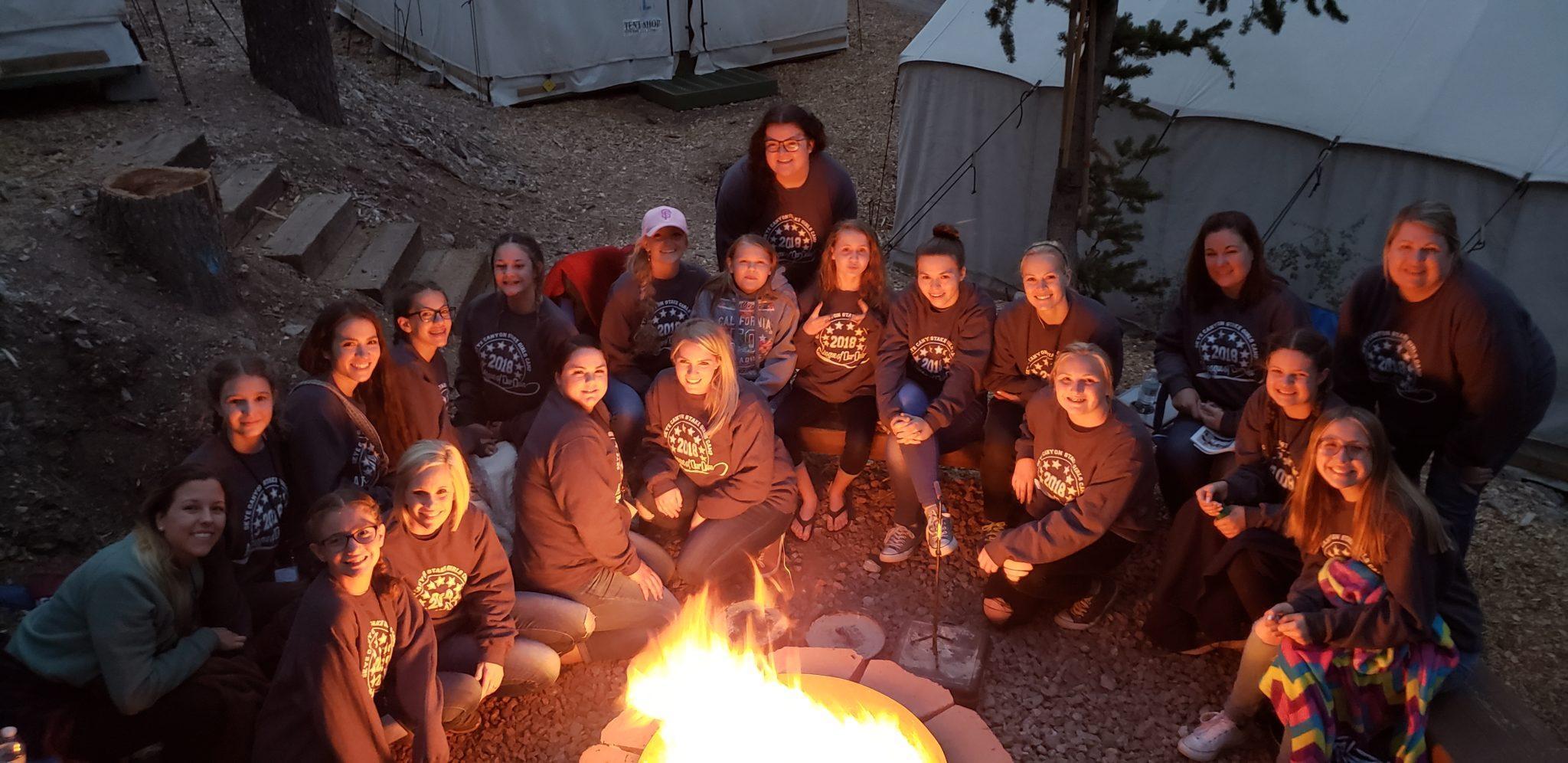 Jen was here on her birthday so a bunch of us got together at their rental house to swim and hang out. It was so good to see them again. We miss them!
We sure are blessed to have great fathers who are great examples and perfect dads to us that we got to celebrate on Father's Day. We also celebrated Kenny who is who fun dad! Beau spent probably an hour designing his envelope and I loved that he'd stop after every letter to show me all the details. We had Kenny's mom, dad, Kaci, and Braeden over for breakfast. Kenny and Tracy have the same favorite breakfast so that made it easy! We had dinner with my family and it was fun to play Cornhole with dad.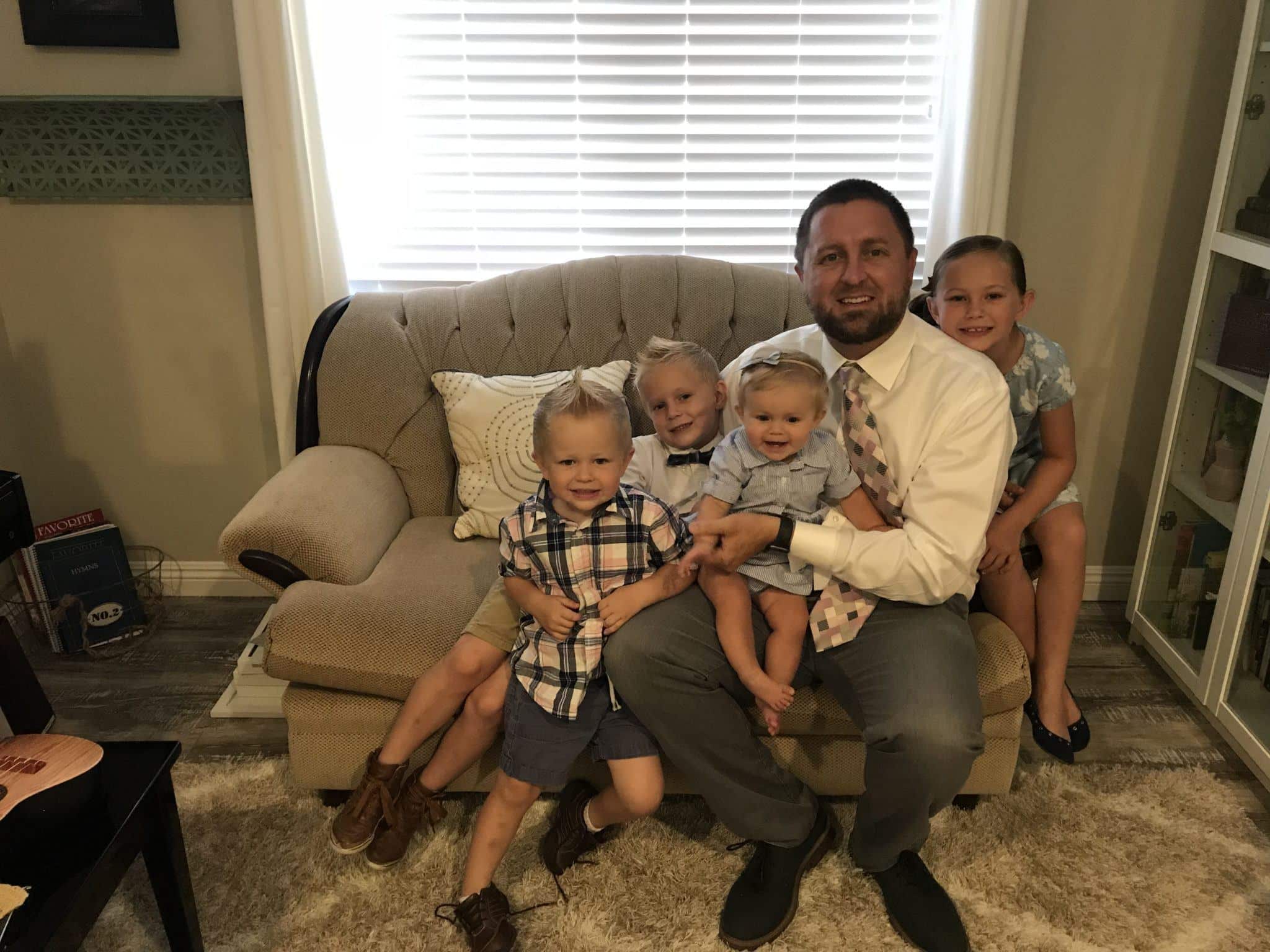 Girls Nights are fun.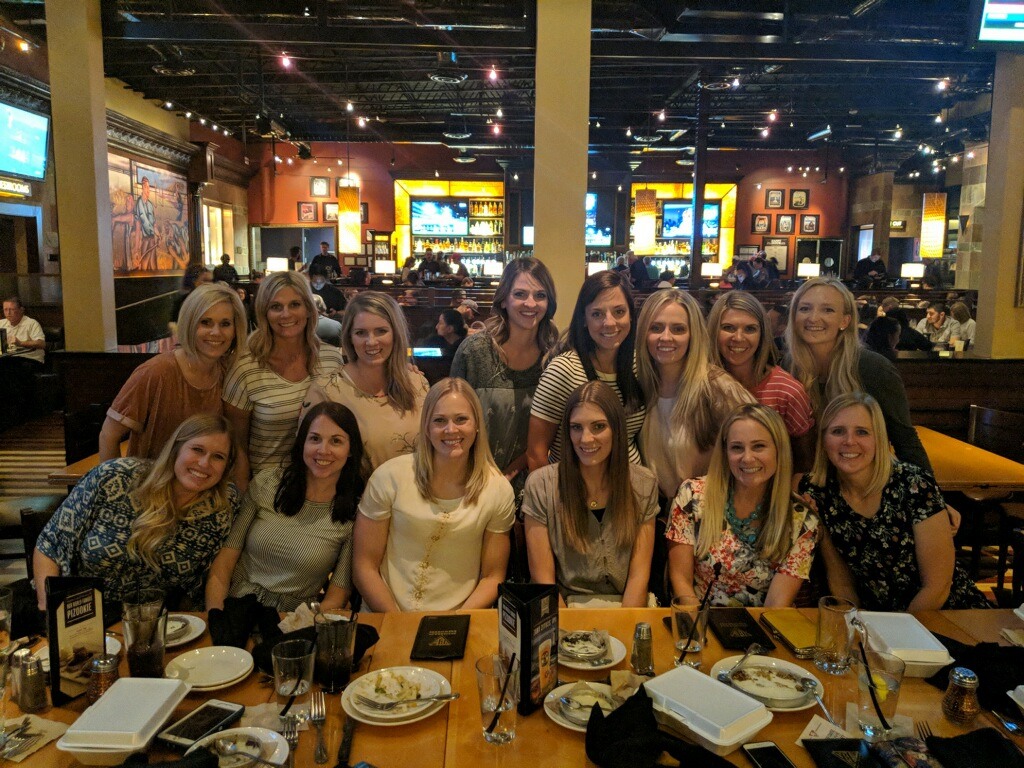 Kayli is so helpful to me. I can trust her to watch Sami and play with her and she is so good with crazy Trey. She is currently the one trying to potty train him. Haha. She is great at doing chores and is willing to help. She really does so much to help me and I really appreciate it. She loves to rollerblade and has gotten really good. Her and Milani are so creative. They love to play school mostly but then always come up with fun other things to do. They even had a garage sale!
Beau started skating and has gotten good too. He is crazy on them but somehow doesn't fall that much. He likes his XBox but is very good about not playing for too long. He likes to hop our wall and disappear to the front yard. He likes to play with friends. He's also become quite the whistler! It sounds like Grandpa Eliason is around all the time!
Trey is crazy. He is so hard most of the time but so funny too. In the moment I get frustrated with the things he comes up with but later on I laugh about it all. He is always covered in pen and markers. I don't even know where he finds them because I repeatedly put them up high. He is always getting out ingredients to make cookies and starts making them on his own! Kenny came in one day to his mess of cookies and a pan in the oven with vanilla on it! We watched the security camera we have downstairs and saw him measuring the vanilla and pouring it in the pan… he is always into something! We were watching hockey the other day and had friends over. The little 2 year olds were in the backyard playing. Luckily, Erin went out front to leave and noticed that Madden was out front and asked where Trey and Elise were and Madden pointed down the street. We ran clear down the street to the grassy area and there they were. They had walked all the way down there and even had to cross one of our neighborhood streets. It was pretty scary! Trey just thinks he can do whatever. He probably thought he was just going down to the park and he'd be back. He got his head stuck in the gate at the temple, he threw a water bottle at us in the car without the lid on, and the list goes on… our favorite things he says right is "I got it".
Sami is 10 months and she is so much fun. She finally sleeps through the night. She has 7 teeth and eats lots of solid foods now. She's liked everything she's tried! She is so good at just going with the flow. She can crawl but still prefers scooting around. She still smiles so big and squeals when she gets excited. She always wants mom which is fun but sometimes exhausting. Ha. She thinks her siblings are pretty funny.
Some more pictures!