A leprechaun came to our house on St. Patrick's Day! The kids made a really creative trap but we didn't catch him. Kayli was relieved because she didn't want to actually catch a leprechaun!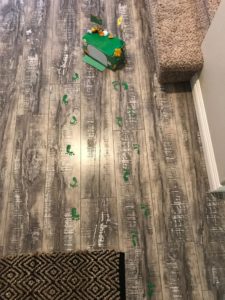 Kenny turned 35! We had a fun birthday celebration with friends downtown. We met at Kenny's office and went to a fun restaurant that he likes down there and then played Slam Ball (extreme Ping Pong that Kenny and friends made up years ago) at this office. I don't have a single picture! On his birthday he went to work but came home a little bit early. We went shopping and then thought we'd brave Cafe Rio with the kids and it went just as expected so we left before we were even done. Haha.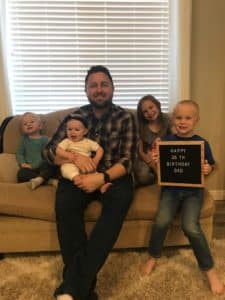 The boys went to Monster Jam for Kenny's birthday. This year Tate and Owen, Ross and his kids, and Kari and Tracy went. Beau loved it of course!
While the boys were there, the rest of us went to the temple. Haley set up a little thing with Pres. Bingham from the temple presidency to come talk to the kids in the atrium. Me and Lindsay and the kids met them there and it was pretty incredible- the kids were crazy of course, except for when we walked inside the temple a few steps to get out to the atrium, that while we were actually inside they all walked quietly with their arms folded. It was too cute!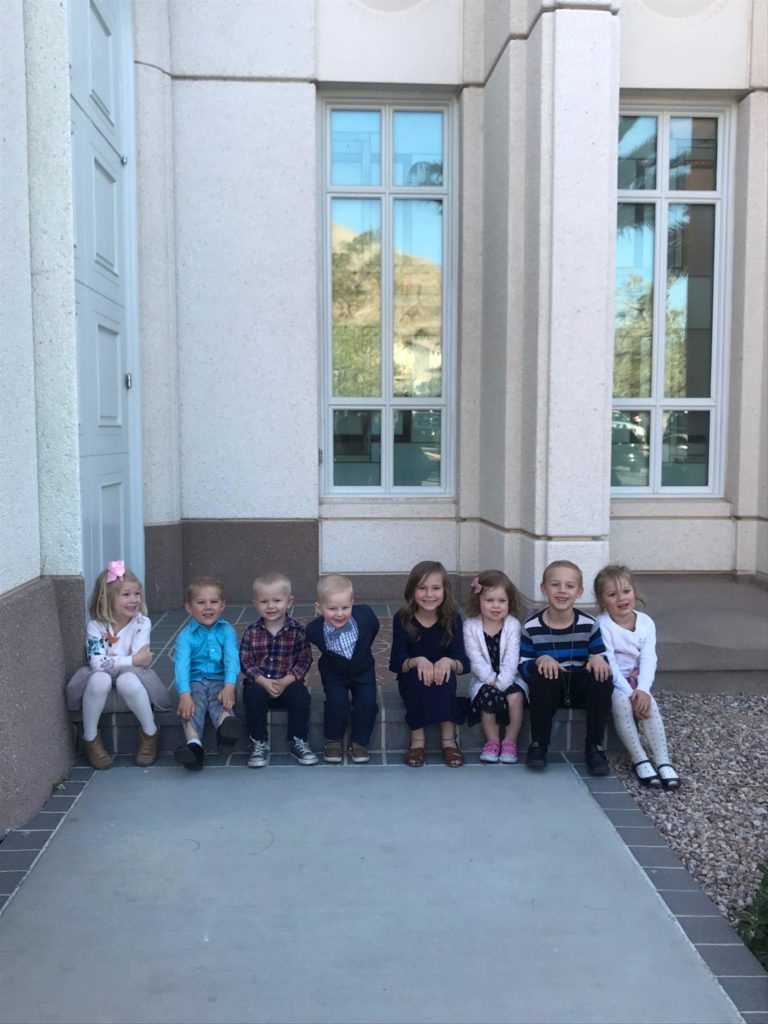 Beau had Kindergarten Field Day! This kid loves all sports and running around so this was perfect for him!
Up until just a few days before, we didn't have any plans for Spring Break. Our kids had been begging us to go somewhere and we hadn't done a trip in a long time so I was feeling guilty. I had been talking to Mandy about trying to get down to San Diego before she had her baby but just didn't know if it would work out. Well… we made it work and it was so much fun! We drove down late Tuesday night and finally got to see Josh and Mandy's place. They even have a third floor loft that is perfect for visitors! Thursday we did Sea World. When Mandy told me that Beau could get into Sea World for $10 I knew we had to do it. Kayli has been dying to see real dolphins ever since she did her report on them a year ago! The kids loved everything about Sea World! They loved the shows, the exhibits, the rides, playing, but the highlight was watching Kayli see dolphins up close. She got so nervous when it came close enough to touch and she didn't touch it, but she loved being so close to them!
Thursday was our beach day and we decided to check out Oceanside. Keli and Jay's family and Kasey and Stephanie's family were there that week so we went up to play at the beach with them. It was Sami's first time at the beach! I always get the cutest beach pictures because Mandy is always with me and snaps the best pictures for me! And putting Trey in that bright orange rash guard was the best idea I've had in a long time! Could spot that little wanderer from a mile away!
That night Mandy got some babysitters from her ward to come watch all of the kids so that the four of us could go to Casa Guadalajara like old times! We put Sami down for the night and were able to go and hang out with no kids which was so much fun since we never get to do that with them! We even ended up just roaming Target because we were kid free!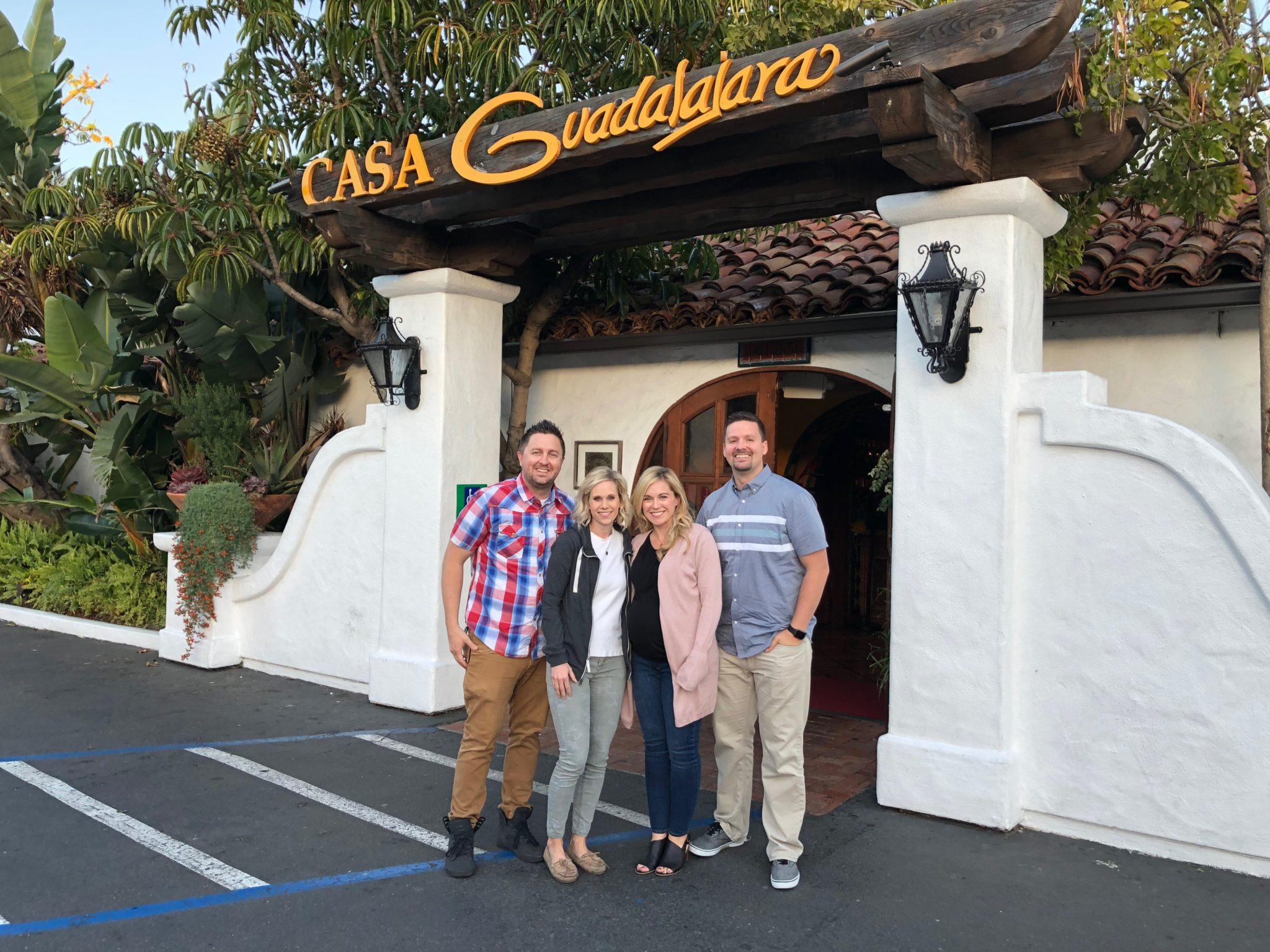 Friday we decided to head to downtown San Diego to go to the Waterfront Park. Mandy picked up her brother, Brian, from the airport on the way and he was a hit with the kids (whether he wanted to be or not)! We knew we needed to be home by the next morning but kept putting off leaving town and ended up back at Josh and Mandy's house ordering pizzas that night and leaving super late (which actually works out best for us because the kids sleep the whole way)!
We had such a great time and the kids loved playing with Lexi and Avery and we always love catching up with Josh and Mandy. Andrea even came over one night and it was so good to see her too! We love the area where Josh and Mandy live and it was so fun to take our kids on a vacation! It was a great few days!
The next morning we got up and enjoyed Conference and an Easter party with Kenny's family! It was quite the celebration! We had fancy hot dogs and then had an Easter Egg Hunt and even the adults participated-which we happily did because money and Cafe Rio gift cards were involved! Then we had an egg coloring contest that involved money and gift cards again! Grandma Taylor was the judge and we all worked super hard on our eggs (Kelsi won the egg decorating contest by a long shot)! We were joking with Kari that the way to get your grown-up kids to participate in all these things is to just involve money and then we are all about it! Kenny and I ended up with no gift cards and only a couple of dollars! So everyone had fun-adults included!
Easter was pretty chill for us. We had our annual Easter Egg hunt at the grass with friends and then we made our favorite buttermilk pancakes and syrup and watched Conference and like most everyone, loved it and all the things that President Nelson announced. It was crazy for us to hear the announcement about the Elders' Quorum because Kenny was Elders' Quorum President. I think we will always remember this announcement because it really affected him. He was shocked and I think even a little sad (because he sure put his whole heart into that calling!)
Chase had some hookups to this awesome school bus so we randomly rode on it (it has been majorly upgraded and now includes seatbelts!) to Yogurtland with the Cahills and McCormicks. It was quite the sight and the kids thought it was the coolest thing ever!
Kelli's baby shower was so much fun! It was so great to see everyone-especially Mari! It was so fun to tell Kayli all about how Mari knew me and Kenny a loooong time ago when we were just friends working together. It was so much fun to spend the day with Emily, my mom, my sisters, and everyone else! Rachel did most of the decorating and it all turned out so cute and all the food mom made was fantastic! Kelli got so much fun stuff and we even went to Target with her afterwards to get her all the last minute things she might need. Can't wait for her baby boy to arrive in less than a month!
I got to chaperone Beau's field trip to the Smith Center to see Sh! We Have a Plan. It was so much fun to be with him and his class for that! Erin got to go with Benny's class too so I got to sit with her and Mrs. Buell so that was fun too-we are sure going to miss not having Mrs. Buell next year! I'm trying to get into my kids' classes as much as I can before summer break!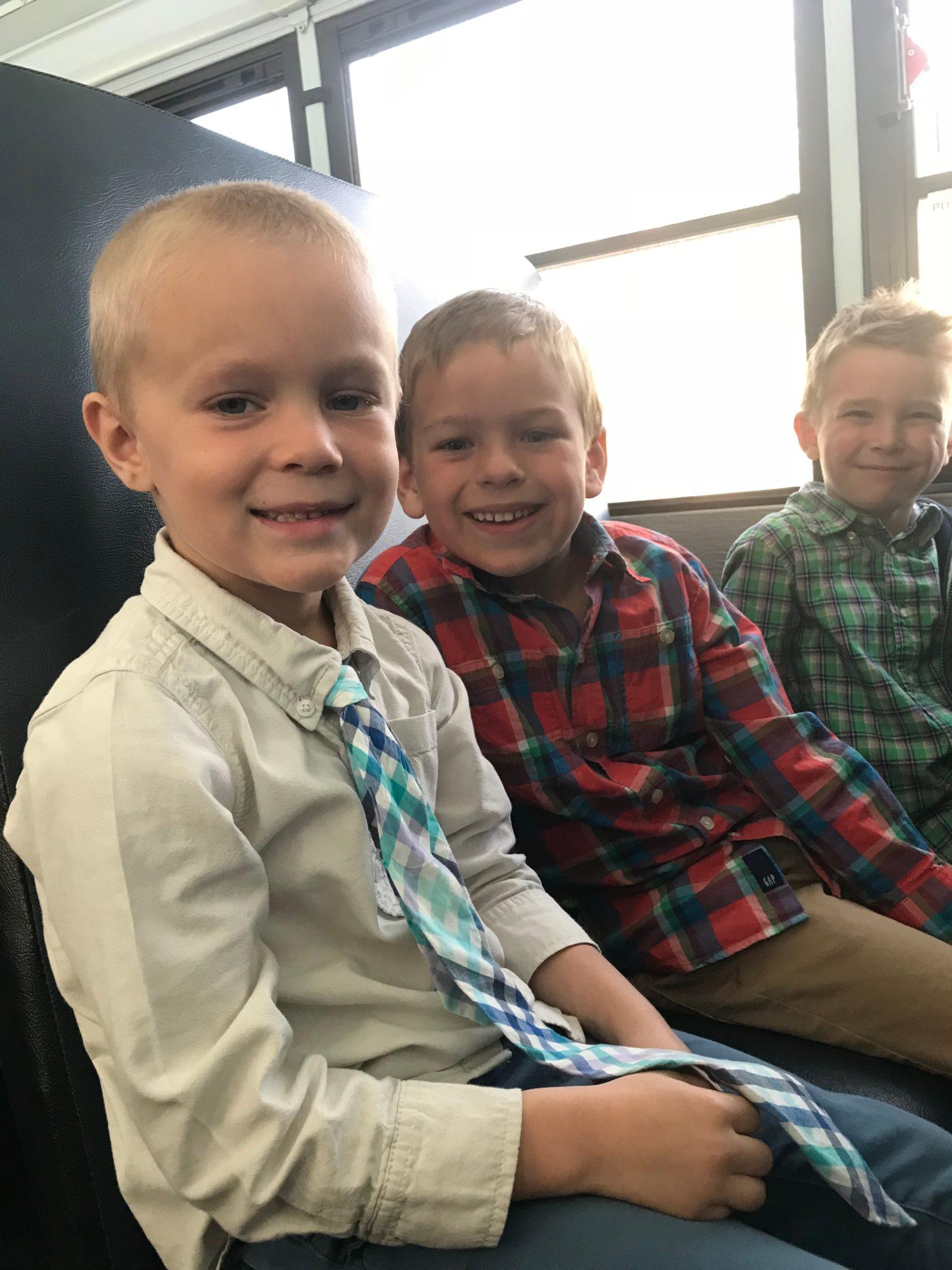 Kayli had Field Day and it was awesome to see her having so much fun with all of the kids in her class.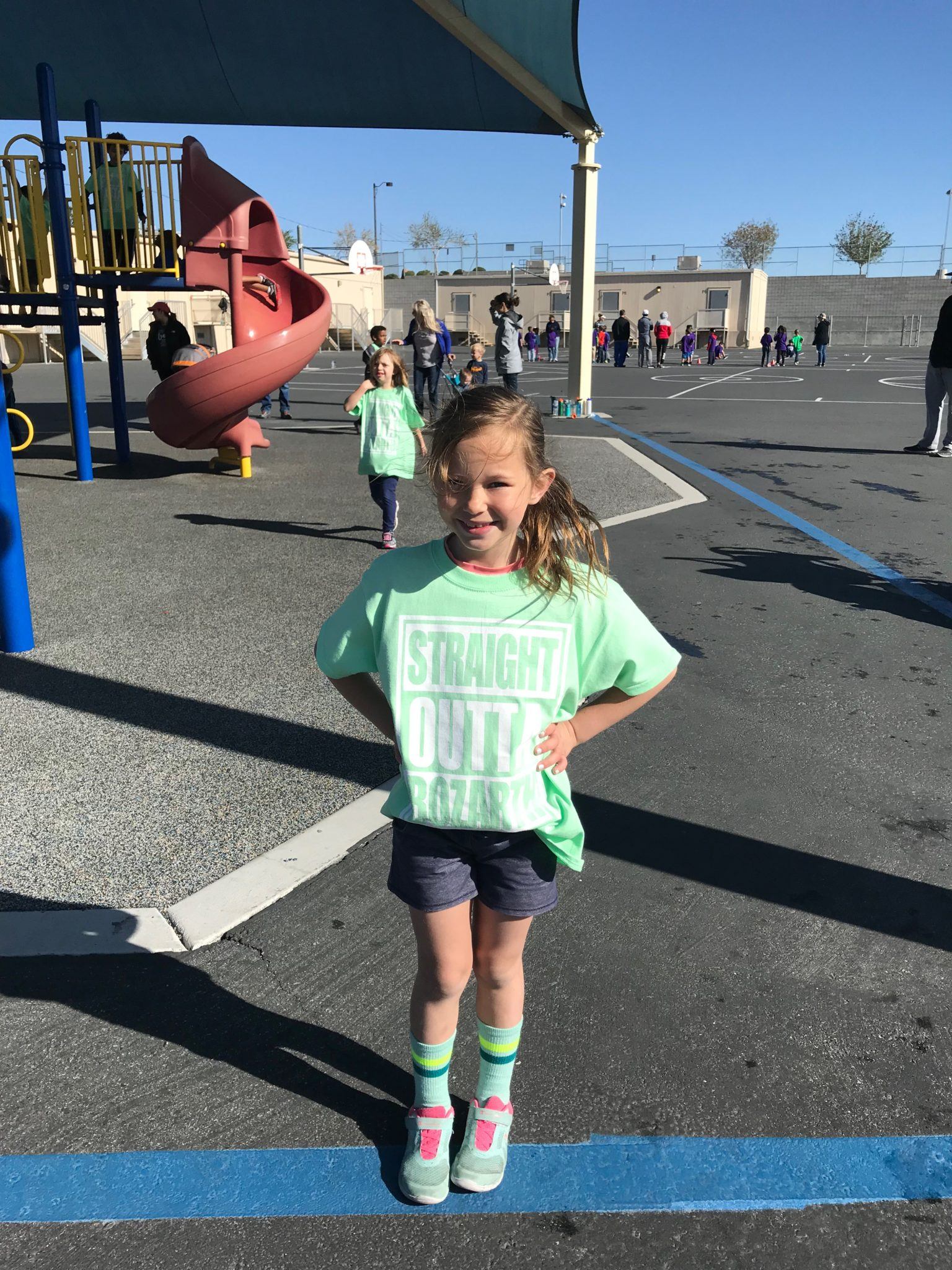 We have such a fun neighborhood and we love being outside lately enjoying the awesome weather. We live at the end of the street with very few cars so it's perfect for riding bikes and playing and everyone ends up down here a lot. The kids end up playing baseball, street hockey, throwing a football, riding the swivel bike things, playing hide and go seek, playing house, playing hopscotch and Kayli is always on her skates! We end up in the back sometimes too playing basketball, climbing on the rock wall and jumping on the trampoline. We love it. Sometimes there are so many people out! It's so great!
My friends and I have enjoyed playing Pickle Ball lately! We wish the kids enjoyed it more! We try to keep them entertained with bikes, balls, toys, and snacks but they mostly like to be right on the court with us so we don't always last too long but it's so much fun to play! Getting out and being active/playing sports is my favorite thing! Kacee has been back at the gym with us training us! It's so much easier to work out at 6 am when you're doing it with your friends! My tailbone has healed and this time it was all better by 8 or 9 weeks! We are also starting another round of soccer this next week. I'm praying nobody gets hurt this time!
Kayli… she is sure doing good in 1st grade and especially does well in math. She even makes up math problems for fun. She likes to check out lots of library books and is always learning new things. She loves to play with Milani or skate with Alexis. She loves to read at night and even reads her scriptures. She always asks deep questions. She is so good with Trey. She knows how to help him, calm him down, stop him from doing something naughty, etc. Sometimes he just wants her. She is really mature and has had some tough learning experiences lately but she's been very teachable and strong. I've been very proud of her! And I don't like this getting older thing!!!
Beau also loves learning. He soaks everything up at school and comes home to tell me everything he learned. Right now they have chicken eggs in a incubator in their classroom. They watch them and learn all about them. They are going to hatch soon hopefully and he can't wait! I was in his classroom last week volunteering and I love being able to watch him at school. He is so well behaved and excited about learning. He is excelling with his sight words and I don't know how he does it. He is playing soccer with all of his friends again. They are so much fun to watch! He is aggressive and plays so hard. I love it! He also loves to play with his friends or play in the street with the older boys-Owen, big Trey and Talon or basketball in the backyard.
Trey is a crazy 2 year old. He exhausts me most days but he is also so much fun at the same time. One minute I'm cleaning poop off of everything in his room and scrubbing his butt in the tub and the next we are dying laughing at him telling Kayli, "I've got my eye on you" motioning with his hands or watching him play charades or listening to him read "Hooray for Hats" (in it the characters always say "I'm grumpy" and he says it so cute and has the whole book memorized!) He is independent, runs off, loves nursery and especially singing time, also loves the library, loves McKay and Madden and always wants mommy. We thought it was pretty cute when he created a Zoo on the train table. He placed all the animals in different areas based on what the ground look liked on the train table (he put the hippos in the water, etc.) I also loved when we read Curious George and the legend of No Noggin and how he thought it was so scary and then would tell everyone about it! I also always want to remember that while Trey was 2, most every day, he wore his red rain boots and his backpack everywhere we went- including naps. He ruins a lot of things right now too. We're always saying "oh Trey boy…" most people think he is so funny at least. At my mom's house he hides in her pantry and eats all of her cookies and feeds Charlie too many treats.
Sami is 8 months. HOW?! I have never wanted the baby phase to slow down so much but this time I really wish it would! She is the sweetest thing and I really feel so lucky to be her mom! I don't know how she can smile so big, so much but she does all day! She really does melt my heart! She sleeps in a pack n play in our closet because the other three kids make it impossible for her to sleep in a bedroom with them. She is finally sitting up but her favorite thing is to sit in the walker that is like 15 years old and hurts us every time she rams into us. But she moves around in that thing like crazy and loves it! She is pretty content all day but also really loves mommy. I also think she is a little social butterfly! She just talks and talks to other babies and they just stare at her like "what is that noise?!" She sure blesses our lives!
A few more…