Erin, Haley, and I were given a Staycation for Mother's Day so we cashed in on that. We stayed at the J.W. Marriott and were gone for about 24 hours. We invited lots of girlfriends to come hang out and ended up going to dinner with some of them. We have such a good group of friends! We ate at Cheesecake Factory and then roamed around Target. We stayed up way too late chatting and ordered room service the next morning for breakfast. We spent Saturday out at the pool ordering fun drinks. It was so much fun and so relaxing! Then we roamed around Ikea and had dinner before we headed home. I sure love these girlfriends of mine! Kenny and the kids kept plenty busy with 3 birthday parties while I was gone! And thank you husbands for the Staycation!
We also celebrated Father's Day that weekend! We are so lucky to have my dad and Kenny's dad as perfect examples of great dads. We love them both! Kenny is also such a good dad and our kids sure love him! We made him his favorite breakfast and let him open all of his presents-new jeep parts he wanted!
Kayli and Emma had a Girls Night sleepover with Grandma. They did crafts, got slurpees, and Kayli helped organize the playroom. We met them at Chick-Fil-A to pick them up. Beau can't wait for this sleepover with Adam at Grandma's house.
4th of July crafts with the kids…
We went to our neighborhood's Fourth of July Celebration with lots of friends on the 1st of July. It's always a great show and the weather wasn't bad!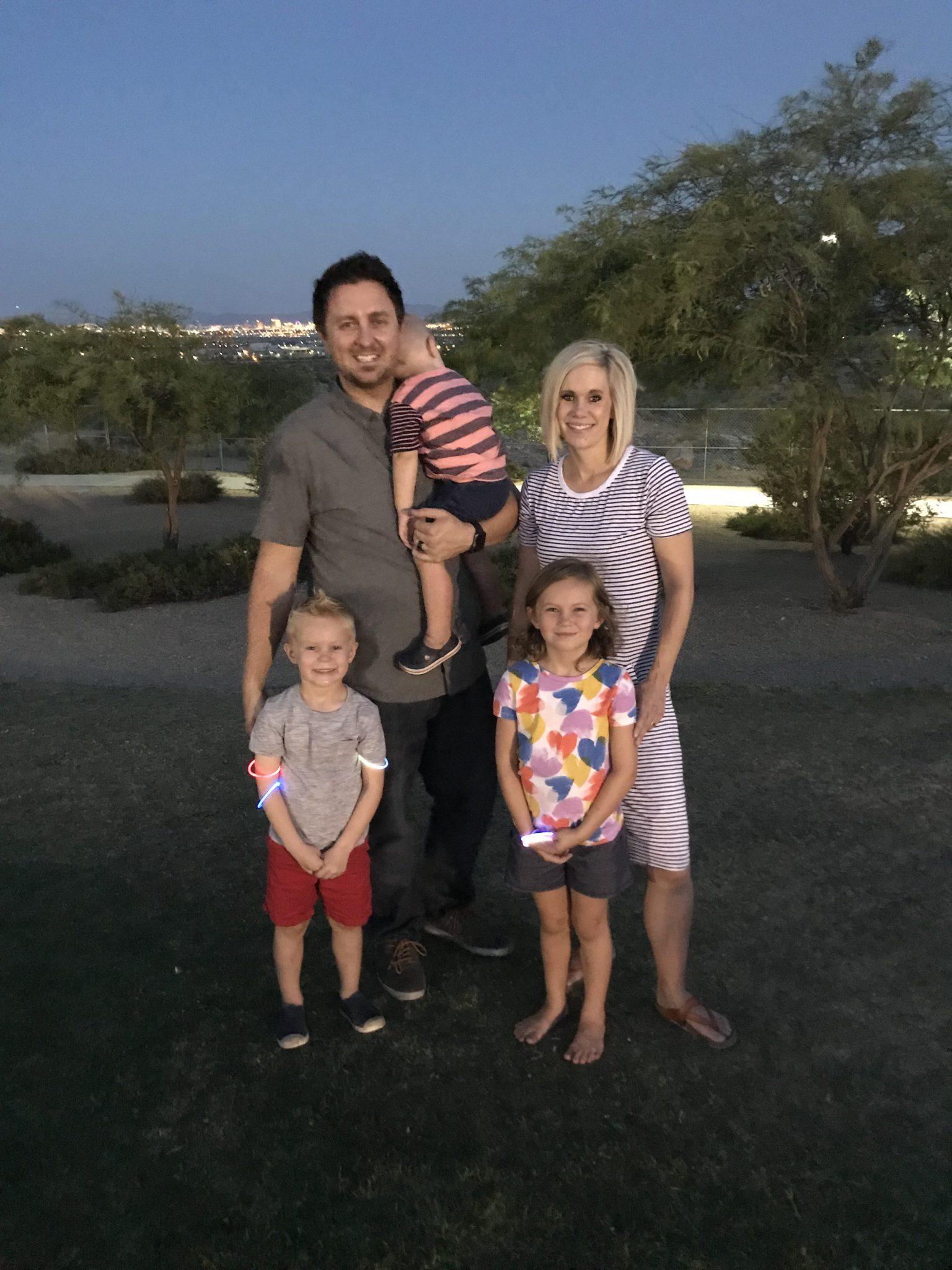 We decided that day too that we would head down to San Diego the next morning to hang out with Josh and Mandy for the 4th and to take some maternity pictures. I'm not super spontaneous so when Mandy mentioned we should come down and we agreed- it wasn't like me so last minute! I'm so glad we did though because we had such a good time with them, got maternity pictures taken, and got to be on Coronado Island for the 4th! We took our time getting down there and decided to stop at 7 Magic Mountains, drove down the coast and stopped along the way to see the ocean, and then met them in La Jolla. We went to The Taco Shop, which had amazing food! Then we went down to the kid beach at La Jolla, saw seals, and sat out at the park watching the sunset and enjoying the cool breeze while the kids ran around on the grass.
The next day we went shopping, took pictures, and ate at Phil's BBQ. Here are some of the pictures! Mandy is amazing. She's got some really cute ones of Trey coming soon!
On the 4th we braved the beach and although parking was a nightmare, the beach was great! The kids loved building sand castles and learning to throw a frisbee. That night we went to Coronado to watch the fireworks. It's very patriotic feeling out there with the U.S.S. Midway all lit up in red, white, and blue lights, and fireworks going off of 4 barges out in the bay. We had a great spot on a patch of grass on the bay and ordered pizza from our favorite pizza place out there and then ate and hung out while the kids danced and played until the show. We had a great trip and I'm glad we decided to up and go!
Trey turned 2! Trey is such a fun kid and I am so obsessed with him right now. He is everything loveable and perfect, and yet so hard at the same time because he's so curious, energetic, and wild! He is the most loving kid and hugs, kisses, and runs up to everyone he knows and says hi. He makes everyone feel special and I love that about him. He is funny and is always making us laugh. He is obsessed with minions, dinosaurs, and animals right now so that's what he got for his birthday. He likes to sing "The Wheels on the Bus", "Elephants Have Wrinkles", "Daddy's Homecoming", "5 Little Monkeys" and "Popcorn Popping" with all of the actions and kind of sings theme songs to his favorite shows like Jake and the Pirates and Minions. He is learning more sounds and communicates really well for not saying a lot of actual words although he talks a lot and is super loud. The other day is took a bottle of syrup and poured it all over him and the kitchen floor. I had a huge puddle of syrup and him to clean up and didn't even know where to start and my body hurt so bad trying to scrub the floor. He's also been interested in the potty and takes his diaper off a lot and pees on the floor or plays with the poop. He does go potty in his little potty sometimes though.
On his birthday we had donuts and sang to him and let him blow out his candles- 6 times- because he kept saying "more" and would put the candle back in. He loved it and we thought it was hilarious! After that, we met family at FLIPnOUT and he was just so happy the whole time. It's like he knew it was his special day. He was so happy every time he opened up a present and it was something he loved. We went to Freddy's for lunch and he loved that he got ice-cream. That night we went to Haley's mom's to BBQ and swim with friends and we took his cake over and sang to him there with everyone. He loved his minion cake! It was such a fun day and I absolutely loved watching him be so happy and feel so special. He would say "ha" every time he wanted us to sing Happy Birthday to him and we did that all day and for about a week after too!
Dad watched my kids so I could go with mom, Kelli, and Rachel for Rachel's birthday. Mom treated us all to pedicures and lunch and we shopped. Dad had the kids most of the day but I think he had fun with them-until he text me that Trey woke up covered from his nap in poop and that he was waiting for me to come bathe him. Haha. It was a fun day with my mom and sisters and we missed Kim!
We had a great Utah trip too. We loved staying with Grandma and Grandpa Varney the first night and my mom and dad were there too! I love staying up late hearing stories about ancestors or about Grandma and Grandpa's younger days. We also stayed up way too late hearing lots of stories from my dad's childhood-some I hadn't even heard. I loved that!
The next day Kenny, Kayli, and Beau went to Lagoon with lots of Kenny's family. The kids had a ton of fun and were so brave! Kayli was super daring, which is unlike her, and wanted to go on everything! She had fun riding with Kaci and being silly. They loved being there with their cousins and they loved the water park!
I wish I could have been there to see them. I stayed with Trey and we went to BYU with dad. We had fun walking around the campus and going to the bookstore and The Creamery! Then we met mom at Cindy's and got to visit with them for a bit. Trey was so funny with my cousin, Lindsey and loved sitting next to her. I then met Lindsay and Olivia up in Salt Lake at City Creek. We decided to attempt shopping with the 2 year olds before we had to meet everyone at Lagoon to head up to Logan for family reunions. We shopped a bit before the crazies were ready to play at the dinosaur play place. Trey was so crazy though and kept running out and up to order food! I probably looked ridiculous trying to chase after him at 8 months pregnant. He doesn't like to stay put in a stroller either and even strapped in he climbs out so we knew it'd be hard chasing these kids around when we are both so pregnant but we did it anyway and man, we were exhausted by the end. They were too funny eating dinner and kept picking up on each others' bad habits! They loved watching the fountain show though. We headed up to Bountiful to try and get yummy dessert on our way and just our luck-we got there and they were all out of the cookies we wanted. So then we sat in the parking lots for probably 20 minutes trying to find a dessert place! We ended up just heading up to Farmington and went to the outdoor mall by Lagoon and it was so cool! It was beautiful, the kids loved the fountains there too, and we got big milkshakes! We sat in the grass and the kids would dance around (and then Trey would run off and I'd have to get up and chase him again)! That kid is a runner and it's killing me! After 5 hours of chasing 2 year olds we met up with the family and drove to Logan.
All of Kenny's family stayed at his great Uncle Don's house and it was fun for the cousins to all be together. The Saturday reunion was at a park and the kids had a blast running around with all of their cousins and 2nd cousins. Beau loved playing the frisbee game with Danica and Gage! Trey would wander off and we were constantly trying to find him. (We got smart the second day and Kari made him a leash). Beau and Owen loved the rockets too.
That night we went to Roolee to shop and have a tour since Kenny's 2nd cousins own the store. Then we had a little birthday celebration for Owen! We went cosmic bowling and all of the kids LOVED it! Trey would cheer every single time he knocked over pins.
The Sunday reunion was up the mountain and was by a river so Trey had to be leashed. The kids liked playing there too. Beau loved the river and the obstacle course and did it so fast! Kayli liked making crafts.
After that reunion, we headed headed back to Orem to stay but decided to stop in Salt Lake and tour the Conference Center and Temple Square. The kids actually did good on the tour and thought it was kind of interesting. And we love visiting Temple Square.
Monday was my birthday and I wanted to eat at Tucanos and The Chocolate and shop for as long as my body could handle. It was pretty hot and humid the whole time and with lots of walking, my body couldn't do it! Kenny and my mom made me breakfast, we went to the mall where the kids had a blast playing on the new play place while I shopped. Then my cousin, Kayryn came and even watched my kids while we went to Tucanos for lunch with mom and dad. Then Kenny played with the kids at Provo Beach Resort while I did some shopping there. We were so full from lunch that we didn't even want dinner but mom and dad watched the kids while Kenny and I went to The Chocolate for birthday dessert. That night we went and visited Cindy's family and got to see Kyle and Kristee's baby and then it had actually cooled off so we went miniature golfing. The kids had fun and it was fun to watch them but also a lot of work! Overall, it was a good birthday spent with my family!
We had to come home Tuesday but as we were leaving Orem Kenny's parents asked if we wanted to go up Provo Canyon to their Uncle Hank's swing. Kenny grew up playing there and we've been there but not for probably 4 years! I'm so glad we went. The kids actually did the zip line across the river and loved the huge swing too!
We spent a long time up there because the kids were having so much fun! It was a great vacation and the kids love it in Utah and never want to leave. Kayli always asks if we can live there. I don't think she'll ever be able to convince Kenny! That was our last vacation before school starts and a baby comes but we sure enjoyed it!
We've been to FLIPnOUT a lot lately with cousins!
Our ward did a Pioneer Day breakfast and the kids played pioneer games and were in a bike parade. Kenny rode his unicycle of course.
My friends threw me a Girls' Night/Baby Shower at Maggianos. We love any excuse for a girls' night! I got some super cute baby girl stuff which I am really excited about since I didn't keep much of Kayli's stuff. We were there a long time and then spent a long time outside after chatting about Jen moving away (which we are all so sad about!). We are so lucky to have such a great group of friends right here in our ward and it's so fun to be so close. Thank you girls for everything!
Taylor has been in town this week and it's been fun to see him! We all got together to have dinner and hang out. The kids love Uncle Taylor and have so much fun when he's around. We went swimming with him and Grandma and Grandpa.
We took Kayli on a little date to BJ's for dessert. I love spending time with each kid individually but it just doesn't get to happen too much. I could tell she loved the attention. She was so excited about it and after her and Kenny parked the car she ran to me and yelled "mommy" and gave me a big hug! And she doesn't do that too often! She was talkative and silly and loved getting two big root beer floats! I tried to tell her how much we appreciate all of her help around the house and with Trey and how we love her so much but she doesn't love to sit and talk about feelings and stuff like that so it was pretty funny.
Kayli is the biggest helper. She just knows how to help Trey and how to talk to him and stop him from doing things. She's so patient with him and he loves her. I don't know if she'll ever really understand how much I appreciate her right now especially. She loves to keep busy and has a hard time when we just stay home for the day because she gets so bored. She always wants a play date or wants me to do a craft with her or play games or bake. And lately I just don't have the energy for it all. I try to give her the attention she needs because in 2 short weeks she'll be back at school and then we'll have a new baby on top of it all and I'll probably miss my time with her. We started a Mommy and Me Journal that has been so fun to write in. She's better at writing about her feelings than talking about them. She's also had friends over this week and she is in heaven when she's playing with them. She started teaching herself the piano with a piano app-which is better than me teaching her. She does really well so I hope she keeps it up!
Beau is excited for his birthday coming up and is always being invited by friends to play. He has lots of good friends. He is goofy and likes to shake his booty all the time! He has a hard time eating and it's a fight every meal except breakfast because he loves cereal so much.
I am due in 3 weeks! I can see the light at the end of the tunnel! I have heartburn like crazy now and it's hard to chase Trey around and pick up a house but I can do anything for a month, right!? I always start feeling bad about now for my other kids-that I'll have to give up some of my time with them to devote to a new baby. I worry that they'll feel neglected or need their mommy and I won't be there for them as much… which I remember clearly with Trey all worked out fine. The kids were fine. They loved the new baby and everything works out. So I feel a little better this time around remembering that- but I still worry about them.
Kenny has been playing on a softball team with some friends and even his dad! He's also always doing something to his jeep and he's having a lot of fun with that. He also does a lot of the housework for me now-there's always a sink full of dishes waiting for him at the end of the day! But he does a lot for me right now so I'm very grateful!
Some more pictures of us!