We've had a pretty chill January and February so that has been nice. We know we will be busy as soon as football and soccer start back up for the kids.
Lucky Kenny and Beau went to a Golden Knight's Game! Beau was sooooo excited. Steve and Toni invited them weeks before the game but we didn't tell Beau until a few days before because we knew he wouldn't be able to stand waiting and then he counted down the hours! He was so excited to wear his Fluery jersey! During warm ups they went and stood behind the net where the players were shooting. They saw the players up close and Kenny even caught a puck! Emily was also there working the game and gave Beau another puck. Steve has some awesome seats too so Beau was just so excited the whole game. It was an awesome game and they even went to overtime and then a shootout which was so cool for Beau to see! Unfortunately, they lost in the shootout but it was still such a fun game to be at. The rest of us watched the game at home and it was such a good game I was having a heart attack and wasn't even in the arena with all of the fans! I kept texting Kenny what the TV announcers were saying, how it had been a wild game-what a game to be at!
Jen and Madi were in town from Colorado and Madi wanted to play with Kayli for her birthday! Kayli was so excited to see her and it was fun to see Jen. These girls were so cute together and they picked right up where they left off- but they are so much taller than the last time they played together!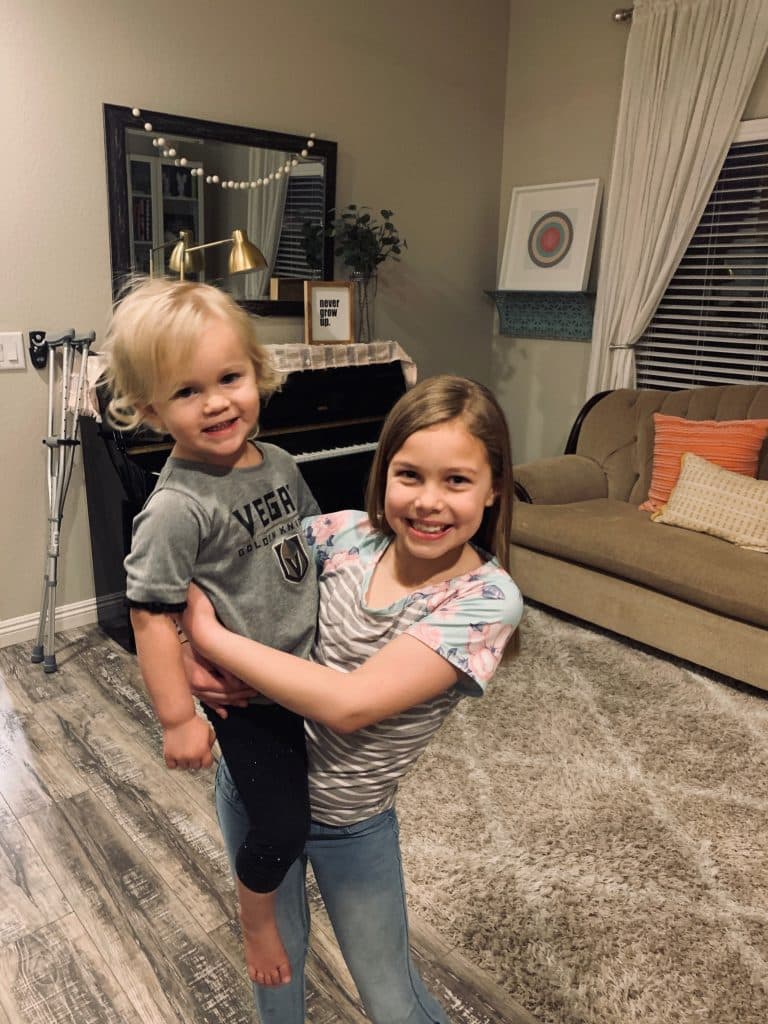 We celebrated Kari's 60th birthday with a little get together at Tate and Lindsay's! We had to surprise her in order to get her away from homework and we weren't sure it was going to work but eventually we got her there and celebrated!
We don't usually do anything too crazy for Valentine's Day but us girls can always count on the boys bringing us flowers! Sami was the cutest this year. She thought it was so fun that she got her own bouquet of flowers. The kids loved their school parties and making lots of Valentines. We went to the park that morning and all the boys were matching in their red! We didn't really make plans for dinner and last minute the kids wanted German pancakes so that was easy and then after kids went to bed Kenny and I ordered Chinese food and it was kind of the perfect Valentine's Day night just being home with the family.
Me, Kayli and Trey took mom to breakfast and shopping for her birthday and then the family all went out to dinner. The kids were actually so good at the restaurant finally! I didn't get a picture of any of that but Happy Birthday mom!
Trey had a preschool field trip to the Natural History Museum which is totally his jam. Lots of animals and dinosaurs. He was too funny because he knew the answers to all of the questions and wasn't afraid to ask the tour guide questions. He wanted my phone to take pictures of the animals but then also started taking pictures of the tour guide while she was teaching. It was pretty funny, and embarrassing. Haha.
I just got home from the best Girls Trip Weekend. We have been following Ralphie from Simply on Purpose for a few years now and love her tips on parenting. When we saw she was doing a conference in San Diego we all bought tickets and decided to make a fun trip out of it. We left Friday morning and had a fun road trip. We ate dinner at Pacific Coast Grill which was this super nice restaurant right on the ocean. It was so pretty! Then we got gelato at another super cute place in Encinitas. We stayed at a cute house in Solana Beach and stayed up way too late both nights laughing and chatting. The conference was Saturday and it was amazing. I have a notebook full of good tips and ideas but besides all of the cool things I learned, it was like being with a celebrity. We loved listening to Ralphie. Mandy and her friend, Brittany also went to the conference so they sat with us and it was so good to see her! After the conference we decided to get cheap Korean massages at a little ghetto place. Andrea had recommended it to me and had said it was so awesome if we weren't weirded out by something like that. It was our funniest thing of the whole trip. We loved it and totally recommend it too now! Mandy met up with us for the rest of the night (she knows Rachel from when Rachel was in the ward a little after we were and she has met Erin and Haley before so she fit right in!) We went to Casa Guadalajara which is one of my favorites! Then Mandy said we had to go to iDessert downtown and we LOVED it! It was the cutest little desert place! The next day before we headed home we went and walked the beach, and had the best tacos. We had a fun drive home and thoroughly enjoyed our weekend!!
The kids had the best weekend back at home thanks to the dads. They played nonstop!
My soccer playing days will be put on hold for the next 6-9ish months. At our game a few weeks ago we were playing a tough team but we were doing awesome and were even up by 1 goal. It had been such a fun game until I got hurt. I had the ball but got hit by another girl and the way my leg was planted and the way she ran into me was a bad combo-I felt a pop and was in instant pain. After the game, we went straight to Mindy's house so Kevin could take a look at my knee. It was too swollen to tell if anything was seriously wrong then but the next morning I woke up to Kenny saying Kevin thought I needed an MRI. He was worried about the pop. He got me into his friend, a primary care doctor, that day and they got me in for an MRI that night. The doctor was so great and hurried the MRI results along and the next morning I had a call that it was unfortunately a torn ACL- not the news I was hoping for but I was so grateful that I got in to doctors and got the results all so quickly! The next few days were discouraging missing out on all the things I love (early morning gym with my friends, training for a relay race in March, lots of pickle ball, and of course soccer) but also because between insurance and orthopedic specialists I couldn't get in right away to figure out the plan going forward. I did get in with the ortho the next week but he said he couldn't operate right away because I would need physical therapy to get my knee back to a normal range of motion. Surgery got scheduled for a month out (March 2). He said I would not run for 4 months, play sports for 6 months but probably not feel comfortable playing sports for 9 months. I am going to have to take up some new hobbies because all of my hobbies require having a good knee! I have still gone and cheered at soccer games. I try to go to the gym in the mornings and do what I can. I will miss the relay race but now I can be at a baptism I was bummed to miss. And hopefully I feel like I can play pickle ball sooner rather than later 🙂 It will be a long road but I have been ok with it all. The girls on my team are some of my best friends so word spread fast and the next few days I had so many friends (we have the greatest friends!) and people from the ward offering to watch my kids, bringing dinners by, and dropping off treats (which was extra helpful because Kenny was sick with Tonsilitis that same week). We joked that I could at least yell for kids and Kenny could run after them if he had to. I also know lots of people who have been through this who have been so nice to talk to. I've been going to physical therapy and am actually walking good now! So I feel good and am fine for now. We'll see how the weeks after surgery go! I've still gone to the games and cheered from the sideline. Last night they won the championship again!
This boy loved being my gym partner.
Kenny has been sick a lot the past month and on top of that and my injury, he has started teaching an Entrepreneur course at UNLV (they came to him and asked if he would teach the class!) and was just called to be the Stake Mission Prep teacher. He is a great teacher but between those classes and his meetup classes he teaches for work- he's got a lot of teaching to prep for! And then the stress of running a business… he handles it all so well but my brain would hurt so bad being in charge of so much!
Sami plays with Paige all the time but man she was so excited when it was time for Paige's birthday party. She picked out a present for her and asked all morning if it was time to go yet. It was the first friend birthday party she's been too and she just seemed way too old! She has the biggest smile and is silly and usually pretty happy. She went thru a phase where she stuck out her tongue in every picture we took. She also loves playing at friends' houses and even went to some new houses when people offered to watch her and she just goes happily. She sings loud and so good! She remembers songs from nursery and picks them up fast. She knows lots of primary songs and she loves the Frozen 2 soundtrack, High Hopes, Old Town Road and the Descendants soundtrack.
Trey is one of a kind and does what he wants. He just gets on his bike and rides to Mindy or Haley's house to see if his friends can play. Sometimes he comes back with them excited that he just made a play date happen all on his own. Or sometimes they are playing at one house and end up at another without the mom's even knowing! Yesterday Beau threw his shoe over the wall into Callie's yard. Trey decided he'd just go up our rock wall and over into her yard to get the shoe. He got over but couldn't get back over. And she has cameras in her backyard so we text her to tell her don't be alarmed it was just Trey! She said she watched the video and it was too funny. I haven't been able to go too many places with him because you never know if he will be good and stay by you or take off running down a street! And if that's the case- I can't run after him right now!
Beau just likes to be outside usually playing hockey and him and the neighbors get some good games going! He has also been such a good helper while mom and dad have been out a little. He has taken on some harder chores and doesn't complain about helping. We have totally noticed it and are so grateful for him!
Kayli is like my little best friend. She is fun to hang out with. We like reading books together at night and she also is helpful especially with Sami. She rarely gets sick. But the day she decided to get sick this year was the week I couldn't walk and Kenny was sick but also had to be at UNLV to teach. We had a really rough morning and she didn't want to go to school but we didn't realize she wasn't feeling good (she does this to us some mornings). After a lot of coaxing, a, trip to the store, and a sweet text from her teacher she jumped right out of the jeep and went to class. Kenny headed off to work (but ended up turning home to come find a gas key since we also lost his keys that week). The school called me a few minutes later to say I needed to come get Kayli because she was puking in the nurses office. I felt awful that she gone to school at all but also wondered how I would load kids up and walk in and get her when I couldn't walk. Haha. I called Kenny and funny enough he was driving by the school because he needed to come find that key. He had headed to work a few times already but things kept coming up and he'd had to turn back. It was too funny. We were kind of a mess that day! And Kenny ended up being late to teach his class amongst a health insurance fight we were taking care of that day and now a sick Kayli. It was one of those days we laugh about now.
A few more pics…